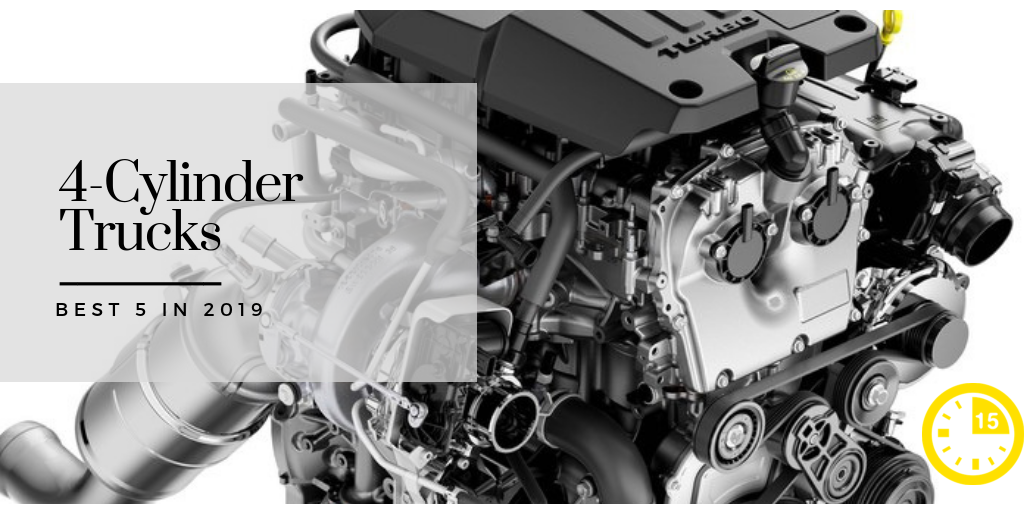 5 Best Four-Cylinder Trucks to Buy in 2022
4-cylinder trucks may not have powerful sound like V6 or 8-cylinders stronger counterparts, but they offer decent power, towing capability, and fantastic fuel economy. Diesel 4-cylinder trucks produced in the last two years have fuel economy like hybrid cars or SUVs. Learn all the advantages and why you need to consider four-banger when buying a new or used truck.
Who Needs 4-cylinder Pickup Truck?
Small or medium-duty pickup trucks have record sales in the last several years. Not everyone needs a full-size truck. Drivers who use the truck as a daily commuter, to get to the work, drive kids to school, visit mall and grocery shop, and occasionally tow a small boat or trailer are fully satisfied with small trucks like Honda Ridgeline, Chevy Colorado, GMC Canyon, Toyota Tacoma or Nissan Frontier. Commercial use isn't questionable too. Small businesses and tradesmen also include medium-size trucks in the fleet since they are cheaper than one-tone pickups, maintenance costs are lower, and finally, their job doesn't require to tow extremely heavy tools or transport workers to the job site. Abovementioned trucks are easy to drive in the city, compact dimensions allow easy parking even without a rear camera, they have a smaller turning radius, and already mentioned fuel economy are good reasons to buy small trucks. But what about cylinders and engine size? Compact in size doesn't mean they can't be found with V6 engine. On the contrary, the US market has the most V6 trucks. This means that competition in the four-banger segment is still rather light. We are pickup nation, but only 10% of pickups use four-cylinders. Obviously, not for long. To sum things up, if you need a truck with good mpg, capable of towing, comfortable, attractive, reliable, suitable as a fleet vehicle, and easy to drive, go for 4-cylinder, and you won't regret. The table below gives engine, torque, power and mpg info for popular new and used four-cylinder pickups.
| Model | Engine | Power | Torque | Drivetrain | Combined MPG |
| --- | --- | --- | --- | --- | --- |
| 2016 Chevrolet Colorado | 4-cylinderGas I4, 2.5L | 200HP | 191 pounds | RWD | 25 |
| 2016 Chevrolet Colorado | 4-cylinder Diesel I4, 2.8L | 181HP | 269 pounds | RDW | 22 |
| 2016 GMC Canyon | 4-cylinder Diesel I4, 2.8L | 181HP | 369 pounds | RDW | 21 |
| 2016 GMC Canyon | 4-cylinder Gas I4, 2.5L | 200HP | 191 pounds | RDW | 25 |
| 2016 Nissan Frontier | Regular Unleaded I-4, 2.5L | 152HP | 171 pounds | RDW | 24 |
| 2016 Toyota Tacoma | 4-cylinder Diesel I4, 2.7L | 159HP | 180 pounds | RDW | 26 |
| 2011 Ford Ranger | 4-cylinder Gas I4, 2.3L | 207HP | 154 pounds | RDW | 26 |
| 2009 Mazda B-series Truck | 4-cylinder Gas I4, 2.3L | 143 HP | 154 pounds | RDW | 26 |
| 2003 Chevrolet S-10 | 4-cylinder Gas L4, 2.2L | 120 HP | 180 pounds | RDW | 26 |
| 2003 GMC Sonoma | 4-cylinder Gas L4, 2.2L | 120 HP | 140 pounds | RDW | 26 |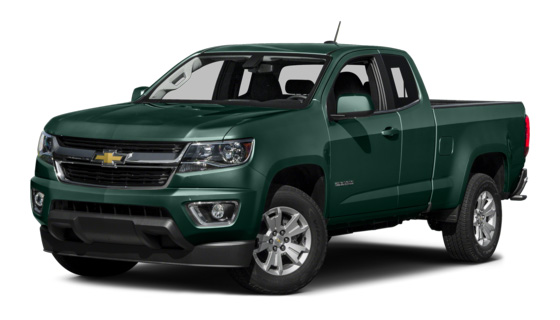 Chevrolet is rare car maker who offers one truck model with two 4-cylinder engines. Buyers have an option to choose base 2.5L I4 gas engine or 2.8L Duramax turbocharged diesel I-4 engine. Read this article to learn all differences between gas and diesel trucks. No matter what engine is under the hood expect Chevy Colorado 4-cyl fuel economy around 30 mpg. That is the highest mpg in the segment. Available are 2WD and 4WD. The inline four-cylinder gas engine offers 200 hp at 6300rpm and 191 lb.-ft of torque @ 4400 rpm. To increase power and get smooth power delivery, Chevy engineers, equipped engine direct fuel injection and variable valve time. DOHC stands for dual overhead camshaft, this technology, although not so new, helps gas engine to get more efficient. At least be nearly efficient as diesel counterparts.
The diesel engine is a real jewel and technologically one of the most advanced four-cylinder engine existing. 4-cyl diesel Chevy has "only" 181 hp but offers enormous torque of 369 lb-ft for such small engine displacement. The best part is that torque is available at 2000 rpm.
Toyota Tacoma 4-cylinder has a 2.7L gas engine. This is famous powertrain with 16 valve technology and ECT-I (automatic electronically controlled) transmission. Paired with 6-speed automatic gearbox, the engine delivers 159 hp at 5200 rpm, and torque of 180 lb.-ft. at 3800 rpm. Buyers can choose between 2WD and 4WD. The base model has a rear-wheel drive with a limited-slip differential locking option. Both cab versions, Access and Double cab, are available with this engine. 4-cyl Toyota Tacoma is reliable as every other Toyota vehicle. Reviews say that is even more reliable than V6, but it all depends on how the vehicle is maintained and used.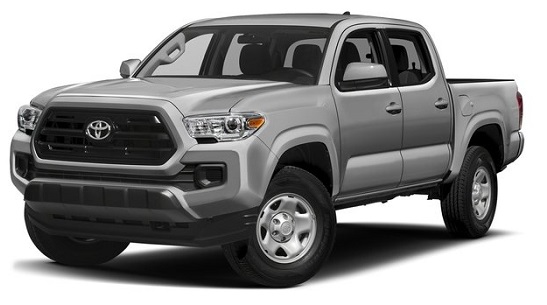 With just a necessary and regular maintenance, your 4-cylinder Toyota truck should last forever. Resale value is of course, iconic. If you're looking for 4-cylinder 4x4 trucks, Toyota Tacoma is the logical choice.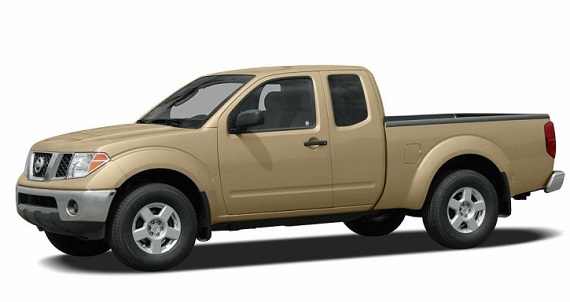 Nissan Frontier has 2.5-liter DOHC 16-valve 4-cyl gas engine as standard. This is the most affordable truck in the United States. This small off-road pickup is possible to buy with manual or automatic 5-speed transmission. Engine is capable to deliver 152 hp @5,200 rpm and 171 lb-ft of torque @ 4,400 rpm . Unfortunately, there is no 4x4 drive with the smallest engine. Features worth mentioning, while speaking of the engine, are continuously variable valve timing control system, electronic drive-by-wire throttle, and direct ignition system. With engine and transmission from 2004 don't expect high performances, but Frontier's price compensates all downsides. If you need a dependable truck with a proven petrol engine, five-person cab, the lowest possible cost of maintenance and decent fuel economy, Nissan could be the ideal road companion for years.
A small pickup truck from GMC shares engine, transmission, and frame with Chevy Colorado. In essence, these two are the same vehicles; the difference lies only in the front grill, bumpers, interior and headlights. GMC uses LED signature lighting. The main difference, however, is in engine palette. GMC offers only 4-cylinder diesel Canyon. There is no option to buy L4 gas 2.5L powerplant. Like in Colorado, it is Duramax 2.8L turbo diesel with impressive performance and fuel efficiency - 181 hp and 369 with lb.-ft of torque @ 2,000 rpm. 4-cyl Canyon is equipped with an exhaust brake, handy feature when towing near maximum capacity, and capped fuel fill. Here comes surprise! 4-cylinder engines are not only for small trucks.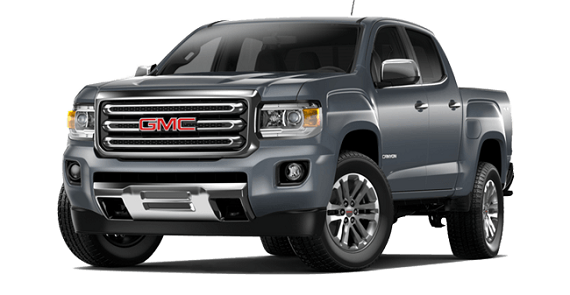 2019 GMC Sierra 1500 & Chevrolet Silverado 1500 4-Cylinder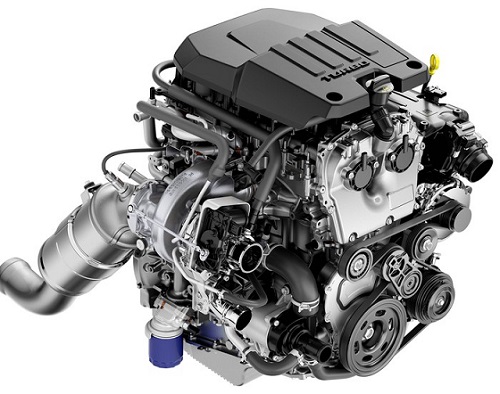 Say hello to 4-cylinders in the heavy-duty truck segment. Most viral news in the automotive industry this year comes from General Motors. In July factory announced new 4-cylinder 2.7L diesel engine for 2019 GMC Sierra 1500 and 2019 Chevy Silverado 1500. New powerplant technology and knowledge once reserved only for tests in car laboratories are ready to hit the road. First four-banger in full-size pickup segment is 2.7L single turbocharged engine which delivers 310 horsepower and 348ft.-lbs of torque. Torque is available in the low range, like in every diesel engine, somewhere between 1500 and 3500 rpm. GM's engineers say that they choose to go with four cylinders because of lower friction, mass and heat loss. All this means better efficiency and handling.