How to Upfit Truck with Perfect Type of Truck Body
Truck bodies our utility truck beds are old as much as work trucks. Also, like the trucks, they evolved over the years tremendously. They are lightweight, highly durable, weather-resistant, with so much space for tools and equipment, in one-word truck bodies became SMART. Furthermore, now you can upfit truck with bodies especially made for your vocation. Many manufacturers produce service bodies, utility bodies, platform bodies, gooseneck, dump bodies, contactor bodies and many more. All those bodies are adjusted and tailored to meet vocation needs and daily job requirements. However, if you work as a general contractor that doesn't mean you should buy the first truck body you see online that has is labeled as Contractor. Body length, type, and chassis compatibility depend on other factors that can't be neglected.
But how to choose the right truck body? This article or better say truck upfit guide, is going to inform you about all relevant aspects you need to know and count when upfitting truck you use for business. Keep in mind that truck bodies installation needs to fulfill several state and local commercial vehicle regulation, plus it can be a significant investment to your fleet, so pay attention to all details. We recommend choosing a reputable truck upfitting company for the job or at least consult with an experienced fleet manager before making a final decision. If you chose the right body, it will serve you for years and will make your job a lot easier. First and most important is to know your vehicle.
Truck Dimensions and Weight Calculations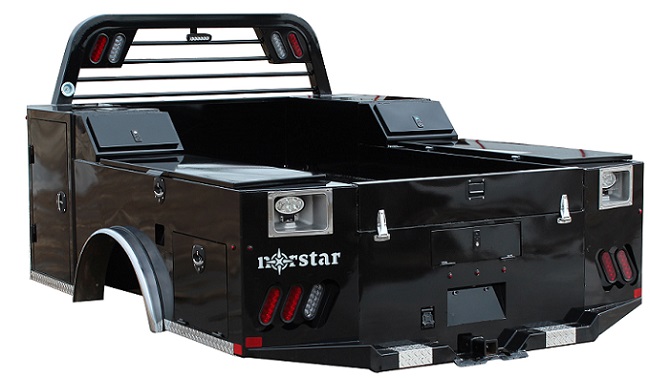 Cab and bed dimensions, cab to axle length, wheelbase, GVWR, GCVW, after frame distance, cab to body, maximum payload capacity, fuel tank position, single or two rear wheels, are just some data to take for analysis.
How to determine GROSS COMBINED WEIGHT? GCVW = gross vehicle weight + loaded trailer
How to calculate GROSS VEHICLE WEIGHT RATE? GVWR = curb weight + cargo weight + passengers
Chassis Class
Before start sending inquiries to dealers, you need to know your truck Class. Sometimes chassis lass determines or at least can limit your choice. Body length and Class go hand in hand. 7-foot and 8-foot body length can be installed on Class 2 and Class 3 vehicles. 9-foot and 10-foot body length is possible to attach to vehicles of Class 3, 4 and 5. 11-foot and 12-foot bodies can be fitted to trucks that fall into Class 3, 4, 5,6 and 7. Next and most crucial is cab to axle distance.
Cab to Axle (CA) Distance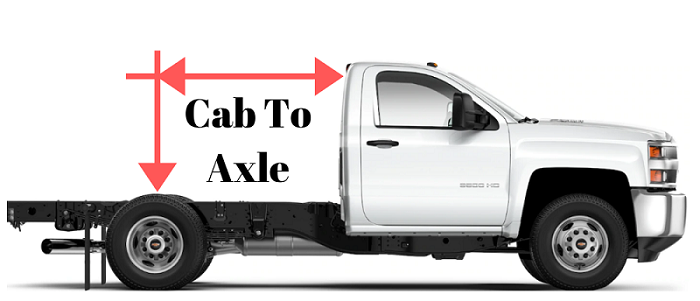 The distance from the back of the cab to the center of the rear axle is cab to axle distance and can help to determine the proper truck body length. CA distance usually is in the range from 36" to 120" and will directly influence the body length. This is why it's important to check with dealer body specification and accurate measures. After that compare body with a cab to axle measurements provided by the car maker in the truck user manual. Depending on a body type (contractor, utility, dump, gooseneck, etc.) some general rules can be applied. Trucks with cab to axle distance from 36" to 42" can accommodate 7-foot truck bodies. Trucks with CA of 56" can be paired to the 8-foot body, and 60" CA truck is possible to match with the 9-foot body. However, check with upfitter recommendations for different body types. Moreover, exactly body types are next to reconsider in this upfit guide.
Truck Body Style
The truck body or utility bed usually determine the type of truck. And there is nothing much to say about it, you think? However, different manufacturers offer different features and equipment for the same purpose truck bodies. Sometimes the small difference in drawers or bin organization can mean a lot during an emergency visit to the job site. Productivity and working posture are also essential. Depending on the work scope and industry there are many truck bodies to choose from. Let's dive deeper and learn more about industry tailored bodies. Service Bodies If you work on the field with welding machines and tools, drills, cutting tools, and grinders general service body is the perfect choice. It has several side cargo compartments with drawers.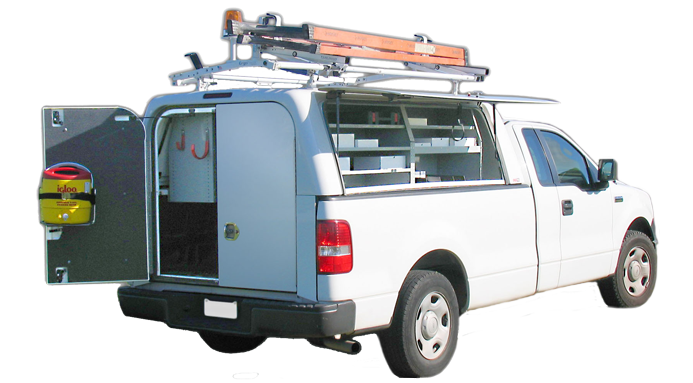 If you work on the field with welding machines and tools, drills, cutting tools, and grinders general service body is the perfect choice. It has several side cargo compartments with drawers. Drawers have dividers perfect to store smaller items. Adjustable shelving allows easy access to the tools you need on the job site without the need to go in the truck bed. Standard equipment that goes with this body style is cable straps, cargo tie-downs, and grab handles. General service bodies can be customized to match exactly every job need. For instance, if you work at night, there is an option to add LED lights. Liftgates and rock guards come as additional equipment.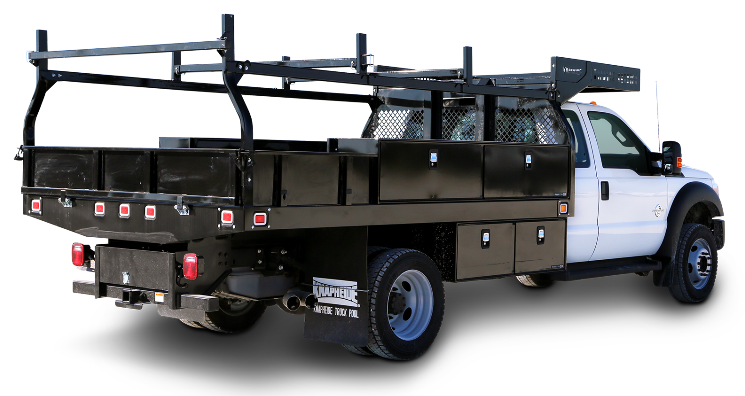 Contractors usually need a flatbed equipped with side and under bed tool boxes. Along with storage boxes, it includes ladder racks, mostly top mount. Roof rails are also convenient for storage and transportation of long items like pipes. Side tool boxes have locks to protect expensive tools. All this comes as standard. Contractor bodies can be equipped with cranes or liftgates depending on job requirements. This, of course, is optional equipment, which means that you will need to pay extra.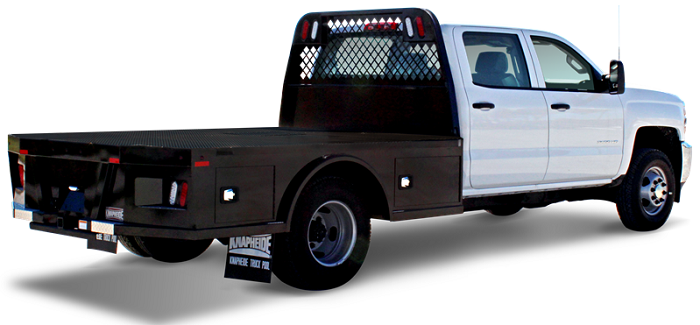 Platform bodies can be installed from Class 2 to Class 8 trucks. This type of body is mainly used to transport heavy, bulky and long loads. It can always be customized and adapted to fit specific vocation, but they have similar floor materials and side accessories. Some platform bodies don't have side walls. Flatbed and cab protection is all they offer. This allows easy and fast cargo management. If you need to secure cargo and prevent tools from spilling during long rides install stake racks. Platform bodies usually include hoist. Hoist is a real time saver for landscapers and dumping applications.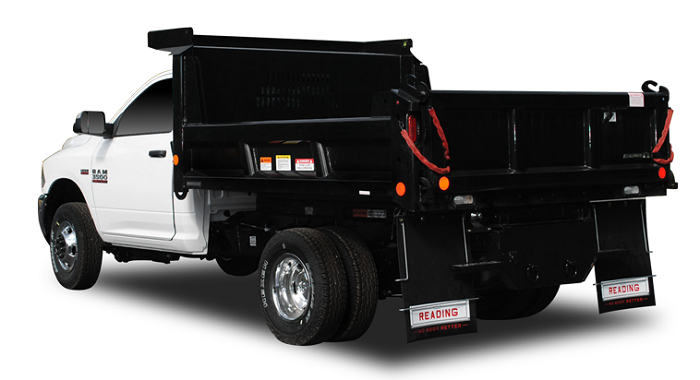 Dump bodies are bestselling and most used truck bodies. Typical dump body has double tailgate (side and rear) and hoist. You can choose from the drop side and multi-directional dumping. Dump body is must for landscaping and lawn care companies, farms and park departments.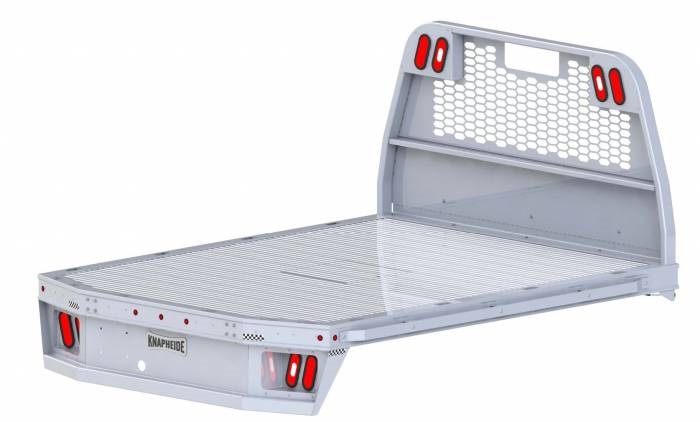 Gooseneck truck bodies have flatbed and gooseneck hitch system. Some brands include side tool boxes, but most selling units only have a flatbed. Additional equipment for this type of body is sideboard that prevents tools from sliding off the bed. They are tested to hold up to 30,000 pounds and usually are made of aluminum. Gooseneck truck bodies are inevitable in all industries were hauling a heavy trailer is part of the everyday job.
Truck Body Material
All bodies today are made from steel or aluminum. Steel is galvanized for better protection of weather conditions. Also, they are wrapped with the most robust coating available. Both materials are lightweight, and that way won't influence fuel consumption, payload, and vehicle weight. Steel and aluminum truck bodies are weather resistant but sturdy to withstand heavy loads and constant use in most onerous conditions. Hot sun, cold weather, rain, snow, mud, and dust can't in any circumstances jeopardize and put to risk body functionality. Remember, some of them use in Fire departments, so they always need to be up to the task.
Truck Bodies Manufacturers
Best truck bodies manufacturers are located in the US. Brands you can trust are
Knapheide, Reading Body, Summit Truck Bodies, CM Truck Beds, EBY and others
.

These companies started as family businesses and over the years became industry leaders known for uncompromised quality. All products are made in the US according to the latest state, federal and local standards. Used top-notch steel and aluminum give at least 3-years warranty. Many bodies have 5-years or even life-time limited warranty. This tells everything about how confident they are about product quality.
Price and Installation
Price and quality go hand in hand. Undoubtedly this type of products you can't find on eBay. Price depends on body style, material, and length. Long aluminum truck bodies are the most expensive. Simple light-duty flatbed body or gooseneck is possible to buy for $4,500. This is the price for the new unit. Heavy-duty dump bodies or bodies with a crane or fuel lube truck bodies can cost more than the truck. It's recommended to locate a nearest truck local dealer and call for price and check availability. Many of them offer financing, plus can give you a discount for units from last year or those who have for months on inventory. You could save a lot with used truck bodies but be extremely careful. Like other used truck accessories they usually demand some reparation. Floors are usually in bad condition, and many have rusted spots in places where they are dented or scratched.