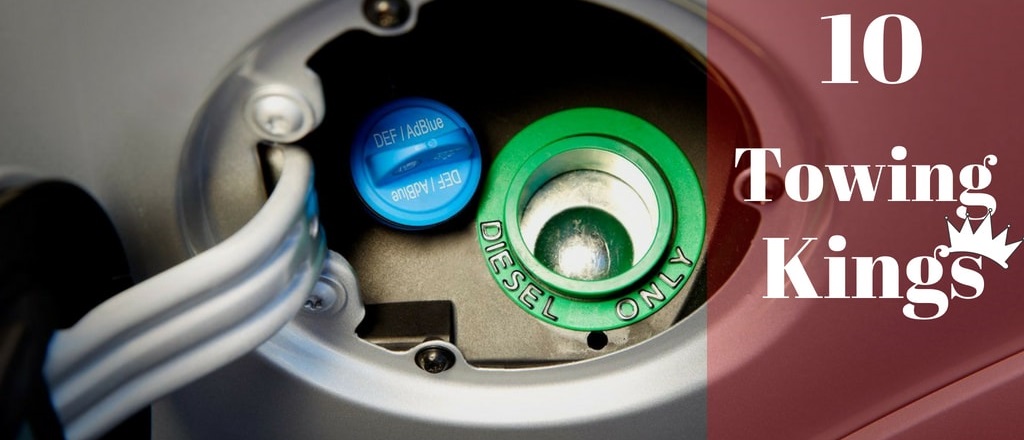 10 Towing Kings – Best Diesel Trucks
Old Habits Die Hard
We Americans don't have issues with accepting new things and ideas, but the story is different when it comes to diesel pickup trucks. The idea to put a diesel engine into a pickup truck is not new at all. Ford introduced the first diesel truck in the early '80s. It was 6.9L V8 International. Other manufacturers like Dodge, Chevy, and GM, did the same, offering at least one model of the truck with a diesel engine. However, the US market is still flooded with trucks powered by petrol. Old habits die hard apparently. However, things are about to change if you use the truck for towing. To help you choose the right workhorse, we created a detailed truck buying guide. That article also explains all the pros and a few cons of having a diesel engine under the pickup hood.
Leave the Horsepower for the Racetrack
There are 2 main reasons why we buy trucks, towing and hauling. What is most important for having a good towing and hauling capacity? TORQUE. Not horsepower but torque. So that is the first and foremost advantage of diesel trucks, massive torque. Some HD truck with 4 rear wheels can tow up to 33,000 pounds. Moreover, all that torque is possible to achieve at very low revs. Which bring us to another benefit – mechanical longevity or durability. Diesel engines achieve maximum power at low revs; this means that the friction between the engine components is minimal. Diesel can handle higher compression ratios better than a gas engine. The third significant benefit of owning a diesel pickup truck is better fuel economy. All diesel trucks have a turbocharger. A turbocharger boosts torque and horsepower but keeps low displacement. Furthermore, some diesel engines have up to 9-speed automatic gearboxes. More gears mean moving faster at low revs, and that is another reason for efficient fuel usage. There are many other pros of diesel pickup trucks like the better resale value of the used vehicle. Everything has to have its pros and weakness. Cons of diesel trucks are higher initial price ($5,045 on average for a new truck), more expensive filters, more expensive fuel (because of additional refining) and maintenance cost. Diesel engines are "allergic" to impurities in fuel; or better say their injectors.
Constant Improvements
Days when diesel trucks were lazy, leaving a giant smoke cloud behind them or having trouble starting during winter, are gone. Now they use the latest technological achievements to decrease pollution and emissions, reduce maintenance costs, improve already fantastic fuel economy and driving performance. Materials like aluminum used for engine blocks striped the overall truck weight and increased payload capacity. Transmission development, especially with an automatic gearbox gave trucks incredible towing performance. This is like a dream come true for all of us who depend and rely our business on 4-wheel buddies. No matter if you are more on the gas or diesel side, it is evident that every car maker uses diesel engine not just to power heavy-duty pickups that tow boats and big trailers. Small, light-duty half-ton diesel trucks slowly have become standard in their segment of the market, mainly because you don't pay much higher initial price compared to the gas equivalent. Truck-specialized online magazines are full of "diesel vs. petrol" topics. People constantly ask What is the best diesel truck, What is the most reliable diesel truck or Which diesel truck gets the best MPG and so on. The answers are hard to tell since many things should be taken into account, but that's the reason why we put together a list of the best diesel trucks and 5 most used diesel engines.
Best Truck Diesel Engines
To give you a glimpse of main characteristics of diesel engines, we prepared a unique comparison of most used diesel motors in the truck market. Cummins, Duramax, Navistar, EcoDiesel, and Power Stroke are used in Ford, Chevy, RAM, GM, Chrysler, and Nissan trucks for years.
| | Cummins 5.9L 12-Valve | Cummins 6.7L 24-Valve | Duramax 6.6L LBZ | 6.4L Power Stroke | 7.3L Power Stroke |
| --- | --- | --- | --- | --- | --- |
| Displacement: | 5.9L (359ci) | 6.7L (408ci) | 6.6L (403ci) | 6.4L (390ci) | 7.3L (444ci) |
| Layout: | I-6 | I-6 | V-8 | V-8 | V-8 |
| Power: | 160hp - 215hp at 2,500 rpm | 385 hp @ 2,800 rpm (Aisin AS69RC automatic transmission) | 360 hp @ 3,200 rpm | 350 hp @ 3,000 rpm | 275 hp @ 2,800 rpm |
| Torque: | 400 lb-ft – 440 lb-ft at 1,600 rpm | 865 lb-ft @ 1,700 rpm (Aisin AS69RC automatic transmission) | 650 lb-ft @ 1,600 rpm | 650 lb-ft @ 2,000 rpm | 525 lb-ft @ 1,600 rpm |
| Bore x Stroke: | 4.02x4.72 inches (102x120mm) | 4.21x4.88 inches (107x124mm) | 4.06x3.90 inches (103x99mm) | 3.87x4.13 inches (98x105mm) | 4.11x4.18 inches (104.4x106.2mm) |
| Valvetrain: | OHV with 2 valves per cylinder | OHV with 4 valves per cylinder | OHV 4-valves per cylinder | OHV with 4 valves per cylinder | OHV with 2 valves per cylinder |
| Fuel Injection: | Bosch VE44 rotary injection pump or Bosch P-7100 injection pump | High-pressure common rail with Bosch CP3 injection pump | High-pressure common rail with Bosch CP3 injection pump | High-pressure common rail with Siemens K16 injection pump | High Pressure Oil Pump with Hydraulic Electronic Unit Injection (HEUI) |
| Induction: | Holset fixed-geometry turbocharger | Holset variable-geometry turbocharger | Garrett variable-geometry turbocharger | BorgWarner series sequential variable–geometry and fixed compound turbochargers | Garrett fixed-geometry turbocharger |
| Head material: | Cast iron | Cast iron | Cast aluminum | Cast iron | Cast iron |
| Block material: | Cast iron | Cast iron | Cast iron | Cast iron | Cast iron |
| Compression Ratio: | 17.0:1 | 17.3:1 | 16.8:1 | 17.5:1 | 17.5:1 |
| Emissions systems: | N/A | Cooled exhaust gas recirculation, oxidation catalyst, PDF, and selective catalytic reduction with diesel exhaust fluid | Cooled exhaust gas recirculation and diesel oxidation catalytic converter | Cooled exhaust gas recirculation, diesel oxidation catalyst, and diesel particulate filter | Exhaust gas recirculation, diesel oxidation catalyst |
Best Diesel Trucks – Complete List
This is a list of best diesel trucks you can find and buy in America. It's for all of you who are looking to buy a small or heavy-duty diesel truck for towing heavy load and trailers. If you use the truck as a vehicle to go to the grocery store or Starbucks, you can stick with a gas truck. Let's start with ultra HD dually trucks and heavy-duty diesel trucks. The main focus of this list is on engine capacity, transmission, torque, horsepower, towing capacity, payload capacity, and fuel consumption.
2018 Ford Super Duty Diesel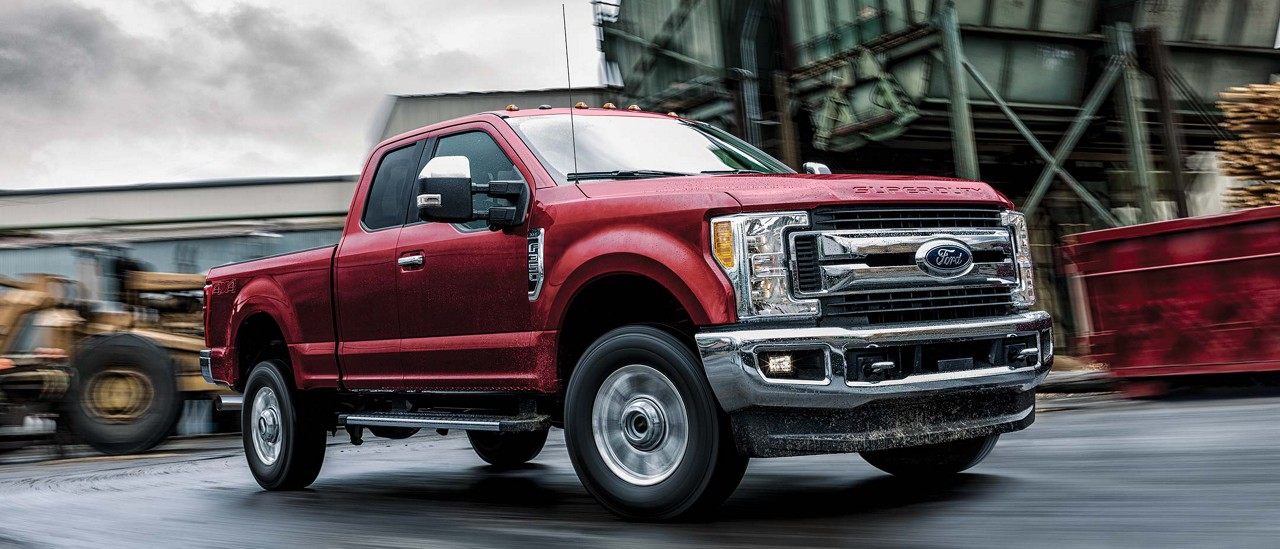 6.7L V8 Power Stroke Turbodiesel | 6.7L V8 Power Stroke Turbodiesel | 450 HP | Towing 31,300 | Payload 5,400 | 15 MPG (highway)
Dually trucks are often used for toughest towing challenges. This Ford's monster powered by 6.7L Power Stroke Diesel V8 gives 925 lb.-ft. of torque. The engine is remarkable and makes Ford Super Duty powerful and very fast HD truck. Driving performances are incredible no matter if you are towing nearly the maximum allowed. Similar driving characteristics and handling has only RAM 3500 HD. A new feature of the second generation of powerful 6.7L V8 diesel is graphite iron engine block. Use of this high-end material makes engine lighter but stronger at the same time. Its weight is 990 lbs., dry. Ford, built the engine in-house. It's the first time Ford didn't develop an engine in partnership with International Navistar. Ford engineers also produce transmission. Power of 450 HP is possible to achieve at 2800 rpm, and peak torque of 935 lb.-ft. at 1,980 rpm. It's a segment record. There is no need to empathize that Super Duty comes with Tow/Haul Mode, Exhaust Brake, Roll Stability Control, Trailer Sway Control, brakes with ABS and Trailer Brake control as standard. Work trucks can be sophisticated vehicles like SUV too. Ford Super Duty is the proof. It has leather seats with massagers and lumbar support, rear view camera, map lights, and a ton of storage compartments. <
Image shows Ford Super Duty F-350 Unlimited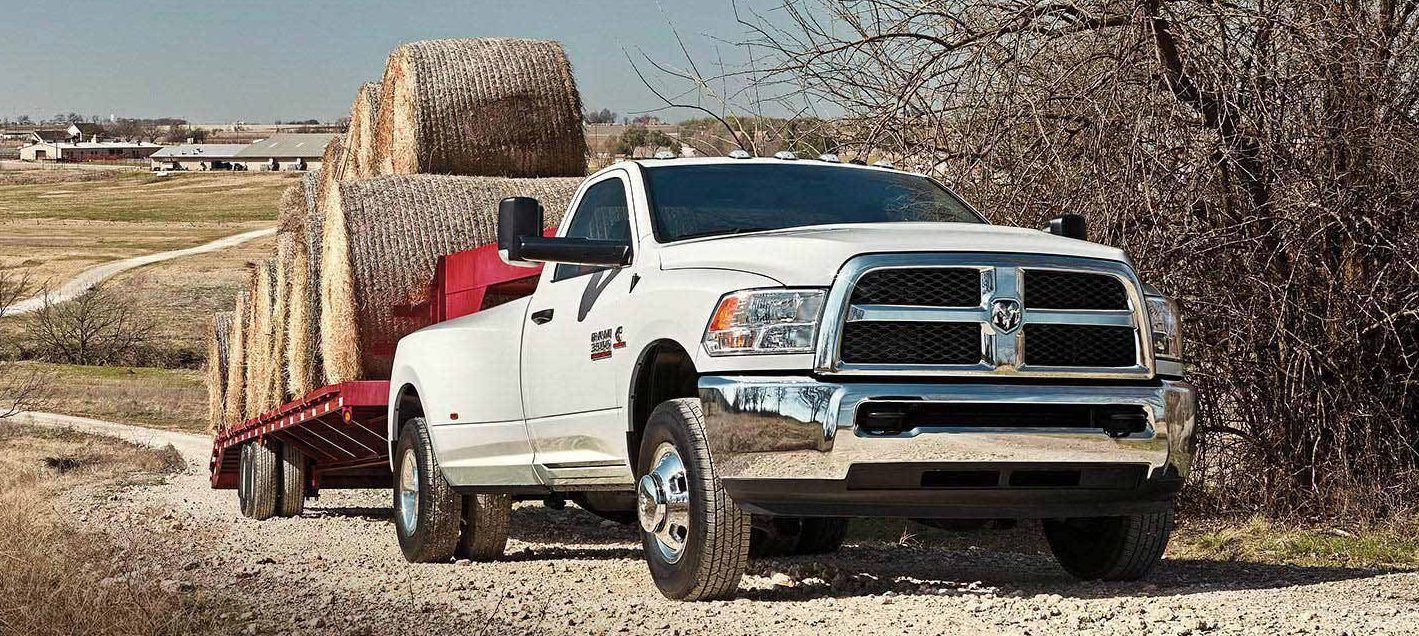 6.7L V8 Cummins Turbodiesel | 6-speed automatic | 385 HP | Towing 31,210 | Payload | 11/15 MPG
Another ultra-duty, full-size diesel pickup on our list and a true competitor to Ford Super Duty. With Cummins diesel engine RAM 3500 offers a great amount of torque, 900 lb.-ft. This is enough for towing four times of its weight or over 15 tons. Despite the slightly worse figures on the paper, compared to Ford, RAM has the longest oil change interval in the class of 15,000 miles. RAM 3500 is ready for every terrain. Features like Tow Mode, Rear Cargo Camera, Smart Exhaust Brake and Hill Start Assist, Auto-leveling Rear Suspension, and Trailer Sway Control make drive safe and pleasant no matter if you are towing down or up the mountains. What differentiates RAM 3500 from competitors is the fantastic design of interior and quality build of dashboard and seats. Longhorn trim level is expensive, primarily if it's powered by diesel engine, but you will enjoy every moment spent in this truck. No matter if you are a driver or you comfortably sit in the back seat. Leather stitches on the dashboard look very nice and give the interior a premium touch.
Chevrolet Silverado 3500 HD Diesel

6.7L V8 Duramax Turbodiesel | 6-speed Allison automatic | 445 HP | Towing 23,300 | Payload 5,518 | 11/15 MPG
Quite an impressive specification from the biggest diesel vehicle manufactured by Chevy. With 445 horsepower and 910 lb.-ft. of torque at 1600 rpm, Silverado 3500 HD is confident towing rig. Potent Duramax diesel paired with Allison 6-speed transmission offers good driving experience, but the towing capacity is more than 6,000 pounds lower compared to the competition. The truck has a similar fuel economy like two main competitors, RAM 3500 and Ford Super Duty. Dually version gives more stability when towing. Similar qualities could be found with GMC 3500 Denali HD. These two trucks are almost identical. Modern technology and safety play a vital role if you want to have a comfortable ride. Because of that Chevy is equipped with latest features like Stability Track with Sway Control, Digital Steering Assist, Hill Start System, Tow Mode, Integrated Trailer Brake, Auto Grade Braking, and 4-wheel Disc Brakes with Duralife corrosion-free Rotors. There are also towing mirrors, trailer camera system that eliminates blind spots and helps while connecting camper trailer or gooseneck trailer.
2018 RAM 2500 Diesel Laramie

6.7L V6 Turbodiesel | 6-speed automatic | 370 HP | Towing 17,210 | Payload 1,960 | 14 MPG
RAM 2500 is powered by the proven and for many years reliable Cummins 6.7 V6 diesel engine with turbocharger. The engine has 6 cylinders, inline. Maximum torque of 800 pound-feet is proof that this truck is built for work. RAM can easily tow a camper, trailer, car or a small boat. Laramie trim is most expensive but offers a ton of additional equipment. It is provided as 4x2 or 4x4 wheel drive. There are three cab variations, two crew cabs, and one mega cab. Handling is satisfying for a truck of its dimensions, much better compared to Ford, because of coil-spring rear suspension. The transmission, on the other hand, could be better since some owners had complaints that shifting was not smooth as it should have been. Legendary Cummins engine gained many awards for The Best Diesel Engine in Class, but in some situations, during heavy towing, it can be quite noisy. EPA collect all data regarding pollution and fuel economy, but they don't have to publish their results and findings. RAM 2500 diesel fuel economy on many road tests was 14 MPG. That is the same result achieved by Chevy Silverado and only one MPG less than the other two main competitors, Nissan Titan and Ford F-250.
2018 Ford F-250 Diesel Lariat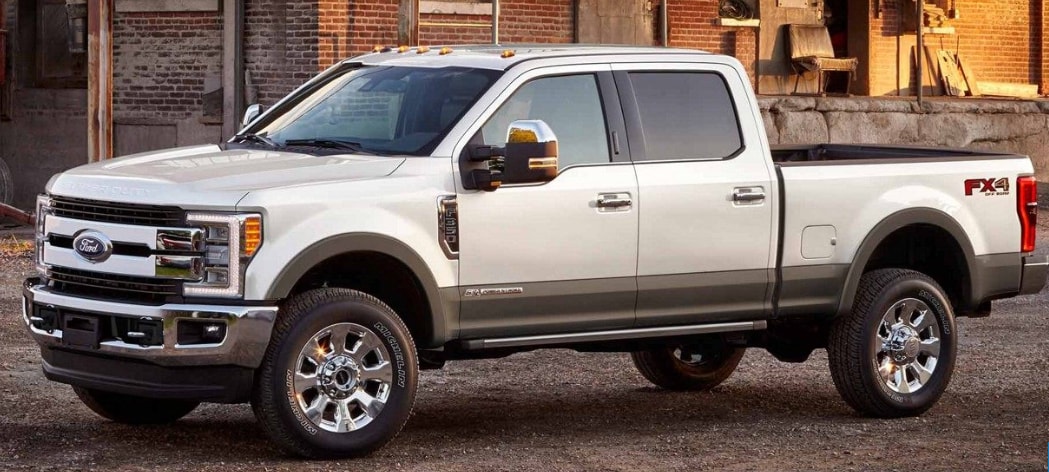 6.7L V8 Turbodiesel | 6-speed automatic | 440 HP | Towing 15,610 | Payload 2,180 | 15 MPG
Ford F-250 Diesel truck is a leader in this segment of the market by many basics. Aluminum alloy body, high-strength steel frame, and FX4 suspension are just a few components that make F-250 and his light-duty brother F-150 market bestsellers since their arrival in 1999. F-250 diesel is equipped with 6.7 liter Power Stroke V8 that offers enormous 440 HP. This diesel engine delivers incredible 935 lb.-ft. of torque. Why is this engine from Power Stroke so unique? Because of the inverse flow configuration. Turbocharger and exhaust manifolds are placed between the engine block and cylinder head. This unusual geometry allows the use of a much bigger turbocharger. Only Silverado 2500HD with Duramax 6.6L turbo-diesel V8 has more horsepower than Ford. F-250 diesel is very fast, faster than main competitors in the HD segment though. Engine and TorqShift heavy-duty 6- speed transmission offer decent driving performances for such a big vehicle. Another crucial thing when towing a heavy load is stopping the vehicle. Brakes are very efficient. The F-250 diesel truck is equipped with exhaust brake function. The only thing the driver has to do is to press the button on the dashboard and the backpressure from turbocharger's exhaust will slow down the vehicle. The exhaust brake is fantastic to have when driving down the steep hills under the great amount of load.
2018 Nissan Titan XD SV Diesel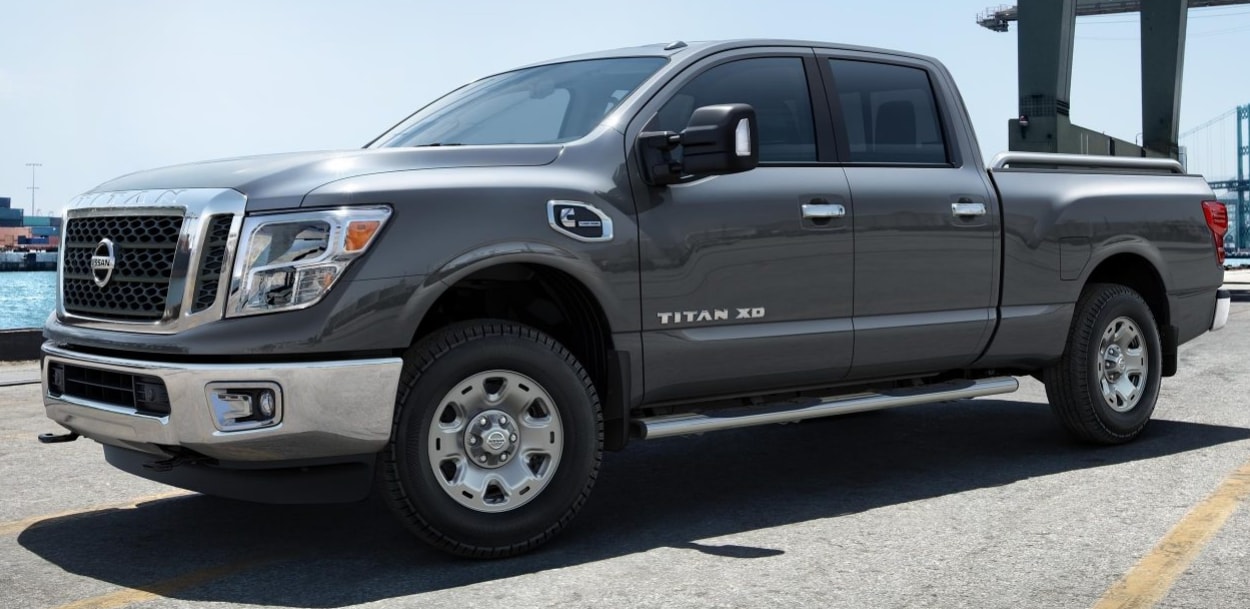 5.0L V8 Turbodiesel | 6-speed automatic | 310 HP | Towing 12,320 | Payload 1,600 | 15 MPG
Next best diesel truck on our list is Nisan. Although this brand comes from Japan, Nissan Titan XD is produced in the US. In Canton, Mississippi assembly facility, to be precise. Looking at its dimensions, this truck stands in the middle between RAM and Ford. Nissan Titan diesel truck uses the well-known Cummins 5.0 V8 engine. Here we need to stress that this is the new generation of Cummins engine produced in their HQ in Indiana. Nissan XD diesel with the new 32-valve engine produces 310 HP and respectable 555 pound-feet of torque. Three eminent automotive magazines, cars.com, autoguide.com, and pickuptrucks.com, gave Nissan XD the award for The Best Diesel Truck in 2016. Nissan is the only car maker in pickup segment that offers 5 years or 100,000 miles bumper-to-bumper warranty. SV trim level is possible to buy as 4x2 or 4x4 and two cab configurations, king cab, and single cab. Towing capacity of 12,320 pounds is closer to light-duty trucks, but it offers a slightly economical ride compared to proper HD trucks. Nissan follows the competition by offering features that make driving more secure, comfortable and pleasant. Hill Start Assist, Trailer Sway Control, Tire Pressure Monitoring, Traction Control and Active Brake Limited Slip come as standard.
2019 Chevrolet Silverado 2500 Diesel LTZ
6.6L V8 Turbodiesel | 6-speed automatic | 445 HP | Towing 18,100 | Payload 2,260 | 14 MPG
Chevy Silverado 2500 diesel has Duramax 6.6L Turbo-diesel engine that produces the outstanding power of 445HP and unbelievable torque of 910 lb.-ft. Most interesting is that the tremendous torque is available already at 1600 revs per minute. The engine is paired with Allison 6-speed automatic transmission. This amount of power and torque are enough to make Silverado 2500 diesel an ultimate work truck and towing machine. Fuel consumption of 14 MPG is adequate for a powerful and big vehicle like the Silverado 2500. To prove and secure the leading market position, Chevy makes Tow/Haul Mode, Trailer Sway Control, Hill-start Assist and Digital Steering Assist as standard. For passenger and cargo security Diesel Exhaust Brake and Auto Grade Braking are in charge. LTZ trim level is second most expensive. It offers a high number of features in the interior that will satisfy all 6 passengers in the crew cab. Some worth mentioning are leather heated seats, dual-zone automatic climate control, Apple and Android connectivity, and 8-inch high-resolution infotainment system. The only downside of a Duramax 6.6L diesel engine in Chevy Silverado is its price. If you decide to buy a new truck with this engine prepare to spend almost $10,000 over starting MSRP.
Best diesel truck doesn't have to be a heavy-duty one. Let's mix things up and go over to full-size diesel trucks and light-duty diesel trucks. Here you can choose between RAM 1500 EcoDiesel, Chevrolet Colorado, Ford F-150 Diesel, and GMC Canyon. If you thought that you would see small trucks like Honda Ridgeline or most affordable America's truck Nissan Frontier here, you are wrong. Both pickups by Honda and Nissan are offered only with a gas engine. Unfortunately, the same goes for Toyota Tacoma. This popular mid-sized truck should get a diesel engine in 2019. We still don't know the release date, but we are glad that Toyota finally decided to offer something so much anticipated. Tacoma will probably use 2.8L turbodiesel engine from Hilux, but these are just rumors. Back to the topic. Why choose half-ton diesel trucks? You don't pay a high price for the new truck as you would for the gas engine model. On the other hand, resale value is much higher than the gas version. They are also capable of hauling and towing of heavy things but have a way better fuel efficiency. See figures below.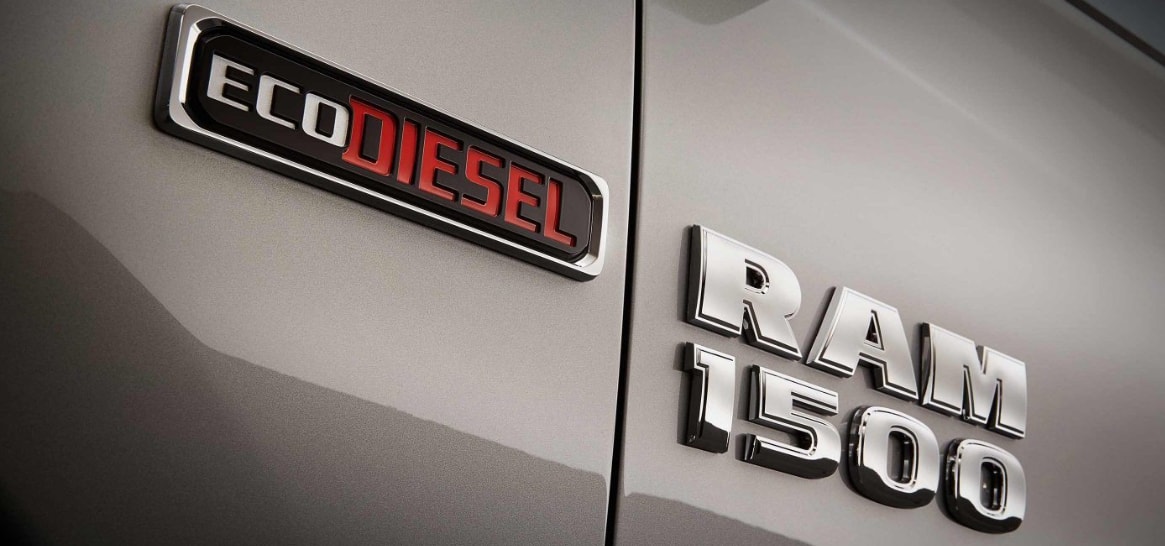 3.0 V6 Turbodiesel | 8-speed automatic | 240 HP | Towing 8,750 | Payload 1,170 | 23 MPG
RAM 1500 EcoDiesel is maybe the most important truck in the whole RAM lineup. Ram 1500 EcoDiesel for 2019 has an engine made by Italian engine manufacturer VM Motori. The same engine is under the hood of Grand Cherokee. The 3.0L EcoDiesel V6 engine delivers 240 horsepower and 420 lb-ft of torque. It has a maximum towing capacity of 9,200 pounds. Towing capacity is 10,620 pounds below of the gas engine, but the fuel economy of the diesel engine is way better. 23 MPG vs. 17 MPG for gas V8 Hemi. Diesel engine adds $4,495 on the base MSRP. RAM advertises 1500 diesel as the most loyal half-ton in the US. The new model for 2019 got the 10 Best Interiors Award. Indeed this is the best-looking diesel truck inside the cab. The big central display gives a premium feel like in luxury sedans. There are three cab choices to choose from: regular, quad and crew cab.
Chevrolet Colorado 2.8L Diesel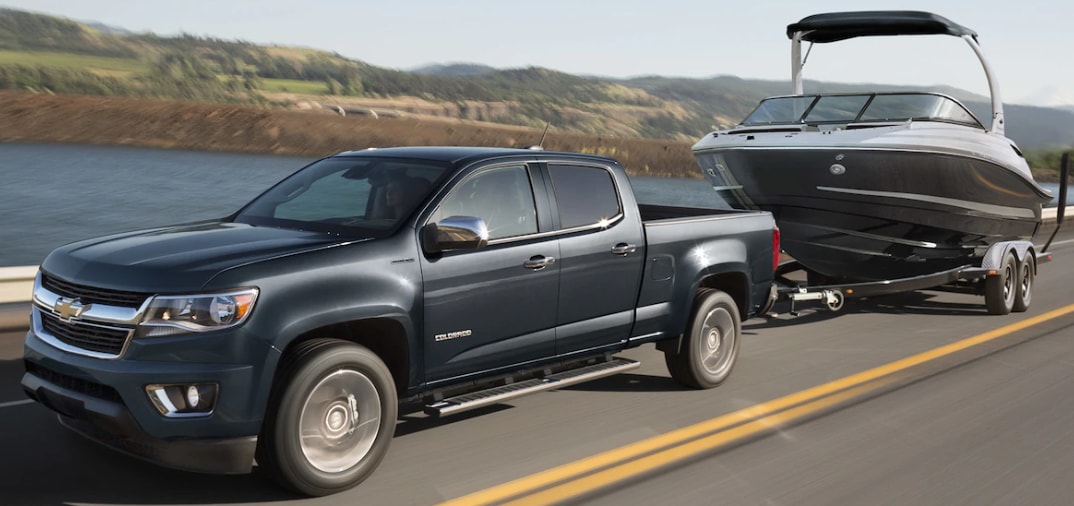 2.8L Duramax Turbodiesel | 6-speed automatic | 181 HP | Towing 7,700 | Payload 1,477 | 24 MPG
This mid-sized diesel truck from Chevy carries Duramax 2.8L engine with direct fuel injection that delivers 181 horsepower and 369 lb-ft of torque @ 2,000 rpm. It has 6-speed automatic gearbox as standard which offers respectable fuel economy of 20 MPG in city and 28MPG on the highway. There is also 8-speed automatic gearbox available as an option. Maximum payload and towing capacity without the engine depend on the cab and bed configuration. For crew cab, short box model payload capacity is 1,477 pounds, and maximum trailing is 7,600 lbs. This is an excellent result for such a small engine. Like his bigger counterpart Silverado, it has all features that make driving smooth and safe. Chevy goes even further in the field of customization. Light-duty diesel trucks are true workhorses, so Chevy included accessories that can make you more productive and organized in its offer. There are all kinds of truck bed storage systems, bed mats, side rails, tends, bed covers, bed extenders and tool boxes that will transform the truck into the ultimate working beast. Everything said for Chevy Colorado stands for his sibling for General Motors, GMC Canyon Diesel. They share the Duramax diesel engine as well as the transmission and other components.