Box Truck - Top to Bottom, Front to Back
What is a Box Truck?
Box truck is a type of commercial vehicle which has cargo area separated from the cab. Cargo area looks like a box, and that is the reason why people and fleet managers like to call them Box Trucks. However, this is not the only name for this type of fleet vehicle. Depending on box truck size and dimension they call them dry van, medium-duty truck, cube van, cube truck, dry freight, rolling toaster, and straight truck. Cargo box sits in the frame (chassis) and can't be accessed from the cabin. This means it is a two-piece vehicle. Cargo area usually has only rear doors, but it's possible to find models with side doors. Majority models in the US market have roll-up doors, but if it better suits your business needs it's easy to find models with hinged doors too. Box trucks, because of generous cargo space, are usually used by furniture companies, rental companies as moving trucks, mainly for those who need to haul and deliver big and bulky loads. They are not popular like full-size cargo vans or heavy-duty pickup trucks, but they still share a big piece of transportation market in our country.


Box Truck vs. Cargo Van
As you can see, there is a massive difference between a box truck and cargo van. Full-size cargo van can't haul items in such significant dimensions; driver can easily access cargo space from the cabin, unless the van has a divider, weight limits are different, they are constructed as unibody (one-piece) vehicle, some models have windows on cargo area, which is not the case with a box truck. Small businesses HVAC, electrician, plumbers, and general contractors, usually use cargo vans. These guys don't need box van, not even 12-foot small box truck, because of the nature of the job, plus it's a lot easier to drive and park a van in crowded city streets.
Types of Box Trucks
There is a variety of box truck designs. The most important is they are straight trucks since bed (cargo space or body), and cab lies on the same chassis. Along with box design, size and door type, they usually differ in cab design. There are two main types: 1. Conventional – they are easy to recognize because of a truck nose. The engine is placed in front of a steering wheel. A typical conventional box truck is Freightliner M2 2. Cabover COE (Cab over engine) – This type of box truck hasn't nose and bonnet. The engine sits practically in the cab, under the seats. Most popular representatives of this group are Isuzu NPR and Mitsubishi F Series. Moreover, trucks can are divided into the following types: • Light Duty Box Trucks – These are also known as high cube vans or cutaway vas. Their front looks like a cargo van, but they have a box behind the cab. They are like a mixture of cargo van and truck. Ford E-Series and GMC Savana G-Series trucks are most used in the US. The box is equipped with garage-like doors or light-duty lift. Light-duty box truck has a capacity from 8,500 to 14,500 lbs. The fuel tank is slightly under 30 gallons. They have estimated fuel economy of 12 mpg. • Medium Duty Box Trucks – have greater hauling and towing capabilities and can hold from 15,000 to 33,000 pounds. Usually, use big diesel engines with an automatic or manual transmission. They come in size from 18-foot to 26-foot body length. GMC W4500, Hino trucks, International 4300, Isuzu NPR and Freightliner M2, are typical inventory in this category. The box can have either rolling doors or liftgate that can hold up to 2,000 pounds. The fuel tank is from 33 to 50 gallons. Medium-duty truck estimated mpg is around 13.
Box Truck Sizes
When it comes to box truck size, most popular models in the US come in 5 variations: 10-foot truck, 12-foot, 16-foot, 22-foot, and 24-foot. There are other sizes as well, but these rule the roads and Americas highways. If you translate this in meters, you'll realize they come from 3 to 8 meters in length. That is in the range from Class 3 to Class 7 vehicles, meaning they can hold from 12,500 lbs. up to 33,000 lbs. GVWR. The more significant number falls into Categories 3,4 and 5.
Box Truck Dimensions
Although measurement can vary from make and model, there are guidelines that you can follow and use as a reference. Here are estimates for most used delivery and moving box.
12 feet truck dimensions Load capacity – 3,100 pounds Loading space – 450 cubic foot Cargo box dimensions Long/Wide/Hight – 12'x6'6"x6'1" Floor space – 78 square foot
16 feet truck dimensions Load capacity – 4,300 pounds Loading space – 800 cubic foot Cargo box dimensions Long/Wide/Hight – 16'x7'7"x6'6" Floor space – 120 square foot.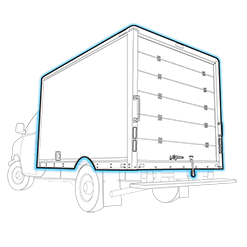 Box Trucks Manufacturers
As being said, cube trucks are not popular as cargo vans or pickup trucks, but car makers who produce cargo vans usually sell cube trucks as well. This applies to manufacturers like Ford, GMC, Ram, and Chevrolet. Many don't come straight from factory lines equipped with a cargo box, manufacturers offer only chassis cab trims, but with so many upfitting options you can upfit truck to match your vocation very easily. Among famous American brands, there are Japanese counterparts who positioned themselves as dependable, reliable and trusted names in the segment, Isuzu, Hino, and Mitsubishi.
Best Box Truck
Let's see what models and designs offer above mentioned brands. Included are all vehicle you can buy with a pre-installed cargo box and those you can easily upfit like cutaway vans. Depending on vehicle wheelbase you can upfit cargo box usually up to 18-foot.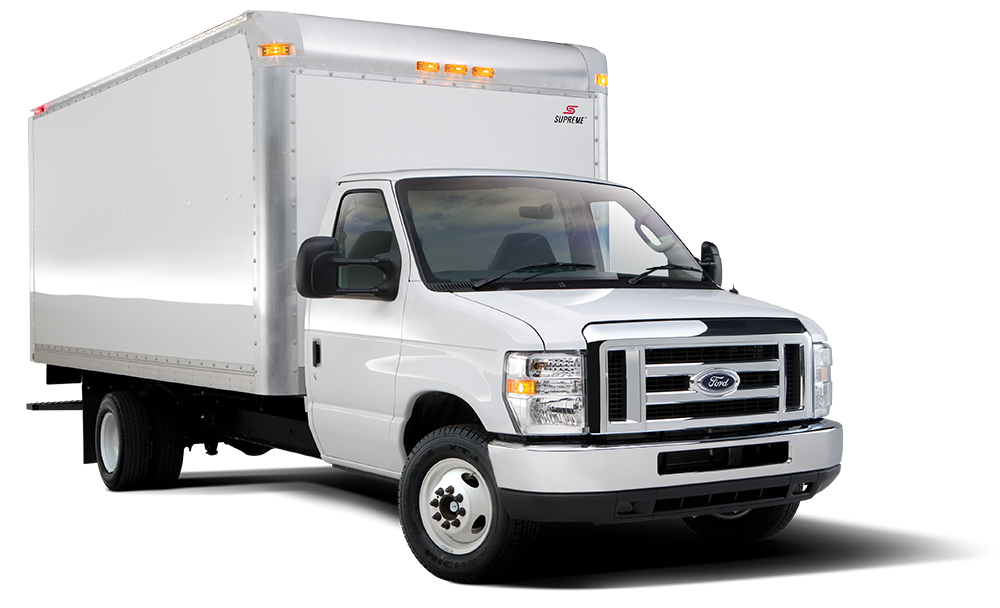 Ford commercial vehicles are one of the most used in North America. Besides cargo vans, passenger vans, and pickup trucks, Ford Cutaway trucks are favorite fleet managers weapons of choice. Ford offers E-Series as E-350 single and dual-rear-wheel cutaway, and stronger E-450 dual-rear-wheel cutaway. Maximum payload ranges from 5,190 lbs. to 22,000 lbs. E-Series box trucks use two engines; 6.8L V10 and 6.2L flex-fuel V8. Engines are paired with 6-speed automatic transmission; both versions use rear wheel drive.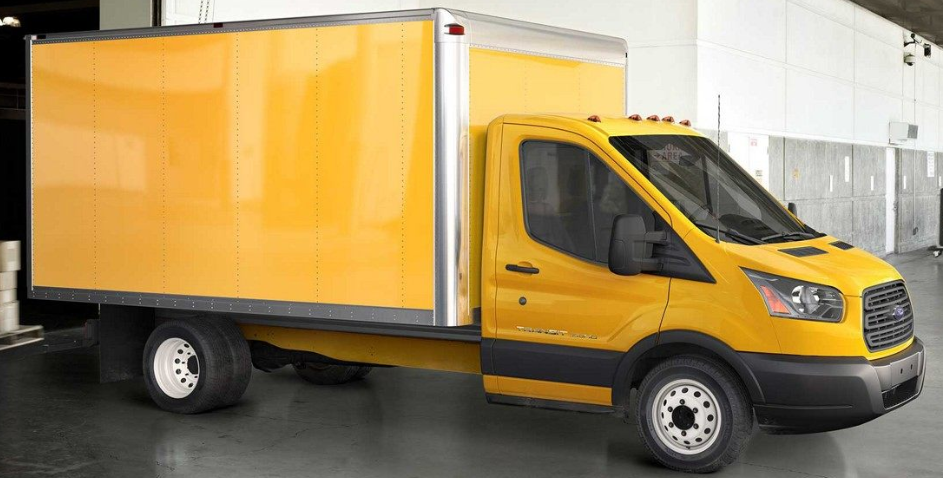 If you don't need powerful engines from E-Series, but admire Ford dependability, choose 2018 Ford Transit box truck. With maximum payload capacity up to 6,200 lbs. and GVWR range from 9,000 lbs. to 10.360 lbs. small 3.7 V6 engine Transit becomes a logical choice for many delivery businesses. With so many official upfitters, Ford vehicles are easy to upfit with many vocational packages. Transit is possible to upfit with box cargo body from 10 to 18 feet. Determining factor here is wheelbase. Short wheelbase 138-in. can accommodate 10-12-ft length body, 156-in wheelbase 13-15 ft, and longest 178-in wheelbase match 16-18 ft cargo body.
Chevrolet Express Cutaway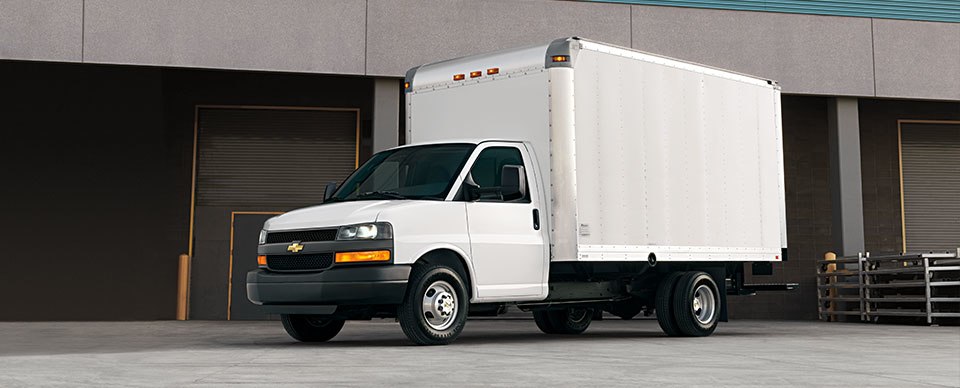 Chevy small box trucks are for years bestselling units across the US. With so many engines and wheelbase combinations, Chevrolet's engineers know how to touch hart and needs of the business owner. Chevrolet 3500 Express Cutaway is produced in 3 wheelbases: 139, 159 and 177 inches. Bigger and more capable 4500 Express box truck comes as 159 and 177 wheelbase. There are two engines to choose from. Standard is 4.3L V6, but available is Vortec 6.0L V8. Less muscular V6 offers 276 HP and 298 lb.-ft. Beefy V8 is capable of delivering 341 HP and torque of 373lb-ft. Engines work hand in hand with 6 and 8-speed automatic transmission. Chevrolet 3500 Express can hold up to 12,300 lbs. GVWR.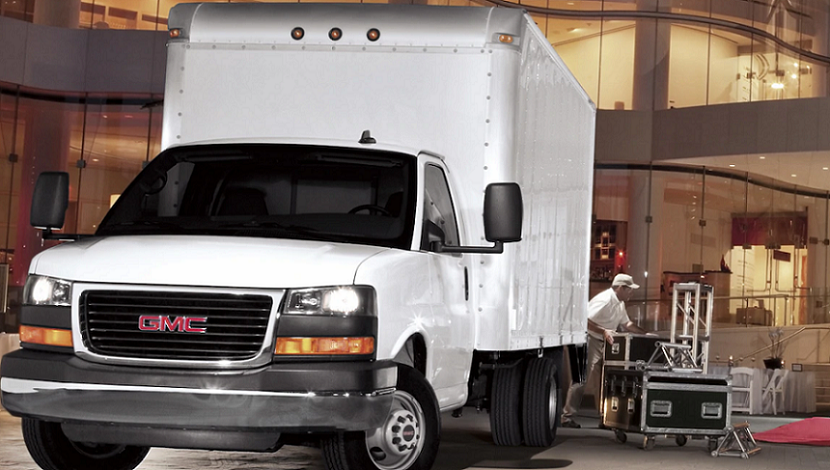 This is a very similar vehicle to Chevy Express Cutaway van. They share and have in common chases and engines. Savana is offered as 3500 and 4500, has the same dimensions of wheelbase like Chevy siblings. 139", 159" (extended) and 177" (long). Maximum GVWR for Savana 4500 is 14,200 lbs. Smaller 3500 can hold up to 12,300 lbs. Engines are 4.3L V6 mated with 8-speed automatic transmission, Vortec 6.0L V8 and CNG/LPG capable 6.0L V8. This engine delivers the same power and torque as petrol counterpart. Vehicles above were cutaway vans that can easily be upfitted and become small box truck with cargo body from 10 to 18 foot. Let's see more robust options you have with medium-duty box trucks.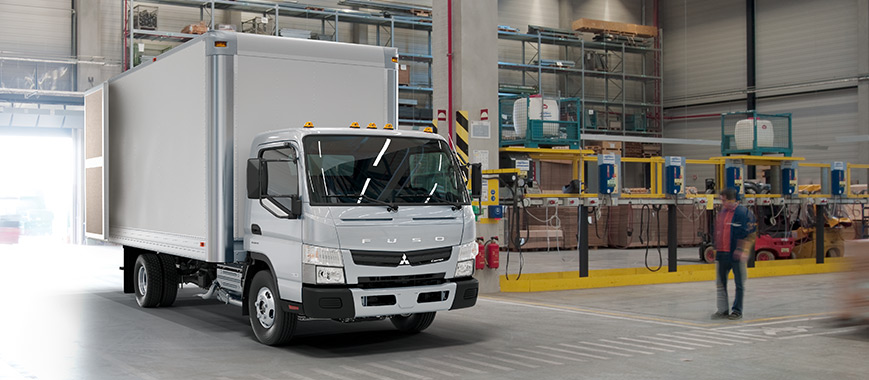 Mitsubishi has a very successful strategy in the truck market. They produce quality and reliable vehicle, offer them in several cabs and engine configurations, under affordable price. This proven to be the right recipe for success. The main rival to Made in America trucks is Mitsubishi FUSO. This work rig is offered with gas and diesel engines, but also an all-electric vehicle. FUSO models available in the US are FE130, FE160, FE180, and FG 4X4. Depending on the chosen model it can carry from 13,200 lbs. GVWR for FE 130 up to 17,995 lbs. GVWR for FE180. Maximum payload is 8,055 pounds. FUSO has two cab configurations, crew, and regular (single). Crew cab can accommodate up to 7 persons. To help businesses and fleet managers choose truck according to job demands, Mitsubishi prepared several vocation packages. You can upfit truck for a different purpose, dry freight, contractor, food delivery, refrigerated and many more.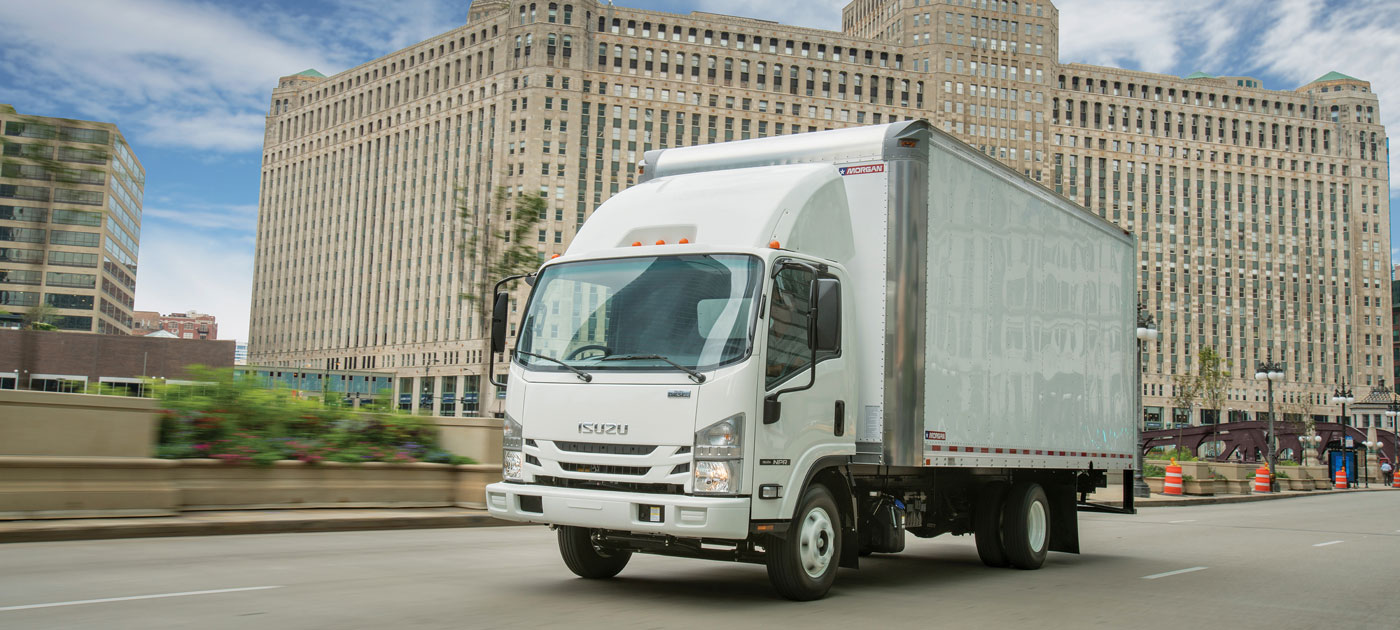 Another Japanese car maker in the list of the best box trucks, Isuzu. They may not be award winners in design, but Isuzu produces reliable, fuel efficient, simple, made to last-for-years and easy to maintain trucks for decades. Most selling Isuzu box truck in America is N Series, NPR to be precise. This is a trendy vehicle in many business fleets because of the variety of wheelbase dimensions that can hold bodies from 10 to 20-ft. Smallest of four wheelbases is 109 inches long, extended wheelbase of NPR is 176 inches long. Depending on wheelbase and engine this Class 3 vehicle can carry up to 18,000 pounds (GCWR) with a gas engine. The standard 6.0L V8 engine is mated with 6-speed automatic transmission. Vortec engine produces 297 HP and torque of 372 lb.-ft at 4,000 rpm. Diesel Isuzu NPR uses 5.2L engine paired with a 6-speed transmission. In this engine/transmission combination, NPR-HD can tow and haul more than gas model, 20,500 GCWR. Isuzu NPR-HD belongs to Class 4.
Isuzu F Series
Isuzu FTR is a medium-duty truck that belongs to vehicle Class 6. FTR uses diesel 5.2L engine and can transport and tow up to 30,000 GCWR. Transmission is entrusted to Allison 2550RDS automatic gearbox. The engine delivers 215 HP and torque of 520 lb.-ft at incredibly low 1,600 rpm. FTR has eight wheelbase configuration, from 152-in up to 248 inches. This means you can upfit truck with the body from 14 to 30 ft. Maximum allowed payload is 15,690 pounds. Excellent fuel consumption, muscular engine and a fantastic range of accessories make this truck is perfect for long hauling across the country.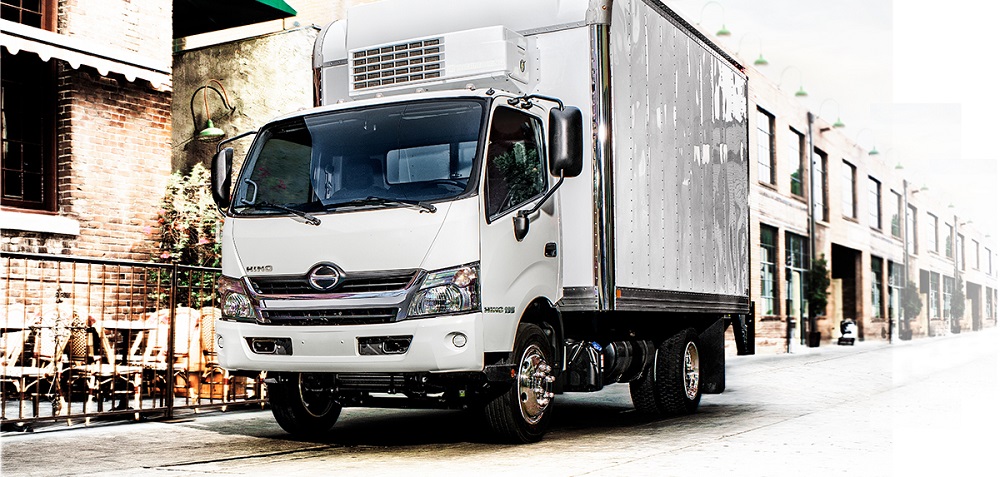 Hino is a truck company owned by Toyota corporation. First medium-duty truck was produced in 1964 and was called Ranger KM. Hino is present in the US from 1990, and since then become a trusted partner for those who demand light, medium and heavy-duty trucks. 155 Cab-over is Hino bestseller in the delivery truck segment. It's offered as a single and double cab. Regarding the cab configuration, it can carry 14,500 pounds GVW. Hino 155 uses a 5.0L diesel engine and 6-speed automatic transmission. The engine has 4 cylinders, and it's capable of producing 210 HP and 440lb.-ft. of torque which is quite enough for a medium-duty delivery truck.
Hino 195 Cab-Over
If you need more capable truck go with Hino 195. Moreover, it's designed for the North American market. Hino 195 can easily fulfill the needs of many vocations. It uses the same engine as 155 model but has a more rigid chassis. Hino 195 can transport up to 19,500 GVW. Available wheelbases are 114, 137, 149, 161, 173, 196 and 214 inches. All Hino trucks have 5-limited years warranty and some impressive features like remote diagnostic for vehicle and driver management that come as standard.
Chevrolet LCF (Low Cab Forward)
If you are looking for a truck that can accommodate 24-ft body Chevy has the solution. With the longest LCF6500 XD, you can haul a massive amount of load 25,950 lbs. (GVWR). Chevy although offers a smaller low cab forward trucks 3500, 4500, 4500HD, 4500XD, 5500HD and 5500XD. Smallest 3500 and 4500 models are great for use in the city and are available as crew and regular cab configuration. Depending on model, low cab forward trucks lineup includes several petrol and diesel engines. All you need to do is to select the desired cab and wheelbase to meet your business necessity. With so many options the task is not an easy one. Try not to get overwhelmed.
Freightliner Business Class M2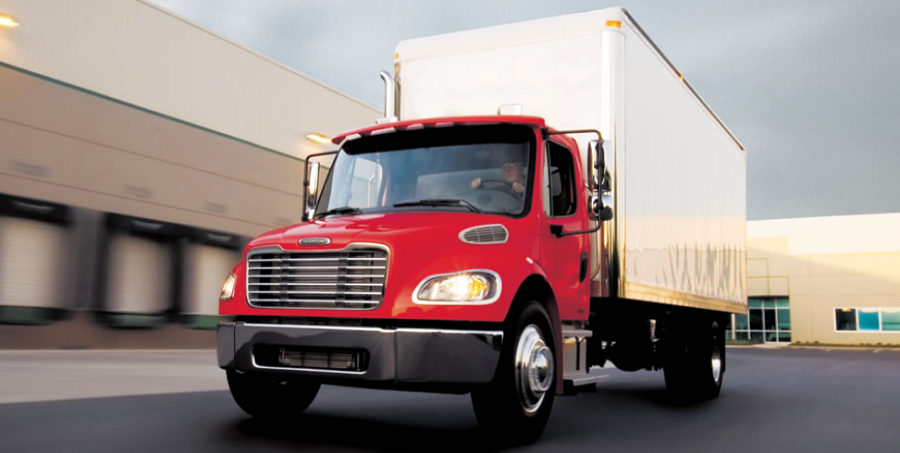 If it's good for fire departments across the US than it is good for business too, right? All Freightliner trucks are known for their toughness, wide cabs, maneuverability and reliability. A medium-duty truck from Freightliner is M2 106. It is the most powerful among all trucks from this list. This is Class 7 vehicle, has GVWR of 66,000 pounds which means it's capable for toughest jobs. M2 106 can use 4 engines; Cummins B6.7, Cummins L9, Detroit DD5, and Detroit DD8. Engines deliver from 200HP to 350HP and enormous torque of 1,150 lb.-ft. Available are both, manual and automatic transmissions. There are three cab configurations; day cab, extended cab (26") and crew cab (48"). M2 easily can be upfitted with chassis-mounted equipment or vocation bodies.