Best Used Trucks Under $5,000 to Buy in 2022
Trucks became extremely expensive, and that's something we know that for years. New pickups packed with the latest technology, safety features, leather interior, 4 zone climate control, satellite navigation, and strong diesel engines easily reach the price of a small studio. Not everyone has money to buy a new truck; not everyone has money to buy a used truck that is 2 years old without any additional equipment. This article is about much more affordable pickups. Sometimes we don't want to spend big money on a vehicle, sometimes we need a vehicle to continue or expand the business, BUT OUR BUDGET IS LIMITED. No matter the reason, the lines below are going to show you what options you have for 5,000 dollars. We've interviewed fleet managers and small business owners who depend on work trucks and made a list of best used trucks under 5000. Before we jump to models, features, and specs, you should know trucks under 5000 don't necessarily mean a rusted old metal box with an engine that falls apart. Yes, you'll probably need to do full inspect of the vehicle, maybe change 2 tires, change oil or battery but it's possible to buy a truck for under 5000 that can serve you for several years. As additional resource read this ultimate guide on how to buy a used truck and never make a mistake.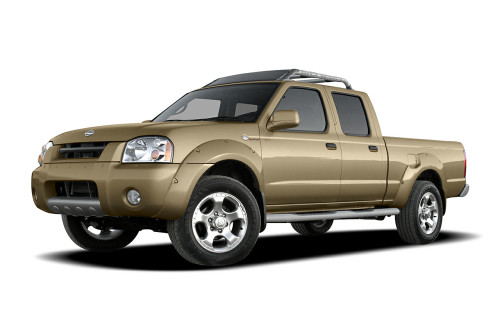 Nissan Frontier is the most affordable new pickup truck in the US for many years, and that is the reason it's on the first spot of our list. For $5,000 or less you can buy 2WD first-generation Frontier with the 4-cylinder gas engine, 5-speed manual gearbox, crew cab with four doors and long cargo bed. This truck does everything you need from work rig. For the same price you can find a 4x4 model, and without any regret, we can say Frontier is best used 4x4 truck for sale under $5000. Don't expect any fancy additional equipment; some Frontier models don't have even power windows. AC climate, FM radio, alloy wheels, and power steering is all you can expect.
Toyota's vehicles have an excellent reputation and resale value. Therefore it's hard to find Tundra under $5,000 in decent condition, if you find one expect high mileage vehicle. Toyota makes trucks in the US since 1999, but they are still more expensive than pickups from RAM, Chevy or Ford. Simply put, Toyota makes reliable trucks in the half-ton segment, and overall build quality is at the highest level. If you add attractive design and affordable maintenance Tundra can quickly become your choice no matter if you look everyday commuter or work truck. For under $5000 you can buy first generation Toyota Tundra with 4.7 V8 gas engine, 4-speed automatic transmission, extended cab, long cargo bed, and 4-wheel drive. Average fuel consumption is 13 mpg in the city and 16 mpg on the highway.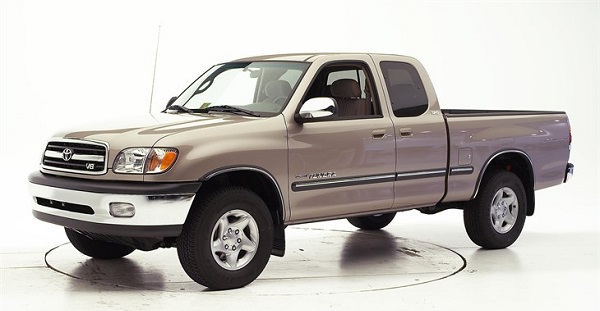 Another truck from Toyota to match your budget. First Tacoma came from production lines in 1995 and quickly became the best selling truck in many countries. The same situation is in the US. Tacoma is famous mostly because of the extremely dependable V6 engine (there is no V8 option) and fantastic fuel economy of 18 mpg in the city and 24 mpg on open road. The engine can make more than 300,000 miles without problems with regular oil changes. For 5000 you can get 2000 Toyota Tacoma with Extended cab, long bed, 3.6L V6 gas engine, and 4-speed automatic transmission. Available is a manual transmission that works well and smooth even after so many years. Many of Tacoma's owners say it has decent off-road capabilities too.
If you are looking for small used pickup truck under 5000 dollars consider Tacoma as your primary choice. Once Toyota's driver always Toyota's driver.
2004 Ford F-150
It's hard to make any list of best used trucks without Ford F-150. This American icon is the bestselling Ford vehicle in the truck industry. There are so many options, trim levels, and configurations with F-150. You can choose several powerplants, cab variations (single, extended and double cab) and cargo bed lengths (short and long). Available are 4WD and 2WD drivetrains. Model for 2004 was slightly redesigned to secure a strong position in the full-size truck segment. The truck has very nice lines; the design is up to date even today. In the cab Ford used quality materials, everything is where it should be, driving position is comfortable and seats offer good support for long journeys.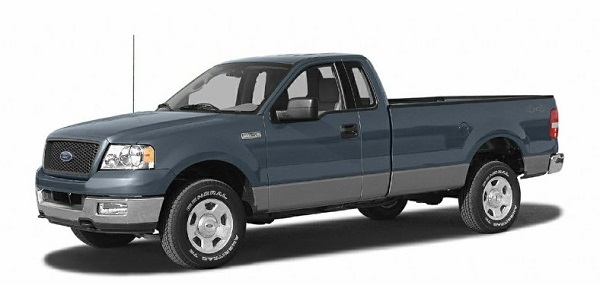 For best performance look for 5.4L V8 engine. Equipped with this engine Ford is delightful to drive, comfortable, quiet and the only downside is low fuel economy of 14-18 mpg combined. On the other hand, this engine allows to tow boat and bulky items. Cab with 4-doors has room for 6 people. This is great if you use a truck for everyday business, especially if you are constructor or tradesman.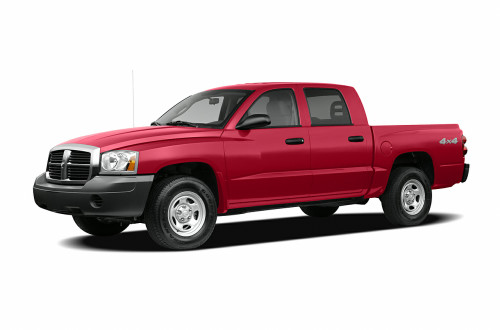 If search online listings you'll find that is possible to find Dodge Dakota way under $5,000. There are hundreds of vehicles under $3,500. If you are still willing to pay around the defined budget, some great deals are waiting for you. The third generation of Dakota was produced from 2005 to 2011, and it's almost identical to RAM 1500. Dodge offered one V6 and two V8 engines. Those with V8 engine paired with 5-speed automatic transmission have decent performance and towing capability. V-6 engine is a bit sluggish. Available are 2WD and 4WD. Average fuel consumption for 2006 Dodge Dakota is 14 mpg in the city and 18 mpg in the highway.
There are two body styles; extended and crew cab, although Dodge called them Quad and Club. Single cab style is not available. Both cab configurations offer enough room for passengers; seats are comfortable and pleasant for long trips. Overall, Dakota is a perfectly sized truck, dependable, 4.7L V8 engine is perky and has potential to tow small trailers. We wish Dodge still produce this truck.
2005 Chevrolet Colorado
A mid-sized pickup truck from Chevrolet is one of the best looking trucks under $5,000. If you are lucky enough to find one in ZR2 package, it will be the hell of a ride. Joke aside but Chevy Colorado deserves sport on our list because of few reasons – abovementioned exterior style, good fuel economy, reasonable price, and performance. 2005 Chevy Colorado gets 19 mpg in the city and 24 mpg in the highway. For today's standards, it has a small 5-cylinder engine which delivers 220HP and 4-speed automatic gearbox. The engine is a little noisy, but performance is more than satisfying. You can choose between off-road ZR2, which is 4x4, and standard trim levels. On-road trim level, Z71, has rear wheel drive. Furthermore, there are two bed lengths and three cab configurations. Chevy Colorado from 2004 is not pioneer in innovations, but it has air condition, ABS, power steering, dual air bags, and option to lock rear differential.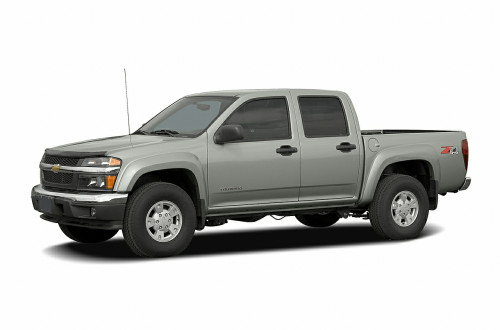 Colorado is not popular as F-150 or RAM 1500, but for under 5K, you can find the fleet vehicle, usually in white color, long bed, and single cab configuration, with many miles under the wheels. However, don't get disappointed because most of the fleet vehicles are well maintained and have maintenance records. Examples with crew cab cost a few thousand bucks more. If you want a cheap truck that will save you money on gas choose Chevy Colorado.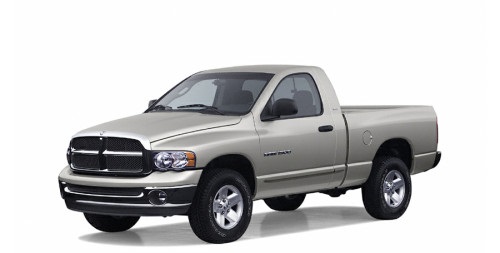 The only truck who can compare and compete on every level with Ford F-150 is RAM 1500. RAM is the most selling pickup truck at the moment in our country. Alternatively, as RAM official website says, "Most Desired Truck in the US." Maybe that is the truth for the 2018 model but what about RAM 1500 from 2002. According to fleet managers and owners, RAM 1500 is almost impossible to break. Many have more than 200,000 miles in odometer and have no problems to tow and haul heavy tools to job site, especially those with V8 engine. Carefully maintained vehicle doesn't use a globule of oil, transmission is smooth and gear changing is almost imperceptible. Speaking of the engine, RAM included three engine choices, two V8 and one V6. Combined fuel economy is 16 mpg. Available are two and four-wheel drive. There are two cab options; Regular and Quad cab with 4 doors.
5K is somewhere in the middle of the price range for 2002 RAM 1500. Vehicles with low mileage, driven not more than 35,000 miles cost up to $9000. For your budget, you can easily get SLT Quad Cab with rear wheel drive, automatic gearbox and few extra options like alloy wheels and chrome bumpers. Definitely along with F-150 this is the best used truck under 5000.
To Conclude
As times goes by, we'll add more used trucks under 5000 to this list and try to provide you with some fresh ideas. So, stay tuned, buying a used truck is an excellent opportunity to save money and get a vehicle for miles to come.