Truck Tool Boxes 101 a.k.a. Best Truck Bed Accessory
If you use a pickup truck for business, there is no chance that you already don't have one or even a few truck tool boxes. Despite the truck size, brand, towing capacity, maximum payload or your vocation, it's impossible to keep tools organized and safe at the first place, without quality truck storage box. Plastic, steel or aluminum, side mounted, lo-side or high-side, rust and weather resistant, small or big, black or white, uncoated, with extreme protection or with just a simple lock – there is a ton of variations. Don't get overwhelmed, read ahead and never buy wrong pickup toolbox again!
Truck Bed Tool Boxes Buying Guide

Tips, reviews, and findings below are possible to apply every time you are looking to buy the best toolbox for your vehicle. Follow this guideline and advice and be 100% sure that you bought accessory right both for your truck and your job. Let's start with compatibility.
Will the toolbox fit my truck?
Probably it will, since all big names in this industry follow car makers guidelines. Furthermore, makers use standardized dimensions for beds and bed walls. If you like some of Weather Guard, Ranger Design or products from other renewed manufacturers, you shouldn't worry about compatibility with your vehicle. However, it not so hard to check their websites or call the local dealer and see if they had installed that or similar unit on the truck you drive. Provide dealer with
truck make, model, year and bed length
. This way you can rest assured that tool box will perfectly fit truck bed without any customizations or drilling holes.
Dimensions and Capacity
Another thing to consider is a dimension. The capacity, of course, depends on dimensions. Here is everything up to your needs and job requirements. You can choose from units like small bed storage chests to tool boxes that have an equal length to the truck bed. Personal preferences play vital role here.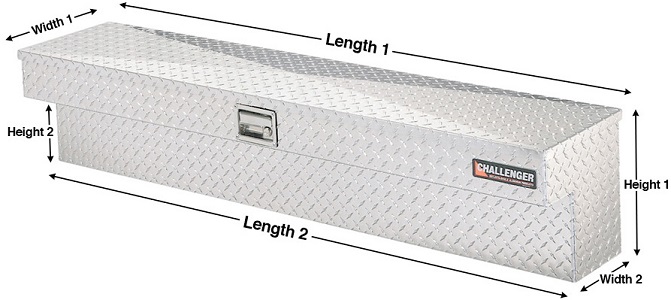 Regardless your wishes toolbox needs to fit the truck bed, so measure it carefully and compare with boxes' dimensions. Box dimensions found on the manufacturer website. Large tool boxes can accommodate more tools and usually have small compartments or drawers inside that are convenient to store smaller items like drill bits. Larger, more spacious toolboxes, usually cost more, but if you need to haul bulky equipment, you need to spend few dollars more and invest in a storage box that will adequately protect expensive gear needed on job site.
Design
Basically, there are two things to consider when it comes to design. Do you need portable or fixed (mounted) tool boxes for truck? Both designs have some pros and cons. Let's dive deeper and explain the main differences.
---

Mounted truck bed tool boxes – sometimes require installation from the certified dealership since it requires minor drilling. Once installed the can't be easily removed. They always have some locking mechanism and most of the time they are installed in the bed. They are larger than portable counterparts and don't move in bed during the drive. They are fixed units.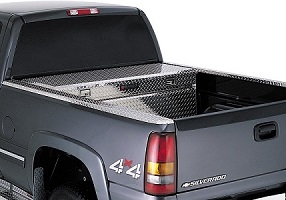 ---

Portable bed tool boxes – usually smaller in dimensions, because you can take them out of bed and carry with you on the job site. The main disadvantage is security. Although they have a lock, they can easily be stolen if your truck doesn't have a bed cover. Portable tool boxes don't depend on truck make and model.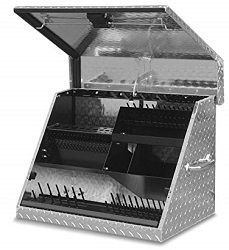 The second thing to consider about design, although in relation only with mounted tool boxes, is where do you want to install your tool storage or mounting styles. There are 5 popular options to consider: • Side truck tool boxes – installed in bed, on bed side rails, but they don't touch the bed floor. This is most common type of truck tool box • Chest toolboxes – are installed behind the cab, between left and right bed wall, and they touch truck bed floor • Top mount boxes - are placed on top of the bed side rails, thus don't take space in the truck bed • Wheel well boxes – as the name suggests these are installed in bed and go over the wheel wells. There are passenger and driver side wheel well toolboxes • Crossover boxes – similar to chest type but they don't touch the bed floor. As you can see many options take some bed space. However, guys from DECKED invented fantastic truck bed storage system which allows to have a giant toolbox and still have the ability to load tools, bike or ATV above toolbox. See this system in action. Another issue can be visibility, choose tool box that is not going to limit rear visibility. Low profile designs allow seeing through the rear window without problems.
Material
Because of light weight and ability to resist corrosion most of truck bed tool boxes are made from aluminum. Along with aluminum, there are units made of plastic and steel. All have certain good and bad sides.
Aluminum Truck Tool Boxes Aluminum is a favorite material for many brands, for a reason. It is light, so it won't jeopardize payload capacity, it's super durable, and finally, it looks stunning. So, aluminum truck boxes can add style and personal touch to your work rig. They are possible to buy in standard and wide dimensions. Full-size boxes are usually made from aluminum. For better protection from bad weather and rust, aluminum tool boxes are usually covered with powder coat.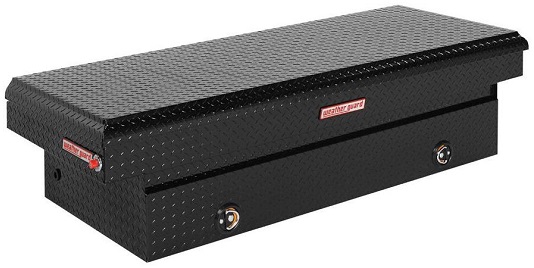 But not every aluminum is the same. Manufacturers use 5052 diamond plate aluminum, used by US army or aluminum in combination with chrome and steel. Military grade aluminum is the best option, but items made of it have a slightly higher price. Aluminum pickup tool boxes come with a limited lifetime guaranty.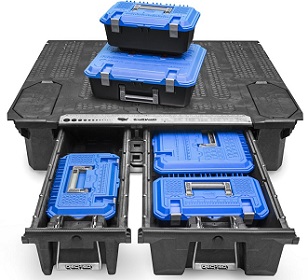 Plastic Truck Tool Boxes We say plastic, but it's high-quality resilient poly material. Sturdy poly construction is fully waterproof and rigid. At the same time, plastic truck toolboxes are lightweight. Swing case tool boxes usually are made from high-impact ABS plastic. Rigid poly plastic is almost impossible to dent. Online reviews and maintenance shops mechanics say that poly truck toolboxes are easier to install than steel and aluminum counterparts. They usually come in a limited lifetime warranty.

Steel Tool Boxes Steel is less popular material than aluminum but still a lot used for many accessories. Steel truck tool boxes fit all bed sizes and include powder coated finish. Stainless steel or reinforced steel and coated finish (rust-resistant) are responsible for ultimate weather protection. Drawback of steel tool boxes is weight. They can be heavy, so don't consider them as tool case that you can carry around the job site. Weight can also affect installation, meaning you'll need to take your vehicle to the dealership and let professionals do the job.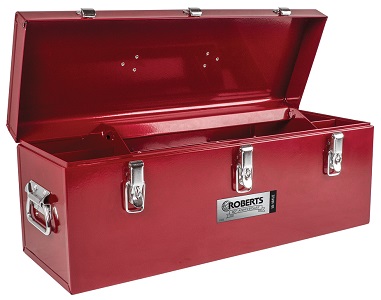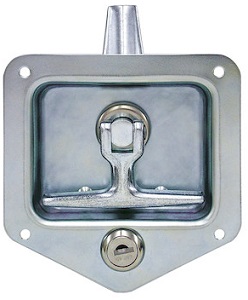 Locks and locking mechanism One of the most important aspect when choosing a truck tool box is safety. What's the point of tool box if your equipment is exposed to prying eyes? Locks and locking mechanisms can, but sometimes, are sold separately from tool boxes. Different brands offer different locking solutions, but at the end of the day they all have only one purpose – to keep your tools safe. Best truck tool box is the safest one. Extreme security is possible to achieve with 3-point latch and automatic or manual locks. Here is important to emphasize that no toolbox is 100% secure. However, if it has a lock and latches only skilled thief can steal your staff. Remember, to break lock he needs cutting tool or crowbar. Cutting needs time and will produce much noise. That gives you time to react and prevent burglary.
Weather resistance
As they are built for a truck bed, tool boxes are exposed to all weather conditions; freezing temperatures, rain, snow, hot sun. Regardless the weather toolbox has to offer the same level of safety and usability. Gear inside the box must remain dry under every circumstance. Same stand for dust. Although it's hard to find truck bed storage box that isn't waterproof take good care and read online reviews about the model you want to buy. Owner's reviews can give you the most valuable insight for how many years (or in worst scenario months) tool box stayed rust-resistant. Sometimes small dents can damage coating and finish, and toolbox starts to rust at that spot. Talk to your local dealer and check their experience on this topic but online forums are also a great source of reliable and honest information.
Installation
Best tool boxes for trucks are possible to install without professional help. All you have to do is to follow user instruction and install box without drilling in less than one hour. Every brand tries to ease the installation process and give all needed info, sometimes even include video on the official website.
Toolboxes are shipped with all accessories like nuts, washers, and bolts you need to mount the unit on bed rails properly. Mounting depends on design, but they all have a very similar installation process. If the installation requires drilling that's not the problem? Since you bought tool box, you know how to use drill and screwdrivers, right?
Price
Price range depends on size (dimensions), capacity and material. Bigger units cost more, logically. Best truck tool boxes cost up to $3,000. Bed in-floor drawer systems even more, but popular boxes chest tool boxes cost under $1,000. We are referring on high-end models made from aluminum, with small drawers and partitions for storage of small items. If you need toolbox just to store drill and power cables, a single lid unit is a decent choice. Poly and plastic swing toolboxes start from $200. Single lid chest poly unit cost around $100.
Guaranty
Dependable toolbox manufacturers offer a limited lifetime warranty on the majority of products. Brands you can find bellow offer here mentioned guaranty and also 3 or 5 years warranty. Storage systems built-in floor with drawers have 3-years limited warranty. What limited lifetime warranty means? It means that the product is free from any defects in craft and materials. It doesn't cover customer abuse and product misuse. Be aware that toolbox customization and alteration void the warranty.
Brand – Pickup Truck Toolboxes we Recommend
Lastly but equally important. As in other industries, some brand are known for their high-quality products, innovative solutions, and top-notch materials. So, who dominates in this field? You won't regret if you purchase DECKED, Ranger Design, Weather Guard, Highway Products, Dee Zee, Better Built, Buyers Chest, TMS or Undercover.

Some products are designed and made in the US, like DECKED, other made in China but that doesn't downgrade their quality.