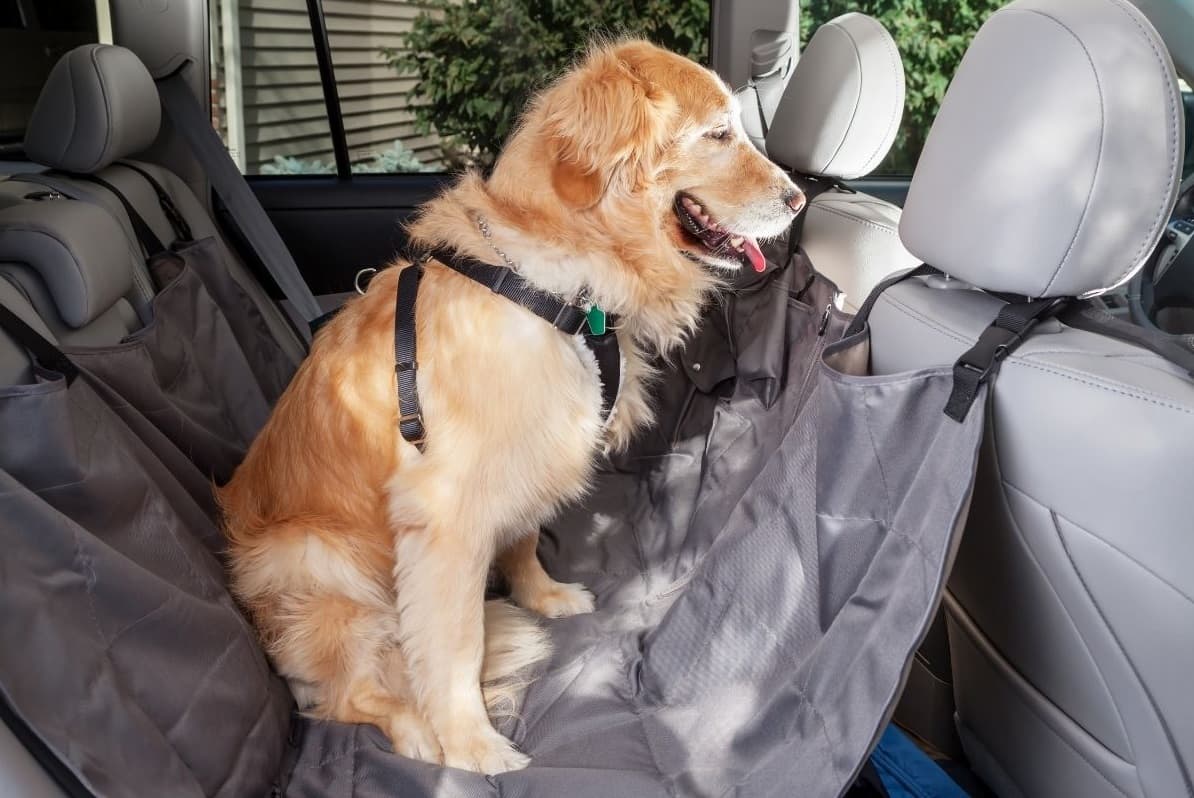 6 Best Dog Car Seat Cover to Protect Your Car Effectively: Reviews & Buying Guide (2022 Edition)
A fantastic day in nature with your pet may turn into a scrubbing nightmare if you do not have the best car seat cover for dogs. Pet seat covers can save you time and money on cleaning the car's upholstery from debris, stains, dirt, dog hair, nails, drool, and even vomit during car trips. Your pup will be safe and sound in the backseat cover for dogs; it will give your dog a place to rest and even can make a bumpy ride more comfortable.
This comprehensive car seat cover reviews and buying guide will provide you with the most relevant information about the types of dog seat covers, materials, and price range. There are various options available, and one will certainly meet your needs.
Types of Dog Seat Covers
There are 5 main types of dog seat covers:
1.      Hammock – Style Seat Covers
This style is perfect for nervous doggies who need a sense of security while riding in the back seat. It prevents the dog from accessing the car's footwell and protects the back of the front seats. You will be happy to find out that your opportunistic pet cannot sneak and distract you from driving.
2.      Bench Seat Covers
This type is perfect for families with multiple dogs or children because it allows the two-legged passengers to ride safely alongside the four-legged ones. They cover the entire back seat and usually have openings for the seat belt.
3.      Cargo Floor Liners
These liners are the best choice for large dog breeds or a pack of dogs. They come in different sizes to fit different car configurations, especially if you keep the back seats down. It will give your dog(s) plenty of room to rest down and ride comfortably, so you can even place dog beds in the cargo area.
4.      Front Seat Covers
Ideal for quiet dogs and smaller breeds accustomed to riding in the front seat and cannot get injured upon airbag inflation. The front seat cover efficiently protects the entire front seat and provides an anchor to keep it in place.
5.      Bucket Dog Car Seat
Although technically not a cover, the car seat is worth mentioning because it provides a certain amount of seat protection. Front and back straps loop around headrests and included lead attached to any car seat belt to tie down to the dog leash securely. It can be used on the left or right side of the backseat of a vehicle. It is excellent for medium and large dog breeds.
Best Dog Car Seat Covers Reviews for 2022
We know that traveling with your dog is becoming more common every day. With easy-to-clean and easy-to-install dog car seat covers will save you from a nervous breakdown when you see your lovely pooch shedding heavily on your backseat.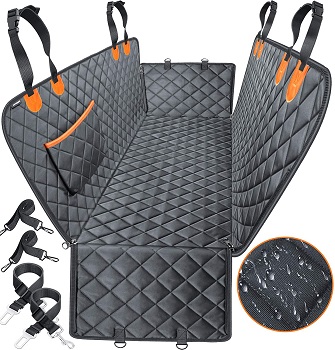 This dog back seat cover has side flaps for protecting not only your backseat but also the car door from drooling and scratches. A zipper design eases the transformation into a bench seat cover or trunk cargo liner.
It is made of 4-layer fabrics, which is 100% waterproof to protect water, mud, hair, and any other type of mess. In addition, it will prevent your dog from slipping every time you apply the brake.
It is also equipped with a non-slip backing, adjustable headrest anchors, seat anchors, and 2 seatbelts openings to keep your dog in place. In addition, you can use the 2 attached dog seatbelts to secure your dog.
| | |
| --- | --- |
| Color | Black with Orange |
| Material | Oxford fabric |
| Style | Convertible (Hammock, Bench seat & Cargo floor liner) |
| Size | 54" W x 58" L |
| Weight | 8 Ounces |
| Brand | URPOWER |
| Auto part position | Rear |
WHAT WE LIKED // Excellent size, Easy to install and clean
WHAT WE DIDN'T LIKE // Odd smell of the fabric, Not so luxurious looking
Verified Amazon Purchase Review – "I have an 80lbs pit bull mix that loves riding in the truck but isn't the easiest on interiors. This cover has protected the truck seats from scratches, mud, hair, and slobber. Ringo is able to ride with his dad every day to work!"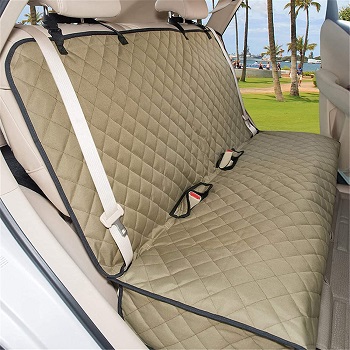 VIEWPETS Bench will supply your dog with comfort and keep your interior upholstery away from dog scratches, fur, and urine. It is also suitable for the passengers – it protects the back seat from juice, milk, mud, and other messes.
This material is quilted heavy-duty, scratch-proof, and waterproof. The seat anchors, non-slip mesh, and side flaps will secure it in place.
It is high quality, thick, quilted and waterproof material. We love the flaps that cover the sides of the seat and the non-skid material on the underneath side. In addition, the straps with the plastic tubing that slides into the crack of the back of the seat help ensure that this cover does not budge.
| | |
| --- | --- |
| Color | Sage Green |
| Material | Waterproof polyester |
| Style | Bench seat |
| Size | 49" L x 56" W |
| Brand | VIEWPETS |
| Auto part position | Rear |
WHAT WE LIKED // High-quality, Affordable, Durable
WHAT WE DIDN'T LIKE // Would like front and side covers to hang longer
Verified Amazon Purchase Review – "This is an incredible bang for your buck. The cover is made really well, it's heavy-duty and fits my 2019 Chevy like a glove. I have 4 dogs, so protecting my beautiful leather seats from their claws and dirt is a must! The velcroed pockets for the seatbelts are really nice as I do have people ride in the backseat occasionally. I still can't believe it was under $40! And it looks very nice too:)."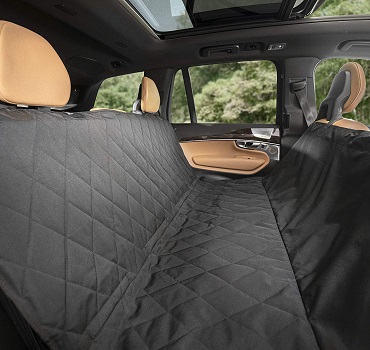 This dog car hammock is the best dog seat cover for leather. It will safely protect your interior from the messiest family member; it is made from durable, waterproof, and tear-resistant canvas.
If you have high-quality leather seats, you may want to invest in a high-quality cover that will adequately protect your seats from claws and dirt – so this luxury car seat cover may be the right choice for you.
| | |
| --- | --- |
| Color | Black |
| Material | Waterproof 600D PU Infused Oxford Fabric |
| Style | Hammock |
| Size | 58" L x 55" W |
| Weight | 3.4 Pounds |
| Brand | PLUSH PAWS |
| Auto part position | Rear |
WHAT WE LIKED // Easy maintenance, Excellent fit
WHAT WE DIDN'T LIKE // After few times in the washing machine, the back is coming off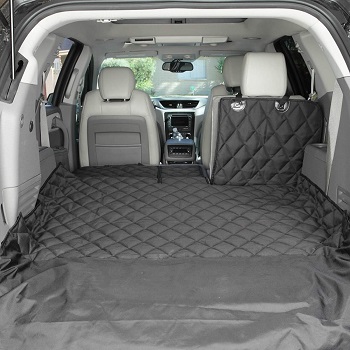 4Knines SUV Cargo Liner allows for 60/40 or 50/50 split seat and center cargo pass-through; it installs in seconds with quick-release clips.
The cargo liner's waterproof, non-slip layer creates an entirely waterproof barrier, but keep in mind that seams, zippers, and stitching are not watertight. It also has bumper protection and is available in small, large, and extra-large sizes.
| | |
| --- | --- |
| Color | Black |
| Material | Waterproof 600D polyester |
| Style | Cargo liner |
| Size (L) | 52" L x 82" W (includes a 20" bumper guard) |
| Brand | 4KNINES |
| Auto part position | Rear |
WHAT WE LIKED // Excellent quality, Great fit, Extremely easy to install
WHAT WE DIDN'T LIKE // Wish zippers were tethered together like a duffle bag
Verified Amazon Purchase Review – "This thing is great; my friend has a larger SUV, and after seeing hers I asked her the brand, and she sent me the link to this product. I ordered a small, and it fits the back of my Mazda 3 hatchback almost like it was made for it. Took about a min to install, just slipped the straps over the headrests and tightened them and that was that. I unzipped and was able to put either one or both sides of the seats down in the back and it was perfect. There's one weird piece where the fabric folds funny but it's the shape of the car not the mats fault. It's way better quality than anything I saw at pet stores in my area and definitely worth the price."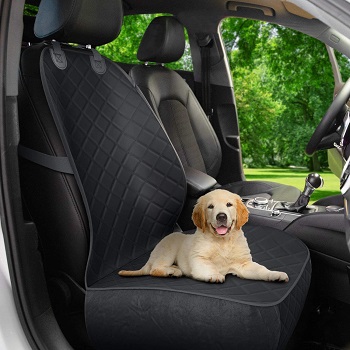 This dog seat cover features four unique layers that create an impenetrable waterproof barrier between your seats and your furry friend, protecting them from mud, water, and fur while allowing your pet to feel as comfortable as it would sleeping on their kennel pad.
2 adjustable clips keep the dog car seat cover securely in place – each durable clip is made of extra strong plastic. It also includes a set of anchors that can tuck into the crevices between your car seats.
Your pet will be comfortable and secure with no sliding and slipping, with non-slip rubber backing that ensures the dog cover seat stays in place.
| | |
| --- | --- |
| Color | Black |
| Material | Waterproof 600D Oxford cotton |
| Style | Front seat |
| Size | 42" L x 20" W |
| Weight | 1.2 Pounds |
| Brand | ACTIVE PETS |
| Auto part position | Front |
WHAT WE LIKED // Thick and quality material, Durable
WHAT WE DIDN'T LIKE // The front lift up when the dog is sitting
Verified Amazon Purchase Review – "I normally don't write a review, but these seat covers are amazing. I have 3 large dogs and I've tried several brands, and none so far has made it past the first use. Nor did they ever stay covering the seats. These totally incase the seats that prevent them from moving and exposing my leather seats. I took my dogs to my park and home; the mud wiped right off as though they never were there. I would recommend these seat covers."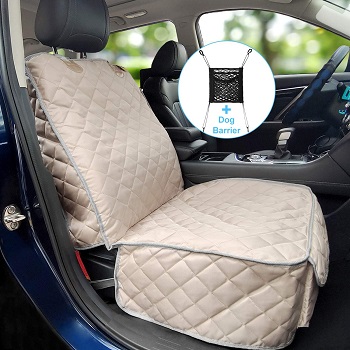 One of the most luxurious waterproof car seat covers, the Bark Lower seat cover is the best seat cover for dogs with side flaps, a premium fastening system, and a convenient storage pocket, so your Ford F-150 will be clutter-free.
Durable buckles with adjustable straps, non-slip backing, and sturdy seat anchors always keep the cover in place properly, so your furry companion is safe. In addition, the unique design will fully cover the seat of your F-150.
| | |
| --- | --- |
| Color | Black with Orange |
| Material | Oxford fabric |
| Style | Convertible (Hammock, Bench seat & Cargo floor liner) |
| Size | 54" W x 58" L |
| Weight | 8 Ounces |
| Brand | URPOWER |
| Auto part position | Rear |
WHAT WE LIKED // Perfect protection and fit, Looks amazing
WHAT WE DIDN'T LIKE // Not suitable for booster dog seats
Verified Amazon Purchase Review – "This was a difficult purchase for us because we love our car seats, but the dogs love them as well, making them dirty and ripe for doggy claws to search and destroy. This cover is perfect! It looks great, and they don't give us the hairy eye-ball when they jump in. Success!"
How to Buy the Best Dog Seat Cover?
Keeping your car clean and your dog safe are 2 main reasons why you need a backseat dog cover. However, there are several features to consider when choosing the best option for you, your car, and your dog.
Size
Measure your car seats to be absolutely sure that the dog car cover will fit perfectly. The main complaints were the ill-fitting due to sizing issues. Most of the dog seat covers indeed have universal size, but despite descriptions, they do not fit every car model.
Where do You Want to Install the Cover
Hammock-style and bench covers install on the back seat, while cargo liner goes in the cargo area. Some of them are even convertible – they can be hammock-style, bench style, and cargo liner with the zipper system that allows adaptations.
You will need a special cover that looks like a regular car seat cover for the front seat.
Material
The best seat cover material for dog hair is the one that will keep a dog's shedding hair contained instead of getting on the seats underneath.
One sheet of material is not enough; usually, every good dog car seat cover is made of several different layers, with each having its own function. The multi-layer design usually includes:
Breathable waterproof fabric with 600D infused Oxford, usually diamond-stitched.
Chemical-free fabric, reinforcing extra layers.
Waterproof fabric infused with polyurethane (PU) for a soft texture and reinforced pressure points.
Non-slip backing that is high-temperature rated.
Dog Size
If your dog is medium to large, you may want them in the backseat or the trunk. If your dog is of a smaller breed, then you will probably want it in the front car seat, so that you will need a front car set cover.
Price
Inevitable. Most commonly, seat covers cost from $20 to $90 (the scope of this review). It depends on the size of the cover and the material quality.
For inexpensive ones, you probably will not get a waterproof layer. However, you will get various dog seats with waterproof materials and seatbelt protection at mid-range prices. Premium items usually have high-density foam, breathable, and waterproof fabric.