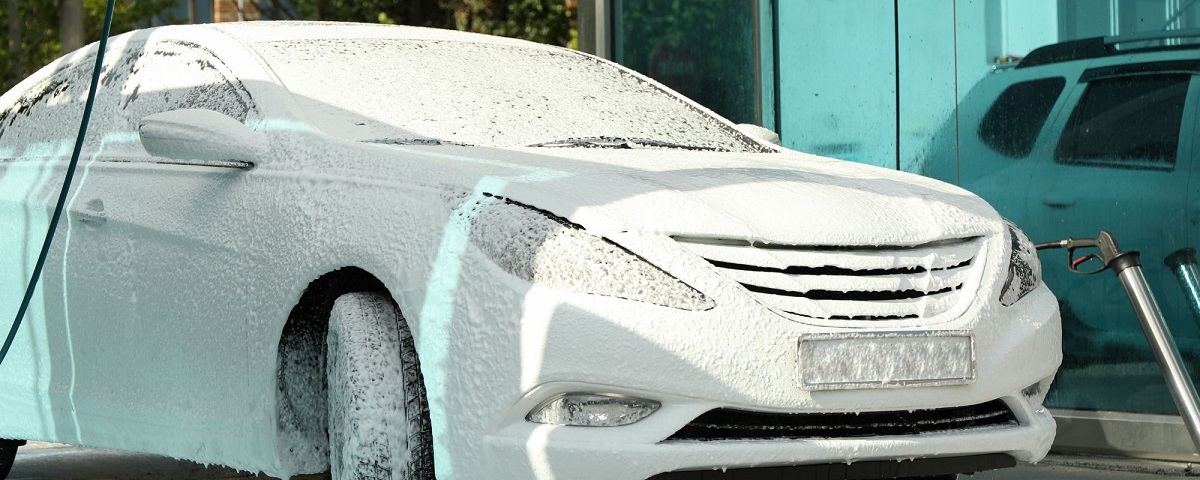 Best Soap for Foam Cannon – Top 10 Picks for 2022 [+Buying Guide]
When you pressure wash your car, having a good soap for foam cannon makes a difference between a squeaky clean car effortlessly and a mitt-and-bucket wash.
Pressure washers are really amazing. You can clean more effectively than with a regular garden hose and use less water along the way. But even the pressure washer needs a little help from the foam soap for cars.
Getting the best foam car wash formula for immaculate results is absolutely worth it. In this buying guide, we will present high-quality, fair-priced, and popular products available soaps for the foam cannon you can buy currently.
Top 10 Car Wash Foam Picks for 2022
To simplify your shopping, we selected only the best soap for the foam cannon. These ultimate cleaners are formulated to foam away road dirt and leave every surface sparkling clean and shiny.
1.      Chemical Guys CWS_110_64 Honeydew Snow Foam Car Wash Soap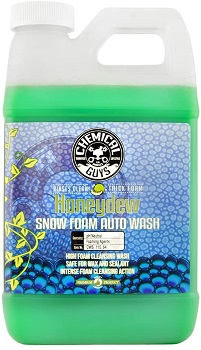 As one of the most trusted manufacturers of car care products, the Chemical Guys Snow Foam will create a super-thick foam to eliminate grime, dirt, and other contaminants. Its pH-neutral formula will not harm waxes or sealants on your vehicle.
Suitable for all types of vehicles – cars, jet-skies, SUVs, trucks, boats, off-road vehicles, and others. It is safe on all vehicle surfaces, including rubber, vinyl, paint, plastics, and glass. It has a concentrated cleaning power – you need to dilute one cap to five gallons of water.
This snow foam soap delivers thick foam when the right pressure is applied using a cannon. We were amazed at its sweet smell of honeydew, which made the experience very pleasing.
WHAT WE LIKED // Pleasant smell, Thick, rich lather
WHAT WE DIDN'T LIKE // Cannot withstand freezing temperatures
2.      Griot's Garage B3203 BOSS Foaming Surface Wash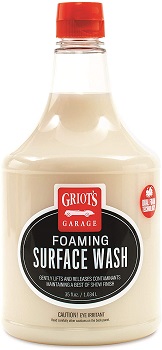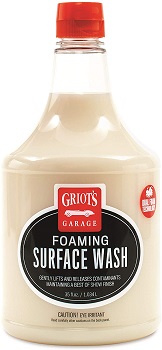 This foam gun soap provides a rich, clingy snow foam while avoiding wash-induced scratches. Its pH-neutral formula prolongs existing waxes and sealants, so it is perfect for the routine wash.
The dual-layer foam technology extends dwell time – primary foam clings to surface softening road film, while the secondary foam releases and carries abrasives to the ground.
Griot's Garage touchless car wash soap will work with any foam cannon.
WHAT WE LIKED // Extremely foamy
WHAT WE DIDN'T LIKE // Bad odor
3.      Adam's Polishes Mega Foam Car Wash Soap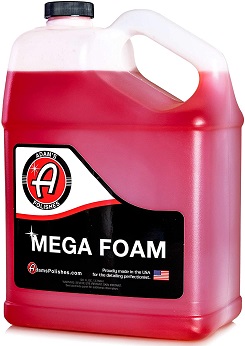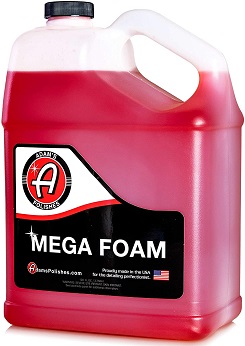 This no scrub car wash soap does not remove wax of sealants and does not dry out plastic and rubber – combined with the gun or cannon provides a pH neutral formula to give your vehicle a gentle yet thorough wash. Once rinsed, this product leaves existing layers of protection safe using polymer-based chemical technology and an unbeatable shine.
The chemical formulation of this foaming car wash allows you to wash your vehicle in full sunlight and suspend any harmful mineral content in your water. Adam's Polishes mega-concentrated product creates a slick feel, lubricating all of your paint's surfaces as it lifts dirt away and reduces the chance of ever-inducing damage to your clear coat.
WHAT WE LIKED // Easy to mix, Smells heavenly
WHAT WE DIDN'T LIKE // Price
4.      Meguiar's G191501 Ultimate Snow Foam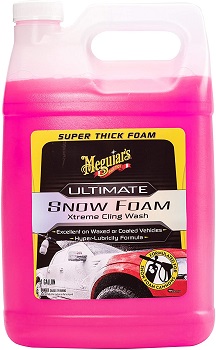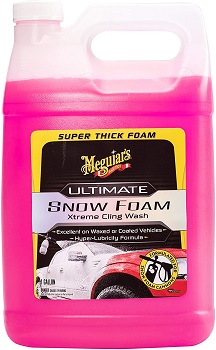 Meguiar's Ultimate Snow Foam is explicitly engineered for car enthusiasts looking for the ultimate wash to use, along with a foam cannon and pressure washer. This foam car wash soap formula contains a specialized Xtreme Cling foaming action that makes this extremely thick foam sticks and clings to painted surfaces. It gently loosens road grime, contaminants, and dirt.
This soap is designed specifically for washing and maintaining coated, waxed, or sealed finishes while at the same time will lubricate and buffer the paint.
Meguiar's G191501 will do its magic even with a traditional 2 bucket method – one bucket with the washing solution and a second as a rinse bucket with fresh water.
WHAT WE LIKED // Creates lots of suds, Lasts for a long time, Smells good
WHAT WE DIDN'T LIKE // Nothing we could think of
5.      Relentless Drive Car Wash Soap Kit
The highly thick formula of this foam car wash rinses clean after every wash and protects paint without leaving behind residue or streaks. This pH-balanced car soap is gentle on sealants and waxes; it lubricated all of your paint surfaces to safely eliminate filth and reduce chances of damage to your clear coat.
Whether washing by hand or with a car foam soap cannon, you will experience the most comfortable car wash ever – with the result in the form of a clean, shiny car.
WHAT WE LIKED // Amazing smell, Affordable, Great thick soap
WHAT WE DIDN'T LIKE // Nothing we could think of
6.      Armor All Car Wash Snow Foam Formula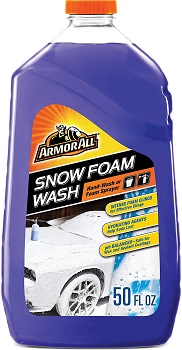 Intense Armor All foam actively loosens dirt for safe and effective cleaning. The pH-balanced formula Armor All Car Wash Snow is safe for use on wax and sealant coatings. We saw how it covers the car in one easy coat, so you could not see the original paint color; it is amazingly thick.
Armor snow foaming car wash clings and cleans thoroughly with long-lasting foam containing hydrating agents that help foam stay wetter, so suds will last longer. You get heavy foam that sticks to your car, so you can brush or sponge the surface, leaving it shiny behind.
WHAT WE LIKED // Safe to use on a fabric convertible top, Affordable
WHAT WE DIDN'T LIKE // Small size of the container
7.      3D Pink Car Wash Soap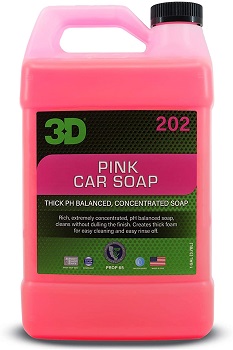 When discussing the best soap for foam guns, 3D Pink Car Wash Soap will provide you with rich, pH-balanced car washes without removing wax. It removes only grime, dirt, and road filth without dulling the paint surface.
This easy-to-rinse formula is suitable even for hand wash applications and is perfect for weekly wash maintenance of your paint, wheels, and glass.
This no touch car wash soap can be used with a garden hose or pressure washer foamer or in a clean bucket with water and a wash mitt. It is advisable to rinse the car down with clean water before applying the soap onto your car. We recommend that you use 1-2 ounces of soap in your foamer or bucket, but for foam and suds lovers, feel free to use as much soap as you like.
WHAT WE LIKED // Slick, Intensifies the car's natural beauty and shine
WHAT WE DIDN'T LIKE // Did not maintain a lot of suds when using in the bucket
8.      Wash Chems Pro 100 Touchless Car Wash Soap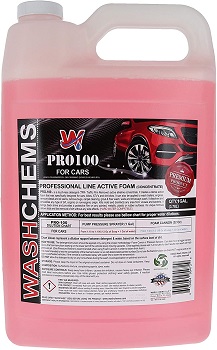 Pro 100 creates a dense active foam, dissolves, and emulsifies any dirt of organic or non-organic origin. It makes surfaces shine and provides a protective film on any painted, rubber, metallic, or plastic surfaces.
This foamer car wash has a powerful formulation that works perfectly with the foam cannon. It allows total and fast removal of dirt without any side effects on your vehicle parts – it can even be used to wash engines.
Spray the foam on any surface and wait 1-2 minutes, then use the pressure washer to rinse off and obtain a clean surface.
WHAT WE LIKED // Saves so much time, It can be used for interior detailing
WHAT WE DIDN'T LIKE // In freezing temperatures it forms clumps, You need to rinse it really well
9.      Malco CW-37 Premium Car Wash Concentrate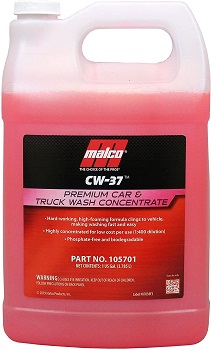 This Malco CW-37 ultra-concentrated formula reduces the cost per wash, so it is a very economical option. It will not remove wax; it will only leave your painted surfaces clean and shiny, without unwanted stains or spots.
The road film, dust, salt, dirt, bugs, and other common automotive soils are removed quickly and easily. This is the best car wash soap for foam gun because it will produce a very thick foam that is slick on the paint. It works great in the bucket wash, too.
WHAT WE LIKED // Biodegradable formula, Highly concentrated
WHAT WE DIDN'T LIKE // Nothing we could think of
10.      SoCal Wax Shop Car Wash & Gloss Soap

SoCal car wash foaming cleans thoroughly even heavily soiled vehicles. The pH-balanced formula creates rich suds that rinses easily and works perfectly with foam cannons or a good old-fashioned bucket. It also contains a unique polymer blend for a high gloss finish.
When you dilute the concentrate in the bucket of water, follow the manufacturer's instructions: add 2 oz of soap to a 3-gallon bucket of water; then apply the solution with a mitt or a soft sponge. Make sure you rinse each area after the wash is complete.
The undiluted solution is used for the foam cannon method, but for gas-powered pressure washers, use a 1:3 ratio
WHAT WE LIKED // Great smell, Highly concentrated
WHAT WE DIDN'T LIKE // Nothing we could think of
Best Car Wash Soap for Foam Cannon : Buying Guide
Cannons are attached to power washers and can accommodate thick foam, provided you use the appropriate car soap for your cannon. You may be surprised how many options there are when you look for the best car soap for foam, so we prepared this buying guide to ease your task.
Cleaning Power
Soaps are very different from detergents, so you need to find out which is best for you. Soaps use a lot of natural ingredients, like vegetable oils or animal fats. They are generally mild cleansing agents used for regular cleaning. On the other hand, detergents are much harsher, containing synthetic components like petroleum and coal hydrocarbons.
The kind of water used for washing your vehicle is essential, too. If your water is hard, the detergent will be the right choice because it tends to soften water. If you use a soap with hard water, the ugly stains or white residue instead of the sparkly clean surface.
The advantage of detergents is that they can be used with any type of water.
Appropriate Formula for the Surface Treated
The right pick of the soap will depend on the surface you need to wash. Several different materials are incorporated into the car: rubber, plastics, glass, and metal with the paint.
Car soaps are usually pH neutral and mild, not allowing the car wax to get stripped off. They also do not leave marks on the glass or plastic part of your car. Many of them contain wax additives to protect the paint additionally.
Foam
The amount of foam that soap can generate using a cannon is significant because it soaks the dirt that builds up on vehicles, softening them and chemically breaking them up. Hence, they come right off with the sponge or with a bucket of clean water.
It is not advisable to scrub forever in order to loosen and remove the dirt because the scrubbing process will cause streaks and, in some cases, even scratches on your car's paint. So the right amount and thickness of the foam is the key.
But you do not have to worry; any soap for foam cannon designed for that specific purpose will create the rich lather – the only thing you need to check are users' directions and experiment a little with water-soap ratios in your cannon.
Scent
Most of the soap on the market are scented. They offer a wide variety of aromas, like cherry, apple, or honeydew. If you do not want your car to smell like fruit, you should look for an unscented formula. Or at least one with a relatively mild aroma.
Tips & Tricks for The Best Car Pressure Washing
Being a huge time-saver, pressure washing should be more effective with these several tips:
The car should be cool to touch – choose the shady place and a mild day.
Always rinse the soap before it completely dries to avoid white marks.
Professionals recommend pressure washing from top to down.
Pour lukewarm water into the bottle and gently mix it by swirling the bottle.
Protect your plants and pets if you are using detergents because they are so harsh to the environment.
With a seriously muddy vehicle, pre-wash it with clean water to remove the heavy dirt off. Then apply the foam.
Wear protective equipment: waterproof boots and clothes, eye protection, a breathing mask, and earplugs.
MORE AUTO DETAILING SUPPLY REVIEWS: