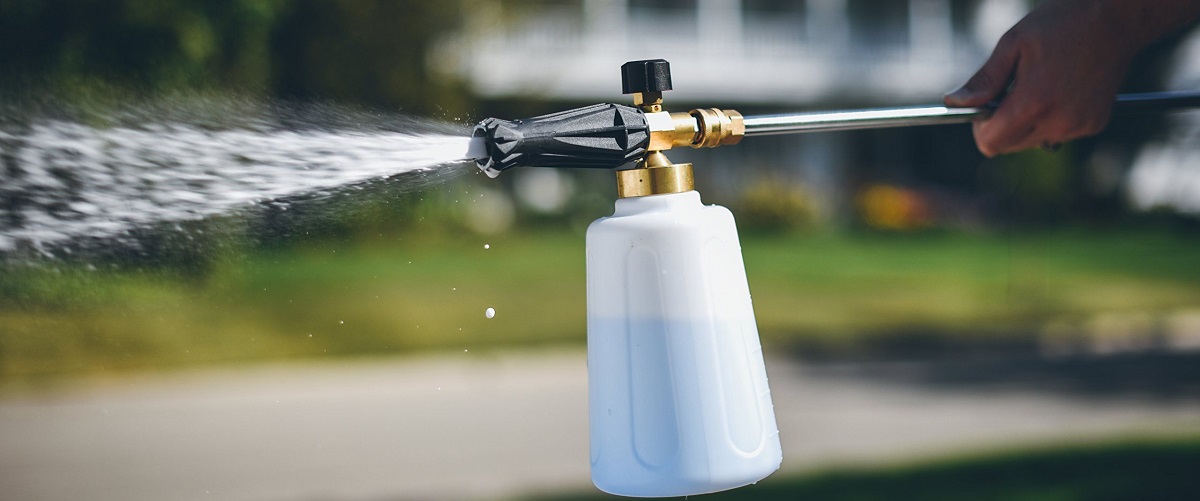 Best Foam Cannon – 10 Top Picks for 2022 [+Buying Guide]
Foam cannon for pressure washer will make your paint job looking sharp using a minimum effort. Using it is easier than you might expect. Even if you are not into car detailing, the thick froth can bring back shine to your vehicle and does all the work for you.
Foam cannon is also a versatile piece of equipment because you can use them to clean many different things, not just the cars: driveways, RVs, grills, motorcycles, and many other heavy-duty types of machinery.
Apart from foam cannons, there are also car wash spray guns that connect to the regular garden hose. It is a better solution if you do not own a pressure washer. If you are not sure about which soap cannon is right for you, look at this text, and we will be happy to help you choose.
10 Best Foam Cannons for Car Reviews
With this fantastic device washing your car will be a breeze – your vehicle will look as good as new. Look at these reviews and check out our top picks in the buying guide below.
1.      Chemical Guys EQP_312 TORQ Professional Foam Cannon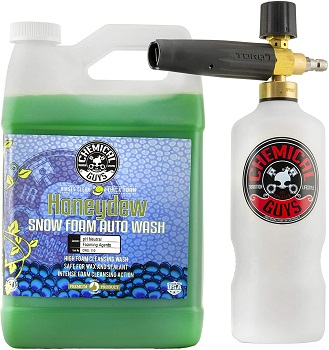 Specs:
Pressure: from 800-3,500 PSI
Fluid tank: 32 oz.
Maximum flow: 5.3 GPM
The TORQ foam cannon is the perfect choice for the detailing professional or weekend warrior looking to wash any vehicle using the amazing cleaning power of thick fluffy foam. This foam cannon car wash will give your car a gentle touch-free wash while at the same time removing grime and dirt, minimizing the chances of creating swirl marks and scratches.
Solid brass components resist corrosion and rusting that ruins cheap imitation parts. In addition, high-quality plastics reject harmful UV rays that cause more affordable units to crack and break.
This unique air injection system truly creates the thickest foam imaginable. The TORQ Professional Foam Cannon uses a hi-tech nozzle to combine high-speed air with Chemical Guys car wash shampoo to create a fantastic snow foam experience. It will work with both electric and gas pressure washers.
WHAT WE LIKED // Sticks amazing to the vertical spaces, It will not runoff
WHAT WE DIDN'T LIKE // Neck can twist-off bottle
2.      Adam's Foam Cannon & Snub Nose Combo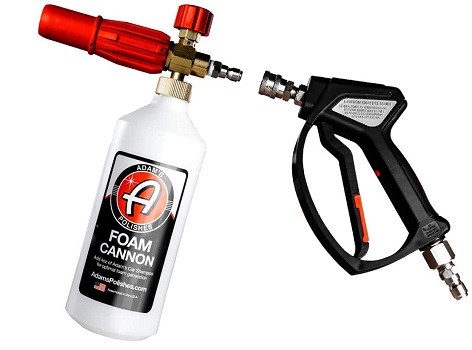 Specs:
Pressure: from 870-3,190 PSI
Fluid tank: 33.814 oz.
Maximum flow: 5.3 GPM
Adam's Foam Cannon combines pressurized water and car wash soap to create a thick layer of foam. Featuring an adjustable intake valve that controls how much snow foam you would like to produce, it is comparable with all pressure washers.
It can make a blanket of super-slick and slippery car wash suds – it will lubricate abrasive dirt particles and help prevent swirls and scratches with every wipe.
We recommend using 4 oz of the soap for optimal foam; the adjustable air intake valve controls the amount of soap mixture drawn from the bottle. The adjustable nozzle helps you set the spray pattern from a jet stream to a wide fan.
WHAT WE LIKED // Great quality product
WHAT WE DIDN'T LIKE // Price, The container tend to fall over
3.      DUSICHIN SFL-001 Foam Cannon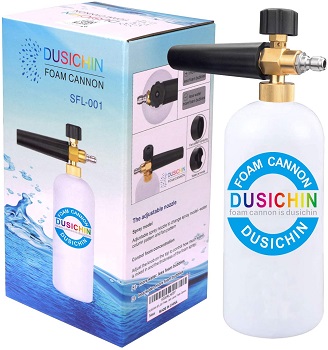 Specs:
Pressure: from 1,000-3,000 PSI
Fluid tank: 34 oz.
Maximum flow: 5.3 GPM
The Dusichin foam cannon is built with the highest quality material and designed for heavy-duty use. It is ideal for both enthusiasts and professionals because it will remove dirt faster than ever; it will give your car a touch-free wash.
Before you apply the foam, it is advisable to rinse down your car with warm water to loosen debris and grime. You have an option of controlling the foam concentration with the knob on the top, which regulates the amount of water that is mixed with the soap. However, the ratio of foam to water is not fixed.
It is highly advisable to clean the foam cannon after every use (especially the foam mixer) to avoid the block.
4.      Twinkle Star Pressure Washer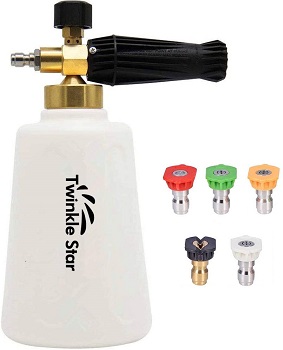 Specs:
Pressure: from 1,000-3,600 PSI
Fluid tank: 34 oz.
Maximum flow: 4.0 GPM
The Twinkle Star foam cannon comes with 5 nozzle tips and a 1/4" quick-disconnect fitting. The core is made of heavy-duty brass to prevent leaks. The jet nozzle is adjustable for accurate mixing and foam generation – you will get wide or narrow jet patterns with 0°, 15°, 25°, 40°, and soap-degree (65°) for a variety of uses.
You only need to put some liquid soap and water to a ratio you like in the bottle to thicken the foam. The top knob can be turned on or off to get the right mixture.
The broad bottle base allows it to stand upright even with every metal part attached, and its wide mouth is so easy to fill with soap. Moreover, its wide neck will not crack so easily.
WHAT WE LIKED // Sturdy bottle, It does not need a ton of soap
WHAT WE DIDN'T LIKE // The bottle does not have measurement levels
5.      MATCC Foam Cannon III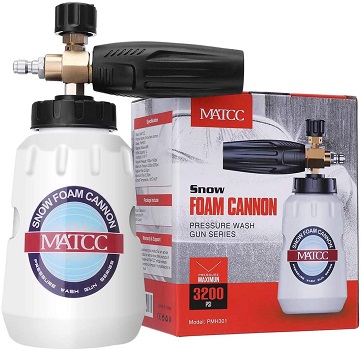 Specs:
Pressure: from 1,450-3,200 PSI
Fluid tank: 34 oz.
Maximum flow: 5.3 GPM
MATCC foam cannon makes an excellent foam for washing your vehicles and equipment. Brass nozzle ensures longer working life, thicker and heavier brass core is made for durable use and is leak-free.
Its design features a rubber ring inside the cap for leak-free, while recessed areas of the bottle are there for easy hold. The filter on the end of the tube will never scratch car paint, but you need to keep the filter clean after every use to avoid the filter blockage by soap leftover.
An option of adjusting the knob on the top to control the water mix – minus sign indicates less water and more foam. In comparison, the plus sign indicates more water and less foam.
WHAT WE LIKED // Smooth adjustments, Markers on the side of the bottle for easy mixing, Great price
WHAT WE DIDN'T LIKE // Nothing we could think of
6.      TriNova Foam Cannon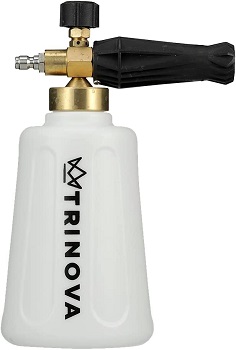 Specs:
Pressure: from 800-3,200 PSI
Fluid tank: 34 oz.
Maximum flow: 5.3 GPM
The wide neck of this model will not crack, and the wide base bottle design prevents tipping. You just need to fill up the reservoir bottle with soap, click into your existing pressure washer lance or trigger, adjust the knob for your desired foam level, and spray your car.
TriNova Foam Cannon works well with every pressure washer and washes soap to deliver maximum suds to ensure your ride gets squeaky clean. You can adjust the nozzle for narrow or wide steam and use the air intake knob to create more or less foam. It is compatible with standard pressure washer quick connect attachments.
WHAT WE LIKED // Solid construction, Wide mouth
WHAT WE DIDN'T LIKE // It is heavy, Line measurements on the bottle do not specify amounts
7.      Chemical Guys ACC_326 – Torq Foam Wash Gun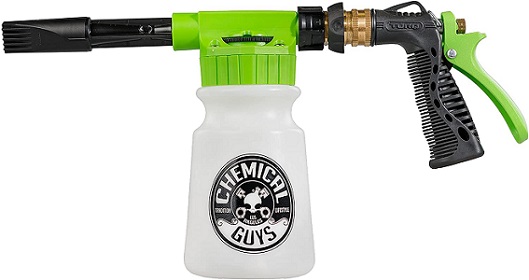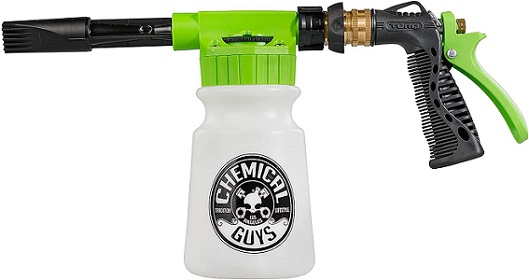 This foam gun car wash connects to a regular garden hose. The foam is one of the secrets of the scratch-free car wash. This foam gun will turn the car wash into a foam bubble bath. Bathing a car with slick car wash foam removes abrasive dirt particles gently without grinding them into the paintwork. Over 95% of swirls and scratches come from improper car washing and drying techniques.
This soap gun is straightforward to use. It includes a quick disconnect attachment on the end of the pistol-style handle. The handle and most of the parts are plastic, but there is metal in the critical components. You can adjust the dilution ratio to suit your needs.
The best thing to do to avoid the nozzle from clogging is to run a little bit of clean water after every use. The fluid tank capacity Chemical Guys ACC_326 is 32 oz, the required water pressure is 40 – 60 PSI.
WHAT WE LIKED // Durable construction
WHAT WE DIDN'T LIKE // The quick-connect fitting between the hose nozzle and the foam gun can leak, No instructions for use
8.      MATCC Car Foam Gun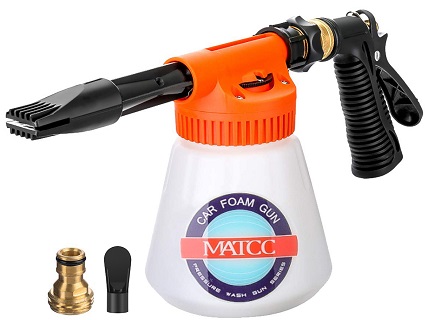 This car foam gun fits a standard garden hose; it has a 0-E gear adjustment dial – foam flow can be decreased and increased by changing the dial. The high-quality brass connector ensures the tightness of the washing gun and leak-free connection to the hose.
There is a metal mesh filter on the end of the foam gun to filter particles in water and a filter on the end of the pickup tube to filter particles in soap to ensure never to scratch car paint.
The capacity of the tube is 0.23 Gal, and the required water pressure is 2.5 – 6 BAR.
WHAT WE LIKED // It fits faucet and garden hose, Easy to set up
WHAT WE DIDN'T LIKE // Shampoo bottle keeps falling off
9.      Adam's Standard Foam Gun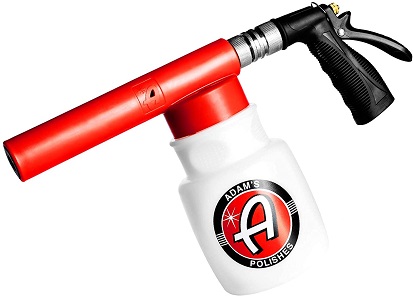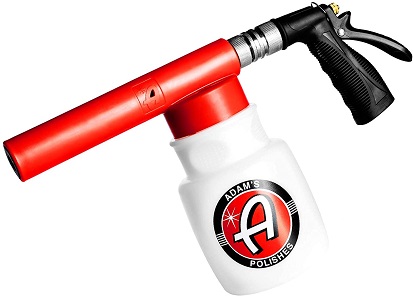 This best car wash foam gun comes with three different metering tips, which affect the flow rate of how fast the soap solution is pulled out of the canister and onto the vehicle. We recommend you start with the yellow metering tip and then adjust it to a blue or green tip for your specific water supply.
Adam's Standard Foam Gun is well made and simple to use. It generates a decent amount of foam which you will need to agitate with a mitt or sponge as it does not cover the car in a blanket of thick foam like a pressure washer but cleans just as well.
The canister capacity is 32 oz, the required water pressure is 40 – 65 PSI.
WHAT WE LIKED // Large filling mouth, Durable design
WHAT WE DIDN'T LIKE // Made entirely of plastic, The barrel does not sit onto the handle well and rotates around
10.      Karcher Foam Cannon 26431470 FJ6 Foamer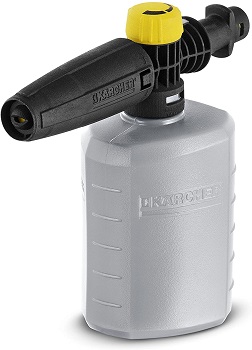 Specs:
Pressure: 2000 PSI
Fluid tank: 20 oz.
Maximum flow: 5.3 GPM
The Karcher car wash foam cannon is ideal for applying a thick heavy foam on all surfaces, especially vehicles. It will turn your Karcher pressure washer into a personal car wash.
We found it is effortless to use. The foam produced from it is excellent and can be adjusted very easily. It is also very easy to clean afterward.
You simply need to add detergent concentrate to the canister and top it with water. Both the detergent flow and spray level are easily adjustable, which is convenient.
WHAT WE LIKED // Large filling mouth, Durable design
WHAT WE DIDN'T LIKE // High-quality material, Easy installation
Best Foam Cannon Pressure Washer Buying Guide
When you are looking for the best pressure washer foam cannon, there are several things you need to consider before buying, and these are the most important ones:
Pressure Washer Compatibility
Having enough pressure for the cannon to operate is a crucial thing. You need to check the amount of PSI the foam blaster needs in order to function optimally. Most car wash wands will require between 1,000 – 3,000 PSI (pounds per square inch).
The rate of water flow of your foam cannon is the second important thing to check. Most of them will be able to handle around 2 GPM (gallons per minute).
Most small to medium-sized PSI washers will do the job as they often deliver pressures between 1,400 – 2,500 PSI.
Bottle
The most common size of the bottle is 33 oz. (1 liter), which is big enough to wash a regular-sized vehicle. If you have a smaller car, then it will be too much of a solution for you. Check for the manufacturer's instructions to see if you can use leftovers for the next washing session.
On the other hand, the bottle shape will determine how easy it is to hold it and how hard it is to connect it. Most of the bottles are cylindrical containers narrowing down to the place where it connects to the cannon. If you are planning longer car washing sessions, you should choose a bottle with a dent in the middle to better grasp the bottle.
A transparent bottle is a must, or at least the one with the line measurements that specify the soap level. It will save you the trouble of making another solution unnecessary and allow you to experiment with different foam settings.
Connectors
The brass connectors are the most durable; they will not let the water pressure escape and break easily. It is also desirable to have quick connect couplers and connectors, which will make your cleaning task much more manageable.
Adjustable Settings
The ability to adjust the water-foam dilution ratio is quite a handy option. Also, having the adjustable water spray patterns will allow you to target a more specific area with foam or water.
Preferred Platform
This comes down to the choice between the best foam gun and the best foam cannon. The foam gun connects to the standard garden hose and does not require an electric or gas pressure washer. However, it will not provide thick suds. Therefore, if you do not want to spend more money on pressure washers, a foam gun is the right option for you.
Using a high-powered pressure washer is more effective in producing a fluffier foam spray—the foamier a solution, the more lubricity it has and is more effective in removing road dirt. If you are into the car detailing business, having the best pressure washer for foam cannon is a must.