10 Best Detailing Kits for at Home Car Detailing and for Pros [+ Buying Guide]
A car detailing kit is no longer a luxury, so many car owners love to detail their own cars. Being more a necessity than a hobby, you can save a lot with the good detailing car kit than to purchase every item separately. Before you consider purchasing an auto detail kit, you should first know what is included in the kit. An excellent detailing kit should include a cleaning product for every part of the vehicle to achieve the showroom-like sparkle and shine.
We have put up this comprehensive product review and buying guide to ease your search for the best auto detailing kit that will suit your every need.
10 Best Car Detailing Kits Reviews for 2022
Who does not like sparkling, clean, and shiny cars? Here are the best car detailing kits available on the market: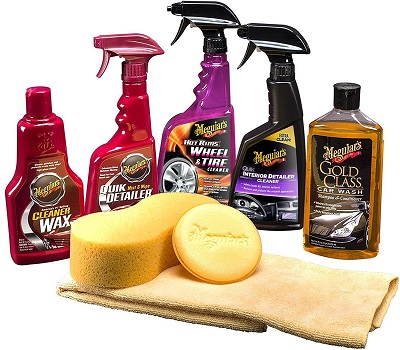 This Meguiar's car detailing kit is loaded with 8 quality products that will keep your car's interior, wheels, rims, exterior, and glass clean. It gently cleans and maintains the look and feel of interior plastics, vinyl, leather, rubber, metal, and audio/visual equipment.
In addition to the cleaning products, this kit also includes a microfiber towel, sponge, and foam applicator pad. This kit includes:
Meguiar's Gold Class Car Wash Shampoo and Conditioner;
Meguiar's Quik Detailer;
Meguiar's Cleaner Wax;
Meguiar's Hot Rims All Wheel & Tire Cleaner
Meguiar's Quik Interior Detailer Cleaner;
Supreme Shine Microfiber Towel;
Meguiar's Soft Foam Applicator Pad;
Car Wash Sponge.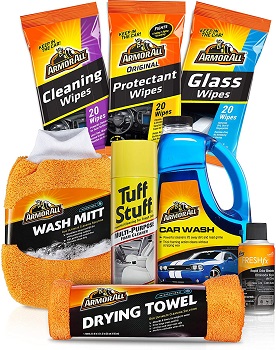 This 8 pieces car detailing starter kit is powerful enough to lift away the toughest dirt and road grime. Yet, it is gentle enough not to protect your surfaces.
The microfiber mitt is highly absorbent and gentle – it is also machine-washable. The microfiber drying towel absorbs 8 times its weight in water and is lint-free. The kit contains the following products:
Armor All Car Wash;
Tuff Stuff Multi-Purpose Cleaner;
Armor All FRESH fx Rapid Odor Eliminator;
Armor All Cleaning Wipes;
Armor All Glass Wipes;
Armor All Original Protectant Wipes;
Armor All Wash Mitt;
Armor All Drying Towel.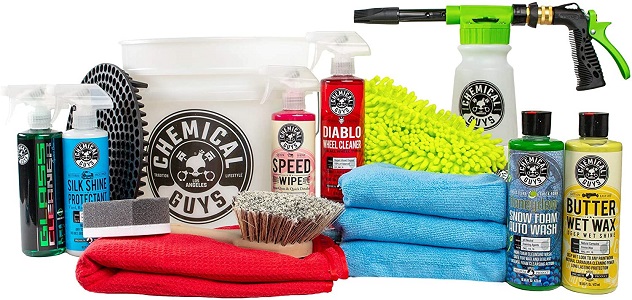 This car wash kit from Chemical Guys contains everything needed to clean and maintain a beautiful shine on any car. The beginners and professionals choose these products for the finest car care products and the vast detailing knowledge. Here are the excellent products included (16pcs):
Chemical Guys Foam Gun (works with a garden hose);
5 Gallon Chemical Guys Bucket;
Dirt Trap Cyclonic Car Wash Filter;
Chenille Microfiber Wash Mitt;
Body, Wheel, and Tire Short Handle Brush;
Easy Grip Dressing Applicator;
3 Microfiber Towels;
16 oz Honeydew Snow Foam Car Wash Soap;
16 oz Butter Wet Car Wax;
16 oz Signature Series Glass Cleaner;
16 oz Silk Shine Dressing;
16 oz Speed Wipe Quick Detailer;
16 oz Diablo Wheel Cleaner.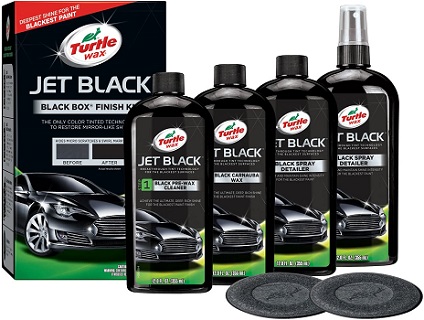 The black car detailing kit will bring out the true black in the vehicle's finish. Black tinted pre-cleaner and conditioner remove scratches, swirl marks, and surface contaminants.
It is created specifically for black surfaces – it uses proprietary, black-tinted technology to fill in blemishes while deepening mirror-like reflections. In addition, these products contain powerful UV protection to protect your vehicle from fading while at the same time maintains the deepest black appearance.
It includes:
Pre Wax Cleaner and Conditioner (12 oz);
Deep Black Carnauba Wax (12 oz);
2 Black Spray Detailers (12 oz);
2 Applicator Pads.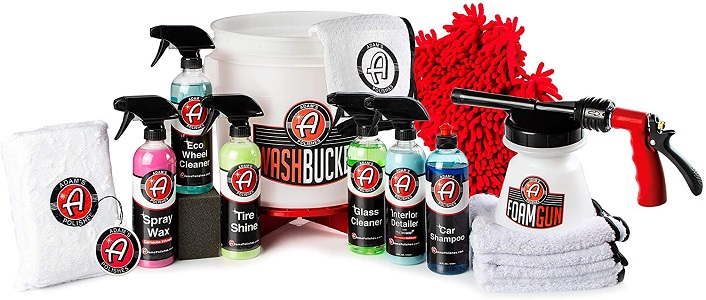 With these 17 premium items, you will receive a versatile car care kit filled with easy-to-use, essential must-have products. This kit has all the car cleaning supplies you need to clean your wheels, add gloss and protection to your paint and make your tires shine.
It covers all the major cleaning categories and makes the detailing process simple, and it includes:
Car Shampoo Wash Soap;
Spray Wax;
Tire Shine;
Wheel Cleaner;
Interior Detailer;
Glass Cleaner;
3 Single Soft Microfiber Towels;
Great White Drying Towel;
Wheel Scrubbing Mitt;
Wash Sponge;
Foam Gun;
5 Gallon Bucket;
Grit Guard;
Car Air Freshener.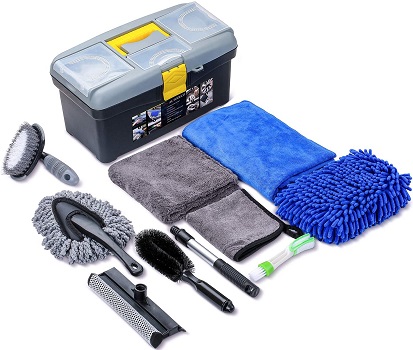 This set will keep your car shiny, with the tools designed for easy use, convenient for you to hold and clean your vehicle thoroughly. It is made for almost all auto parts, including car surface, air vent, leather car seat, windshield, hood, doors, windows, wheels, etc.
These cleaning brushes and cloths are made from fine material that is soft, durable, and sturdy. The kit includes:
Window Squeegee;
Car Duster interior;
Car Tire Brush;
Rim and Wheel Brush;
Microfiber Car Wash Mitt;
Air Condition Vent Brush;
Microfiber towel (24"x 60")
2 Microfiber Wax Applicator;
Car dust cleaning gel;
Drying Towel (15"x17");
Collapsible bucket;
Car refresher;
Storage bag.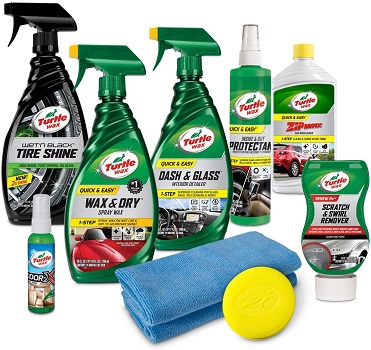 This 10pcs car detail kit makes detailing convenient due to easy application, including everything you need from wash and protectants to interior cleaners and odor eliminators. It provides long-lasting protection for your car's exterior and interior. The kit includes:
Quick & Easy Zip Wax Wash & Wax 16 oz.
Quick & Easy Wax & Dry Spray Wax 26 oz.
Quick & Easy Dash & Glass Interior Detailer 23 oz.
Wet'N Black Ultra Wet Tire Shine 23 oz.
Power Out! Odor-X Odor Eliminator & Refresher Spray 2 oz.
Scratch & Swirl Remover 11 oz.
Quick & Easy Inside & Out Protectant 10.4 oz.
2 Premium Large Microfiber Towels.
Foam Applicator Pad.
This vehicle kit is ideal for those enthusiasts who occasionally detail their cars. Duragloss 101 polish and cleaner contains synthetic polymers which form a protective coating on the surface of your car. This product is durable for both acid and alkaline washes. In addition, Duragloss 101 can be applied in the sun or shade to the entire vehicle before removing efficiently for a 'wet look' shine and a protective coating.
It contains:
901 Red Car Wash;
265 Clear Ultimate Detail Spray;
101 Creamy White Automotive Polish;
821 Clear All Wheel Cleaner;
201 Milky White Vinyl and Leather Dressing.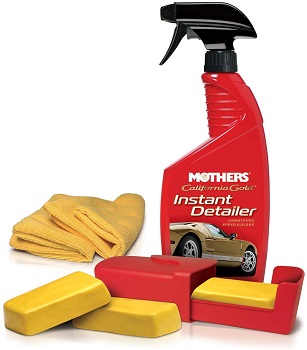 This is a detailing kit that contains a clay bar, which removes embedded grains of metal, tree sap, airborne environmental deposits, and paint overspray. It is pliable and not as stiff as other clays – safe to use on all types of paint, including clear coats. It serves to add depth and clarity and leaves paint silky smooth. It includes:
100 gram Clay Bars (3);
16 oz. Instant Detailer;
15" x 15" Microfiber Towels (2);
Clay Bar Storage Container.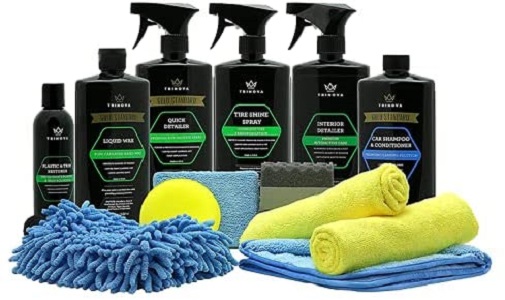 One of the best professional detailing kits because of the products that specialists formulate to meet the highest standards of the industry. Works on any automobile from top to bottom with the unique formula that gives high crystal reflection for quality beauty performance.
The kit includes:
Liquid Carnauba Wax;
Car Wash Soap;
Tire Shine Spray;
Plastic and Trim Restorer;
Interior Detailer;
Quick Detailer;
3 Microfiber cloths;
3 Applicators;
1 Wash mitt.
Car Detailing Kit Buying Guide
It is not fun to ride in a dirty car. So before you decide you need to buy the best car detailing kit Amazon offers, you need to know how to put each item to work to make the auto detailing job easier. The best kit will include a cleaning product for every part of your car or truck.
Shampoo/Cleaner
It is the most important item in the kit because it represents a base for every other product. Other products will be more effective when you remove road grime, dirt, bugs, tar, bird droppings, and other environmental contaminants.
A good car shampoo should lubricate all of your paint surfaces to safely lift dirt away and reduce the chance of inducing damage to your clear coat. It should be gentle on all surfaces – paint, glass, rubber, and plastics. Your car needs to be squeaky clean before applying clay bar, waxing protection, or polish paint.
Wax
Waxes give a high-gloss shine to the exterior of your car. In addition, they provide a thin layer of UV and dirt protection on the body of your vehicle. They can be made of natural substances like carnauba wax, beeswax, and natural oils. Synthetic waxes are artificially created from complex polymers. To spread the wax, you will need a foam applicator, which is usually included in your kit.
Sealant
It works similarly to wax – it protects the paintwork from dirt and stains. It lasts significantly longer than waxes and offers more protection. However, sealants do not provide the same high-gloss finish.
Wheel Cleaner
We all know that wheels are the dirtiest part of the car, so good car and truck detailing kits should include wheel cleaners. They buff away the dirt and stubborn stains like oil and pollen. They are usually available as foams or sprays that are easily spread around the tires.
Clay Bar
As an engineered synthetic compound, a clay bar is used to remove particles buildup from your car's surface that a thorough car wash could never get. It will allow you to clean your bodywork really deep and leave it spotless. Using a clay bar requires a particular technique, so many kits come with detailed instructions regarding the use, especially in combination with other products.
Washing and Drying Accessories
These accessories are soft brushes, mitts, drying towels, sponges, wax applicator pads, and scratch-free microfiber cloths. Car wash mitts are usually made with lamb's wool – a soft material that will not scratch or damage your car's surface. They are also made from microfiber and synthetic, which are proven more durable than lambswool.
Brushes and sponges are used for interior cleaning as well as for cleaning wheels, bumpers, and fenders. However, they vary in quality considerably, and most kits come with multiple microfiber clots as they require more frequent replacement.
Interior Cleaning Products
Depending on a kit, interior cleaners may include odor removal, leather, dash and vinyl protectants, upholstery cleaner, and different wipes that are designed to reach all crevices inside cars. They remove dirt but also leave the surfaces with a shiny finish.
How to Detail Your Car Step by Step?
It is widely recommended that you start from the exterior and move to the interior, but wherever you decide to start is up to you. What is important to remember, start with cleaning the largest surface panels and components first, move to the smaller surfaces, and then finally finish with the smallest crannies and nooks.
Step 1: Washing
The first thing to do is undoubtedly to thoroughly wash the car's exterior with the car shampoo and the sponge or mitt. Repeat until all the dirt is gone, then gently wash away the shampoo. Then dry your car with the microfiber cloth.
Step 2: Utilize the Individual Cleaners
Next, utilize all the individual cleaners you have in your kit – glass cleaners for the exterior, but make sure you leave some product for the interior section, too, then clean the tires and rims with the appropriate product.
Step 3: Polishing
If you do not have a buffer, you can use a microfiber rag to apply car polish, wax, sealant, and any other rubbing compound you have in your kit. Again, it is crucial to apply gentle, even pressure to the car's surface. Be careful not to hover over one spot for too long because you can damage the paintwork. Also, remember to apply the wax before the polish.
Step 4: Interior
Using the part of the car interior cleaning kit, detail the interior of your car. First, clean your upholstery with the appropriate product in the kit. Start with the large areas and finish with small ones. Next, use brushes to clean the vents, small nooks, and crannies of the dashboard, center console, door frames, and anywhere else you see the dirt can accumulate. Finally, finish with the glass cleaner.
MORE CAR DETAILING PRODUCTS REVIEWS: