15 Cheap Sports Cars That Hit Your Heart and Wallet



Sometimes sports cars have high running costs, but for less than the cost of plenty of economical electrical vehicles, you can afford to buy one. They encompass a broad spectrum of models and makes across a wide range of prices. While the term may evoke images of rapid, exotic, and often pricey models from the Ferrari or Bugatti, there are great vehicles that won't break the bank. Read our editors' 15 best cheap sports cars for sale.
Best Cheap Fast Cars Under 30000
1. Mazda MX-5 Miata
One of the most iconic roadsters in history, the MX-5 Miata keeps getting better with each generation. The MX-5 is upscale, sleek, and fun. Muscle cars are more imposing, but this model can run circles around them on a tight, technical road.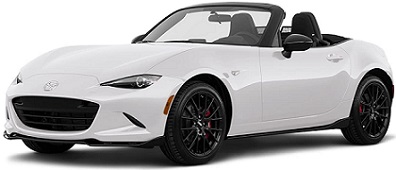 Both the traditional fabric soft-top convertible and the folding power top models use a 2.0-liter four-cylinder, rear-wheel drive, and either a 6-speed manual or automatic transmission. Weighing in just under 2,300 pounds, this car makes up for its small power (only 155 horses) with lightweight agility. Simply put, there's nothing cooler than a two-door sports car, and at $26,395, there aren't many new sports cars cheaper than this one.
2. Chevrolet Camaro
Whether you think of the latest model of pony cars from GM and Ford as sports cars or muscle cars—we think they count as either, depending on your point of view—there's no question they offer a wide range of performance options for less than $25,000k. Take the Chevrolet Camaro, which combines knife-sharp handling with either a turbocharged 4-cylinder engine, a V-6, or a V-8 engine. All 3 engines can be matched with the track-ready 1LE handling package.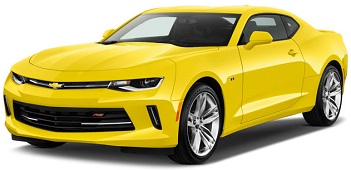 6-powered versions deliver 335 horsepower and 284 lb-ft of for a 0-60 time of about 5.1 seconds. Standard equipment features for the 2018 model include LED daytime running lights, 18-inch wheels, Sirius XM, backup camera, and Bluetooth. What it lacks for in technology, the Camaro more than makes up for in macho driving.
3. Honda S2000
This epic machine hasn't been in production for over a decade, but can still be found all over America for typically $10,000-$30,000 depending on mileage and overall shape. Honda S2000 is well-known for being agile at roughly 2,800 lbs, as well as the v-tech that propels around 6,000 rpm.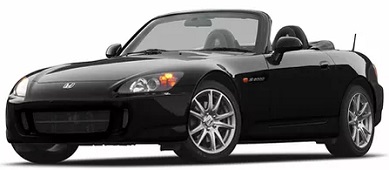 This two-seater convertible features 2 generations, the AP1 from 1999-2003, which sported a 2.0-liter engine and a 9,000 rpm redline. The AP2 from 2004-2009 came with a 2.2-liter engine, and the redline was adjusted to around 8,000 rpm. It produces approximately 240 horsepower and arrives with a 6-speed manual transmission.
4. Honda Civic Type R
Arguably one of the most popular sports cars today is the Honda Civic Type R. This vehicle rattled the performance race car world when it debuted and rapidly became the benchmark for hot hatchbacks that have a lot of force. For about $30,000, the new Type R remains an affordable and attractive sports car option.

The fusion of price and performance helps to make this a favorite among 21+ drivers and racers all over the world. Owners even like the Type R's anime-inspired Japanese design, along with its massive wing on the back. If you want a cool and cheap hatchback, look no further than the Honda Civic Type R.
5. Hyundai Veloster R-Spec
Coming in as the most affordable new sports car at just under $25k is the Hyundai Veloster R-Spec. A performance package can be added to this car, and the price will still come in at under $30,000k. Now that's good value.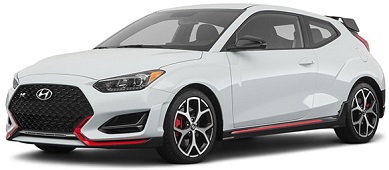 A 2017-or-older model will cost you even less money if you're willing to go with a used one. Other reasons to consider the Veloster, in addition to the price, are a strong base model engine that puts on 147 horsepower, 10 cubic feet of cargo space, and standard driver assistance features such as forward collision warning and driver drowsiness monitoring.
Best Cheap Sports Cars Under 5000
6. Toyota 86
The Toyota 86 originally hit the U.S. market as the Scion FR-S, along with its rebadged sibling, the Subaru BRZ. The main goal for Subaru and Toyota when manufacturing this sports car was to provide a thrilling drive at a thoroughly affordable price – starting from $4,500.
Power arrives from a 2.0 liter flat-four turbo engine that generates 205 horsepower and 156 lb-ft of torque.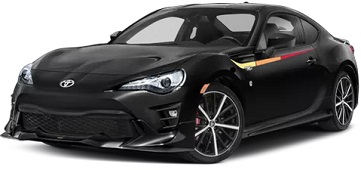 The engine is paired with a six-speed manual or a six-speed automatic transmission and runs from 0 to 60 mph in 6.2 seconds with a top speed of 134 mph. While it may be a little rough riding for a daily driver, and it lacks the power of some other vehicles on this list, the Toyota 86 will always reward enthusiastic driving with balanced performance.
7. Ford Mustang
There's a Mustang for just about every pocket, and resale value on these models stays fair. You can have a '98 Mustang GT Convertible for almost $5,000, often with a clean interior and engine. If work is required, the Mustang is one of the most affordable cars on the road to fix due to a giant catalog of available parts.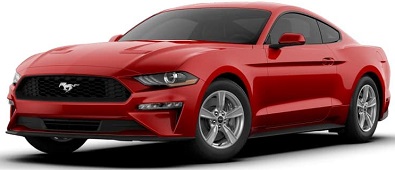 One of the things that you'll want to look in the Mustang are ripped seats. This frequently happens in Mustangs with leather interiors. Generally speaking, Mustang owners maintain their rides pretty well. But every so often you'll find that one Mustang that's an exception to the rule. However, with the standard V8 engine and a little bit of work, the Mustang offers cheap thrills that provide a lot of driving pleasure. The Mustang features a huge following, and there are numerous car shows and events that you'll be able to attend.
8. BMW M3 E36
E36 versions of the performance-focused BMW 3-series were made between 1992 and 1999, with first U.S. imports coming in 1995. While later versions still retain their price, you'll likely find older models for much less. E36 is arguable one of the best affordable sports cars out there.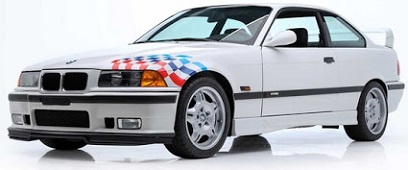 You can find E36 for around $5,000, still, second-generation M3 shouldn't be that expensive, and you'll be hard-pressed to find a better mix of performance and luxury for that money in any cheap sports car. 240-hp and 225 lb-ft of torque from 3.0L straight-six was enough for 6-second from 0 to 60 mph at the time. Quite solid considering M3 came in sedan form, as well as in coupe configuration.
9. Volkswagen GTI
The Volkswagen GTI may not be the prettiest car on this list, but it hits a balance between practicality and performance that few if any, cheap cars can match. A turbocharged 2.0-liter inline-four making 210 to 220 hp delivers power to the front wheels, while in the rear, this VW's boxy shape means the hatchback has nearly 23 cubic feet of space—far more than any vehicle in this guide. And compared to many cheap cars, the GTI—like the Golf it's based on—is built like a Panzer tank.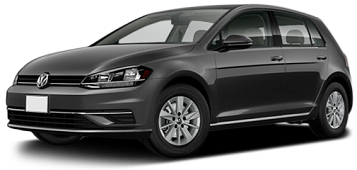 While the GTI (2003 model – $4,000) can be spiced up with cool features such as leather trim, a power driver's seat, and touchscreen infotainment, the basic trims come with everything you need to extract plenty of driving fun from this model.
Best Cheap Sports Cars Under 10000
10. Audi TT
The Audi TT is a blend of Porsche technology and proven Volkswagen refinement. It's been in production for two decades, and it still looks great. The TT came in a convertible and coupe version, both of which have a fully functional backseat. The turbocharged engine delivers all the power you need from one of the most reliable used sports cars on the market.

Where the TT rocks is the Quattro variation, which is the Audi all-wheel-drive system. It grips the road like it was meant for it, and this's where drivers enjoy most. No matter if you drive a current-generation TT or a used one, they all look the same. The ageless style has worked for the brand over time, helping the TT to stay an icon of the new millennium. You can still find an Audi TT in good shape for under $10k.
11. Fiat 500 Abarth
The Fiat 500 Abarth (2013 model for $9,000) offers an unforgettable European driving experience. The turbocharged engine gives quick response and acceleration, only amplified by the lightweight design of the car. Yes, the Abarth is tiny and cramped inside, but the driving experience is exceptional. Plus, the Abarth is a blast to drive in even in an urban setting.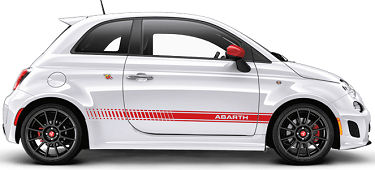 Another advance of the Fiat 500 Abarth is how easy it's to park. If you work in the downtown area, that is a big plus. Also, it provides some cheap thrills and a reasonably comfortable drive. If you have always craved for an affordable sports car with Italian styling, the Fiat 500 Abarth is a special vehicle with a lot of value.
12. Nissan 350Z
The 350Z has always been one of the best cheap sports cars under $10,000 that provides fun driving mechanics and excellent performance. While the Fairlady still keeps its price being the current model and all, the Nissan 350Z is already quite affordable. Manufactured between 2002 and 2009, it can be found for much less than $10k if you're willing to go with pre-facelift versions.

Regardless of model, 3.5L V6 is what always comes with it, equipped with almost 300 horses. Transmission still depends on the model year. Pre-2006 models were matched with five-speed automatics, while newer 350Z's come with six-speed automatics.
13. Mazda RX-8
Newer Mazda RX-8s aren't that easy to find because their owners are aware of what fantastic sports cars the brand produces. On top of that, they still hold their value, but with a little research, you'll easily be able to find the late 2000s model for between $5,000 and $10,000.

It's great value for the money, considering you get the finest Wankel rotary engine with it. 1.3L displacement doesn't promise much on paper, but it did run at least 190 horses in low-output models. 6-speed manual transmission and high-output versions manage 250 horsepower and 9,000 rpm redline at the table.
14. Subaru Impreza WRX
The WRX has a fun-to-drive demeanor and a boxer engine that provides top performance in the category of cheap AWD sports cars. You can find a 2003 model for $7,500. You get a vehicle that can handle just about anything. The all-wheel-drive system means that you can drive without problems even in the snow, and the unbeatable engine is one of the best to come out of Japan.
If you want an affordable sports car that's functional, the WRX is it.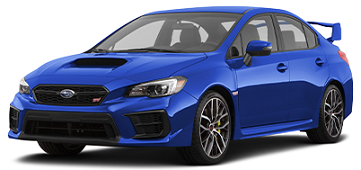 You get a practical backseat packed in a two-door design paired with the safety of knowing you have an all-wheel-drive system at your disposal. There's a huge catalog of aftermarket parts for this vehicle as well, making it a suitable choice for most driving enthusiasts.
15. Honda Civic Si
Another popular Honda model that's made a name for itself is the Civic Si. The Si means Sport Injected and has represented those words quite well, as this vehicle has been a #1 option for younger generations for the last 30 years. Honda is well-known for its reliability, and surprising amounts of power from smaller engines.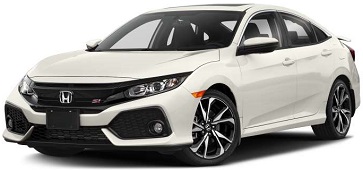 This model is no exception, considering the Si arrives with 1.5 liter turbo-charged, 4 cylinder engine, that kicks in just over 205 horsepower. With a great price for used models ($14,892 – 2015 version), it's easy to see why this vehicle pushes all the right buttons. Other key features are its six-speed manual only transmission and the capacity to get close to 40 MPGs.
Verdict on Best Sports Cars for the Money
As you can see, cheap sports vehicles are arguably one of the most fun cars to drive and make for superb hobby vehicles for car enthusiasts everywhere. These fast and fun rides can be great for daily drivers, weekend getaways, or even stay in your garage like a showroom model.