11 Best Truck Wheels on the Market – Aftermarket & Custom



Are you searching for a new set of cool truck wheels for sale and having difficulties deciding? Unsure of quality, sellers' reputation, and skeptical about fitment? Look no further! Our ultimate buying guide with multiple brands, sizes, and finishes represents the 11 best truck wheels on the market that will meet every style.
11 Best Wheels for Trucks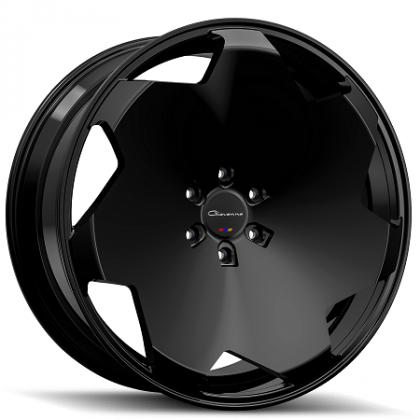 Turn your truck into the embodiment of style, sophistication, and courage with the best custom truck wheels on the road. The Giovanna's Wheels Masiss Gloss Black Rims are modeled after their popular GFG Forged M15 wheel. These wheels sport a full-face design with concave, smooth spoke designs in a rotational pattern. They're available in 22, 24, and 26″ diameters for most trucks.
These trend-setting and wicked styled wheels sport of a unique luxury look and feel. The concave crisp spoke details give this product actual depth in staggered applications. The Giovanna wheels offer an exceptional combination of innovative craftsmanship and artistic expression through its rich design and chic finishes, integrating elegance with an aggressive attitude.
Key Features
Best truck wheels for the money;
Luxury designed in a rotational pattern;
Available in marvelous finishes that catch the eye;
Die-cast construction for amazing strength and durability;
Designed to be lightweight to enhance comfort and handling.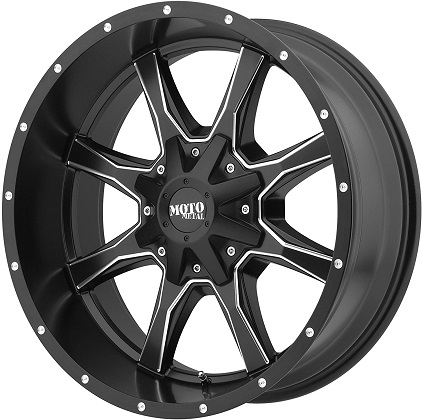 If you're hunting for rugged, aggressive, and classy wheels for your truck, Moto Metal MO 970 wheels are one of the top options available. These one-peace cast wheels feature a fantastic 8-spoke design and work exceptionally good on different types of surfaces.
These truck rims are engineered to make your vehicle stand out from the crowd and are available in a glossy black finish with milled face and machined black accents. Available in sizes ranging from 17 to 22 inches, means they fit perfectly on a large number of trucks. All Moto Metal wheels arrive with a lifetime structural warranty and a 1-year warranty on the finish.
Key Features
Offered in multiple diameters, bolt patterns, and offsets;
Made of durable, heavy-duty cast aluminum;
Black and machined finish;
Sold individually;
Features 8 rugged spokes.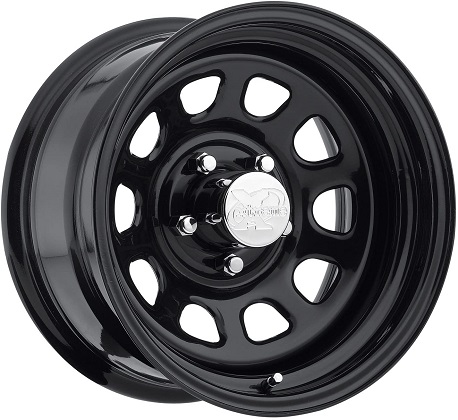 Shoppers looking for the best aftermarket truck wheels should check out the Pro Comp 51 Series Wheels at an affordable price. Their rims are excellent if you want to update the look of your truck without paying the premium price tag that usually comes with custom wheels.
The 51 Series rims are available in 3 different finishes: flat, satin, and gloss. The wide variety of bolt configurations are ready for fitting most models and makes. They arrive with multiple width options for the 16- and 17-inch rims, making the right choice if you wish to keep the original tires. Still, they only have a 1,600 load capacity. The wheels are only available in black smaller sizes (15 inches – 17 inches), and lug nuts are sold separately.
Key Features
Great value and look amazing with big tires;
Strong and high-quality product;
3 different finishes;
Multiple lug pattern and width sizes;
Come with high offset to accommodate big brake systems.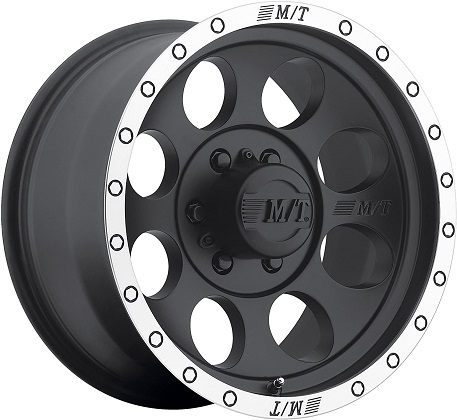 The Mickey Thompson Classic Baja Lock wheel has the classic 8-hole design in a matte black finish with a protective clear coat. The embossed M/T logo is a guarantee of dependability, strength, and quality. The Classic Baja is available in sizes 15×8 through 17×9.
These wheels are made with the same excellent styling as all Mickey Thompson Wheels to ensure peak performance. They comprise of a simulated beadlock, high load rating and special trailer applications. What's more, these wheels are supported with a lifetime limited warranty against structural defects and a one-year finish warranty versus peeling of the finish. Whether on the track or the trail, this stylish and durable wheel will suit any enthusiasts' needs.
Key Features
Non-corrosive black screw-on center cap;
High load rating for durability and strength;
Simulated beadlock for an authentic appearance;
One-year finish warranty;
Lifetime limited warranty against structural defects.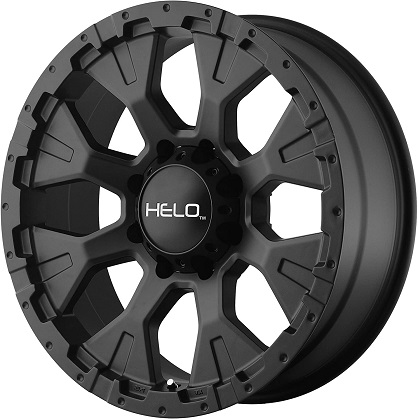 These modern-looking and sleek Helo wheels are strong and reliable for your truck or off-road vehicle. They come in a wide selection of sizes ranging from 16 to 20 inches. Hello HE878 wheels are constructed out of one piece of cast aluminum that is built to last. Their black satin finish protects them from rust, weather, and damage while you're out on the road.
They include a 1-year finish warranty to ensure they last you a full 365 days. The lug nuts aren't included, and you'll need to get specific ones for them. They're quite heavy, with each wheel weighing over 30 pounds, so they'll add weight to your truck and can be cumbersome to carry around.
Key Features
Sleek design and high-quality finish;
Robust, strong and arrive in several sizes;
Made from premium grade cast aluminum;
Limited lifetime warranty on structure;
2-year warranty on finish.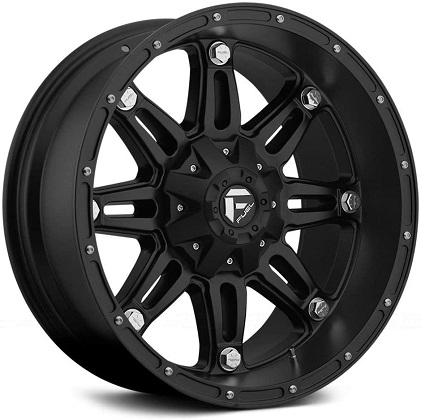 Hostage D531 Matte Black Wheels by Fuel add a touch of distinction to your vehicle's look and enjoy an extremely comfortable ride at the same time with these stylish and lightweight Fuel wheels. They feature a one-piece set cast construction to ensure maximum stiffness and weight reduction. Their durability and bold design make these wheels ideal for off-road vehicles.
Therefore, be sure these are the best rims for trucks proven to endure for years to come. Plus, high stiffness helps prevent loss of performance power, making your vehicle performs even better. Also, these wheels improve handling, steering and acceleration. Available in a wide variety of finishes and designs, D531 Matte Black Wheels will give your truck a head-turning look, separating it from the rest of the crowd.
Key Features
Unique design to personalize your truck's look;
One-piece cast construction for optimal stiffness;
Capable of withstanding the toughest off-road abuse;
1-year finish and lifetime structural warranty against peeling or lifting of finish;
Available in a variety of diameters and bolt patterns.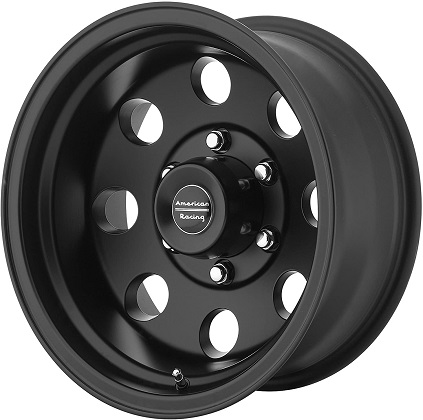 One of the best American Racing wheels on the market is the AR172. It's simple yet elegant, and macho look really makes a difference on your truck or SUV. Wheels start with a 15″ diameter and run up to 17″. They come with a black satin finish for extra protection and shine. Also, the center cap is painted and features the American Racing emblem right in the middle.
These sport truck wheels feature a lifetime structural warranty and a one-year finish warranty to protect against lifting and peeling. Lug nuts aren't included, and you may need to buy specific ones to mount the wheel to your ride. They're built out of durable and rugged steel that improves performance and capacity.
Key Features
Lightweight and come in several sizes;
Sating black finish with steel construction and center cap;
Lifetime structural warranty and one-year finish warranty;
Durable, strong, and powerful;
Multi-spoke design for a premium look of your truck.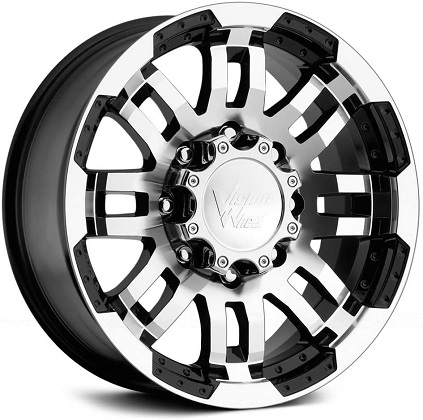 These Warrior wheels are made from aluminum with a gloss black machined face and phantom chrome finish. They're split-spoke wheels with gear-like cutouts and machine divots on the outer edge. Included are the closed center caps with pop-out centers. The wheels are available in a wide variety of sizes, from 14″ to 22″. The Warrior Black Machined Face Wheels are good quality and look great on many off-road applications.
They're excellent replacement wheels and are a perfect upgrade to stock wheels. It's simpler to maintain and keep clean than chrome plating, so you can have a handsome finish that isn't prone to cracking and peeling in extreme environments. Black tones around the outside of the 8-spoke rim complete this wheel's aggressive look.
Key Features
Great value, good quality, and look sharp;
Come with center caps;
Available in multiple sizes and lug patterns;
Black powder coat finish with the machined face;
One-year warranty on the finish and limited lifetime structural warranty.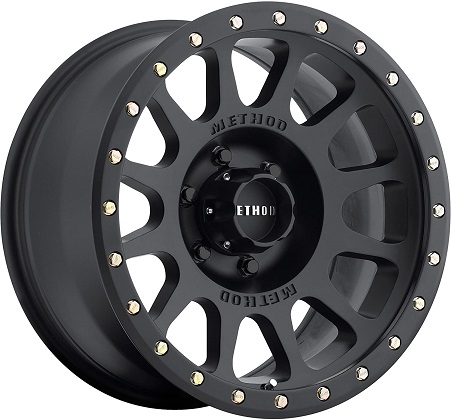 These are one of the most sought-after Method Race Wheels thanks to its unique features. They come with a cast aluminum construction that lasts longer and a matte black exterior finish for better appearance. The wheel weighs 28.1 pounds and features a load index rating of 2,500 pounds, which supplements its versatility.
Method Race Wheels gives a lifetime warranty when purchasing the NV model. These black rims for trucks arrive with zinc-plated accent bolts that will keep it intact on your truck. You can rely on the wheels if you're seeking for something that lasts longer. Plus, these wheels are strong and reliable, which makes them a great investment for your vehicle.
Key Features
Made in the USA and come with a lifetime warranty;
Durable, reliable, and elegant;
Zinc-platted accent bolts;
Arrive in a variety of sizes;
Iconic 12 window design with debossed Method logos.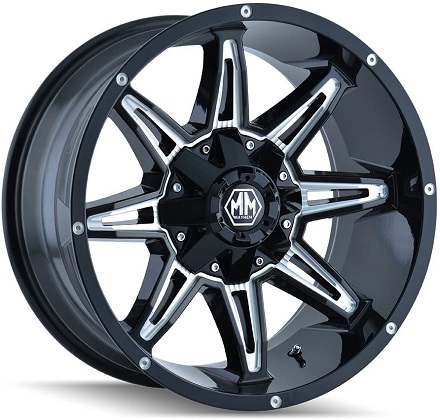 Mayhem's Rampage light truck wheels boast an aggressive and sleek spoke design with a 6-lug nut pattern. They sport a matte black aesthetic with a milled spoke pattern that was precision crafted out of high-grade material. The wheels come in a range from 17 to 22 inches in diameter.
Featuring refined design patterns and a number of finishes, they provide a combination of style and functionality incorporated in stellar materials. Exceptionally durable and resistant to rough weather and road conditions, Mayhem wheels are warrantied against defects in workmanship and material, as well as against structural failure. The Rampage 8090 is made from a premium alloy that is both lightweight and malleable. The wheel has a wide range of offsets and backspaces for convenience and versatility.
Key Features
Lightweight, malleable, and TPMS compatible;
Made from high-grade aluminum;
Industry-leading load ratings up to 3640 lbs on 40-inch tires;
Include a wide range of offsets and backspaces;
Lifetime structural warranty.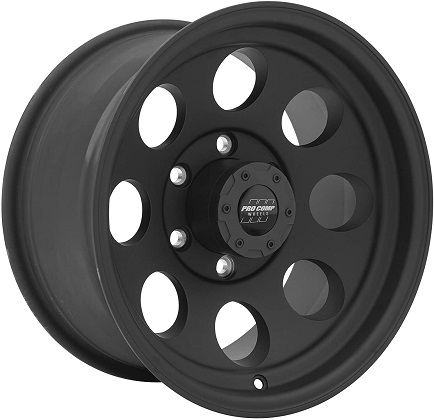 Pro Comp makes Alloys Series 89 Wheels utilizing cutting-edge low-pressure casting technology for strength. These lightweight, cast-black-finished wheels highlight beadlock styling and 6-spoke design. Plus, they're available in polished or chrome finishes and 16" and 17″ diameters and arrive with center caps.
The simple appearance and matte black finish are two great features. The finish and offset will give your truck a nice aggressive pose, whether it's SUV, Jeep, or truck. They fit and spin freely, and they're easy to clean and balance. On top of that, their high offset leaves more than enough clearance for huge brake systems. Pro Comp Series 89 Alloy Wheels come with a limited lifetime structural warranty and a 3-year finish warranty.
Key Features
Good fit and easy to balance;
Finish and offset make a macho stance;
Have high offset brake clearance;
Come with center caps;
Limited lifetime structural and 3-year finish warranty.
Buying Guide
In this buying guide, we'll tell you everything you must know about the best truck wheels, from benefits to the most popular truck rims.
Benefits
Improve performance – OEM wheels are capable enough to get the job done as far as you don't ask too much from them. Aftermarket truck wheels provide you with better load capacities and more options to meet your specific requirements;
Enhance your truck's appearance – Your truck may be the best in the class, but there is no denying that a new set of custom wheels can upgrade the look of your vehicle;
Extra protection for off-roading – The stock wheels for your truck were likely designed for pavement, not the trails. You can get a set of wheels that are made to handle the toughest terrain, so you never need to worry.
Core Features
Load Rating – The load rating of your wheels is essential. The maximum load capacity depends on what the tires are rated for, and you need the wheels to handle whatever you might throw at them. Steel rims feature a higher load rating than cast aluminum, but in most situations, forged rims have the highest rating overall. Other things that can affect the load rating are the number and the size of lug nuts;
Finish – Aside from being a functional part of your ride, wheels can also make a style statement. Updating from OEM to beautifully finished after-market wheels can make your vehicle look brand new. You can pick from numerous styles, colors, and finishes to make them just right. Painted wheels come in virtually any color, but the most popular options remain either matte black or chrome;
Diameter – The diameter of the wheels is important for both fit and style. Larger rims are increasingly popular, although the average size is still about 17 inches. Going too big can demand lifting your truck or customizing the wheel while going too small might not leave enough space for the breaks;
Width – Tires come in a plethora of widths and diameters. If you're going to use the same tires for the new wheels, then you'll need to purchase ones that are the same size. A wheel is typically two or three inches narrower than the tires themselves, but manufacturers will specify what sizes are perfect for their products;
Bolt Pattern – The wheels are affixed by a specific amount of lug nuts, usually 5, 6, or 8. They're designed to accommodate specific sizes, so look up your bolts' pattern and size before buying.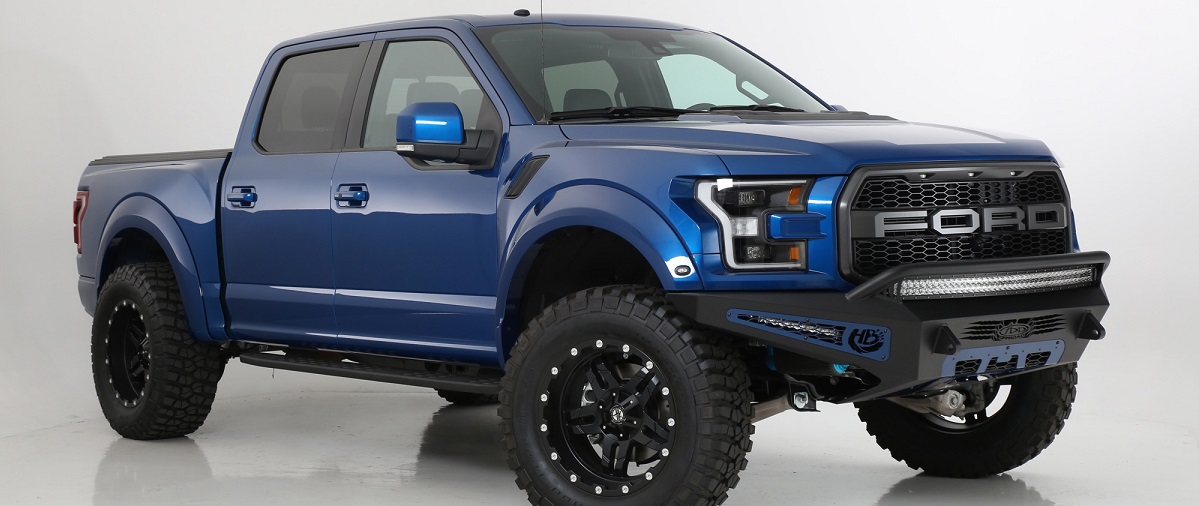 Types
Aluminum – When it comes to truck wheels, their construction and material are important factors to take into account. Aluminum wheels are lightweight, which is why they're a popular choice among sports vehicle owners. The weight reduction for truck wheels isn't best for speed but helps with loading capacity and staying within legal loading limits. Aluminum is also excellent for protection against corrosion;
Steel – While aluminum wheels have several benefits over steel ones, it isn't always the best choice. Steel is a grateful material in terms of durability and strength, which makes it better for folks who frequently haul heavier loads. Steel wheels are also much less expensive than aluminum. While they aren't so good at corrosion resistance, there are many pre-treatments to fill this hole.
Best Truck Wheel Brands
Pro Comp USA – Founded in 1985, Pro Comp USA starts by producing lighting products for cars. 7 years later, it began manufacturing suspension systems, which set the organization on a path to creating superior, off-road products, including wheels, lightbars, and shocks. Today, it designs some of the most popular wheels for truck, SUV, and Jeep drivers;
Fuel Off-Road – Frequently called Fuel forged rims, Fuel Off-Road is a well-known truck wheel brand, and it makes the largest wheels available. The company was established in 2008 by MHT Luxury Alloys, which is known for producing super-quality racing wheels. Fuel forged off-roading wheels are available in several different style and color options;
Mickey Thompson – Founded in 1963 by a famous racer Mickey Thompson, this company has a long record of producing uber-quality products. The brand has been dedicated to making record-breaking products that are available on the market. Aside from racing products, it offers a vast selection of truck wheels and tires;
Wheel Pros – Wheel Pros has been engineering, marketing, and distributing wheels for over 20 years. Headquartered in Denver, CO, Wheel Pros has over 30 distribution sites spread out over the USA and Canada. Its popularity has allowed the organization to grow and acquire some of the most popular wheel brands. Some brands currently owned by Wheel Pros are Moto Metal, KMC, and American Racing.