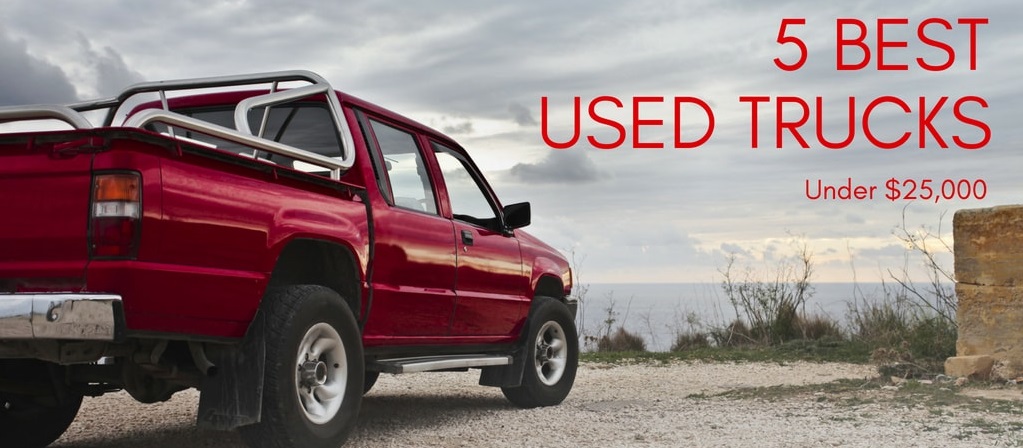 5 Best Used Pickup Trucks to Buy in 2022
There are many reasons why you should buy a used pickup truck. First and most obvious one is that you don't have $35,000 for the base price of a new truck. The second reason is you don't want to throw your money on a vehicle that you use most of the time for hauling and towing heavy load on job site. Instead, you want to invest money in business, a new office, or employ new guy. In the last several years there are so many financing options and lease programs available for buying vehicles. Still, just a small number of contractors and other tradesman buys new pickups. Why? Because they can buy "like new" used truck and save a tremendous amount of money. For that reason, we put together a list of the best used truck. All models on the list are a few years old, and they are indeed like new. Buying three or four years old truck you won't get a smell of a new pickup, but they are still in excellent condition, have reliable engines and body without rust marks. If you are lucky enough, you can find a used truck with 35,000 miles or less on the odometer. And remember all trucks from this list cost under $25,000.
Toyota Tundra 2015 - $23,900
There is no particular reason to start the list of best used trucks with Japanese bestseller, although we are still under the impression of 2007 Tundra powered by a V8 gas engine with 1,000,000 miles. Top Gear crew and Jeremy Clarkson were right when they said It is impossible to kill Toyota pickup! Original MSRP back in 2015 was in the range from $28,510 and $47,995. 3 years used Toyota Tundra is possible to find for slightly less than $25,000. Back in 2015, you could buy new Tundra in several variations. There are 5 trim levels: SR, SR5, Limited, Platinum, 1794 Edition and TRD.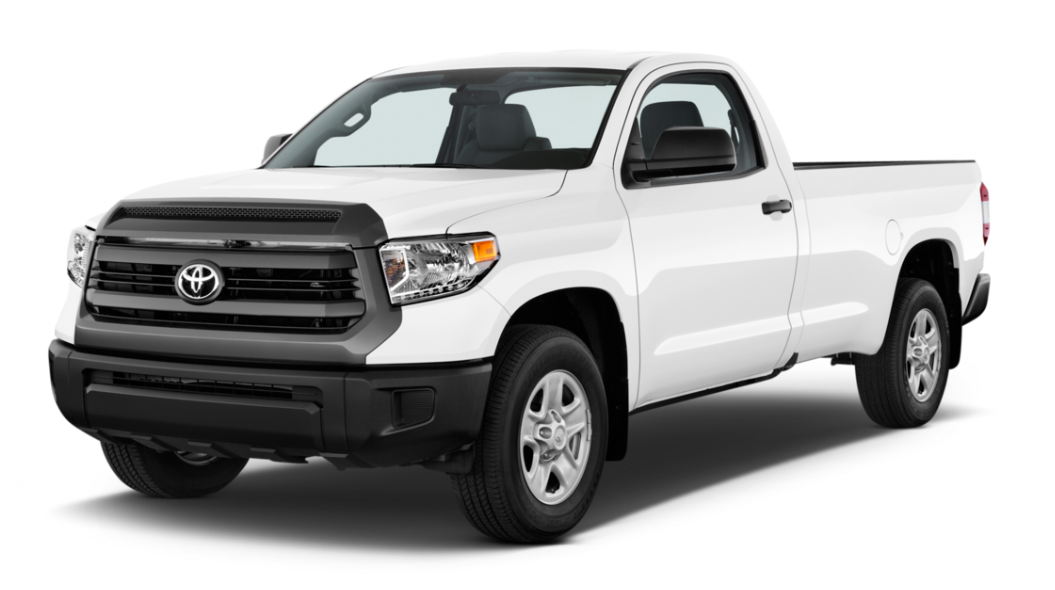 Toyota offered this model with 4.6L V8 and 5.7L V8 gas engines. Engine with smaller displacement offers 310 HP at 5600 rpm, and 327 pound-feet of torque. Fuel economy was declared 14 MPG in the city and 18 MPG on the highway. The more powerful 5.7L iForce engine produces 381 horsepower and 401 pound-feet of torque at 3600 rpm. This engine is slightly thirsty, giving 17MPG on the high road and 13MPG in the city. There are three truck bed sizes: short, standard and long bed size. Truck bed length goes from 5.5 feet in length for short bed and 8 feet in length for a long bed. Along with truck bed size, there are two cab variations. Double Cab and Crew Cab. What do you get for the money? For less than $25,000 you can get used Toyota Tundra SR5 with 50,000 miles, CrewMax cab (with room for 5 persons), 4x2 wheel drive, 4.6L engine, 6-speed automatic gearbox. In this configuration, Tundra is capable of towing 6,400 pounds. No matter it has almost four years old design, Toyota Tundra still has a fantastic interior, all used materials are pleasant, buttons are easy to reach, dashboard design is still up-to-date. SR5 has 7-inch infotainment system and backup camera. Air conditioning, Bluetooth connectivity, satellite radio, fog/daytime lights, and cruise control comes as standard. As you can see a list of options is long and imagine how much it costs to the previous owner to add extra features like these at the time the truck was new. If you need to tow boat, ATV or motorcycle Toyota Tundra has trailer sway control, traction control, and blind spots monitoring system. Seats are very comfortable; there is a lot of leg room for passengers in the rear seats. If you need to haul tools on dirty roads and gravel, we recommend 4x4 version. The downsides we can need to emphasize with used Toyota Tundra are slightly lower towing capacity and fuel consumption.
2016 Dodge RAM 1500 Lone Star Crew Cab - $24,900
Ram 1500 is a most important pickup truck in RAM lineup. This is one of the most selling half-tone trucks in the US. For less than $25,000 you can buy used RAM 1500 in exceptional condition and less than 30,000 miles on the odometer. The crew cab has four doors. Interior is spacious enough to accommodate five adults, so it is a great option for small families and crews up to five members with the driver. Original MSRP for new RAM 1500 was from $26,000 to "paltry" $53,000.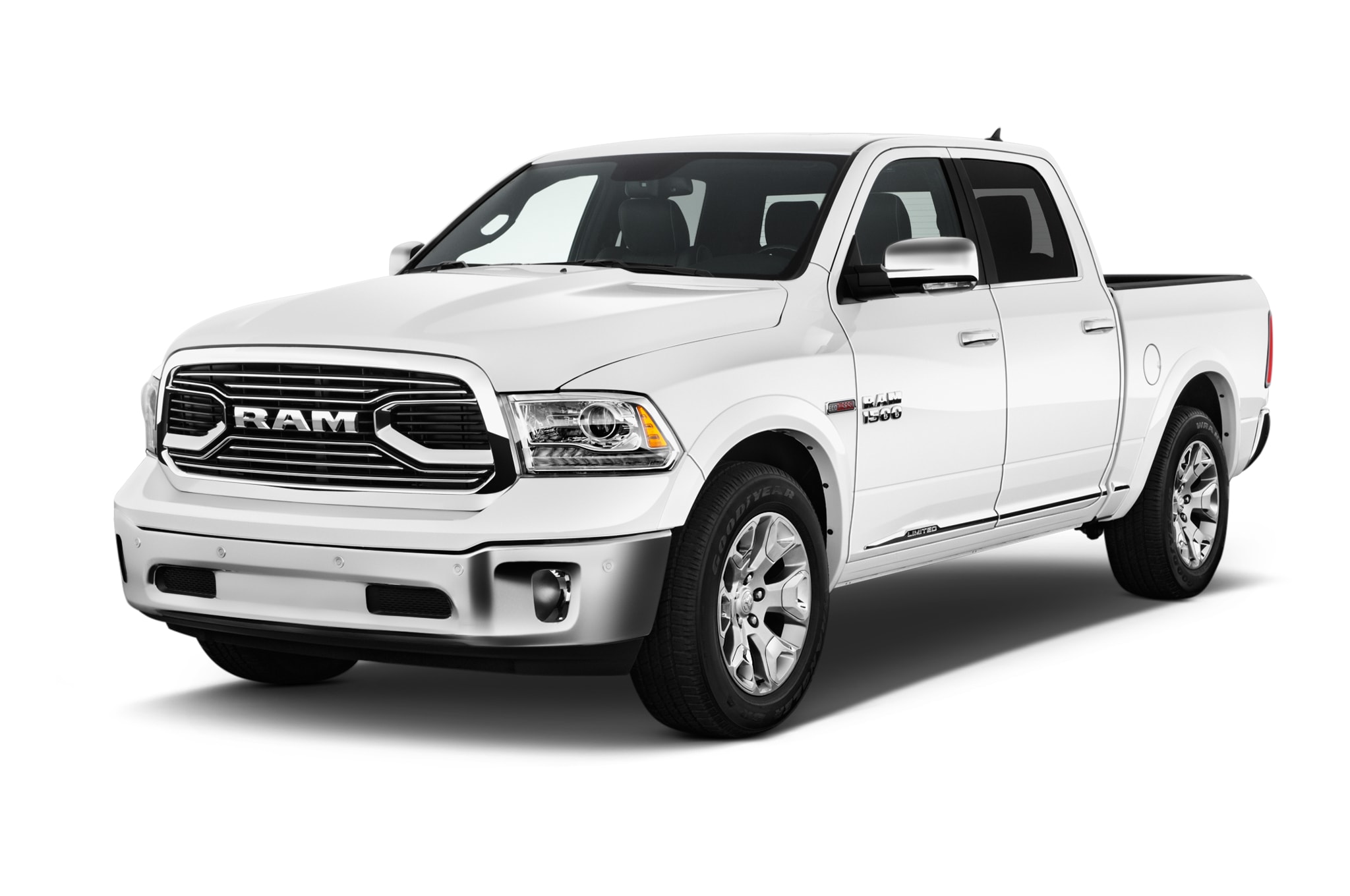 What do you get for the money? 2016 RAM 1500 Lonestar Edition is equipped with 5.7L V8 Hemi gas engine. It is capable of producing 395 horsepower and 410 pound-feet of torque. It has 8-speed transmission which improves fuel economy and makes RAM one of the most fuel-efficient trucks in the segment. With a monster engine like this Hemi, used RAM 1500 has decent petrol consumption of 22 MPG on the highway and 16MPG in the city. If you think this is not the good performance, you can look for used RAM 1500 with a smaller 3.6 V6 engine. Best fuel economy and towing capacity offer a V6 diesel engine. Many say that all full-size trucks look the same. That is very much the truth. What differentiates this RAM from the competition?
Excellent interior materials and design. At one point you have an impression that you are driving big SUV. Big sat-nav touch screen, USB port, AUX port, Bluetooth connectivity and 6 speaker stereo system make drive pleasant. Attention to detail is everywhere. Seats have lumbar support. There are many storage compartments; dashboard lights are fantastic, heat blanket under the hood makes driving almost noiseless. RAM engineers added a small light under the hood so that you can refill coolant or wiper liquid during the night. There are some downsides of course. The one that is hard to forgive is lack of the absorber on the tailgate. The truck bed is covered with spray in bed liner that protects truck bed from scratches. The exterior design has macho appearance and RAM it's finally up to the main rivals Ford F-150 and Chevy Colorado. Lone Star model is equipped with 20-inch alloy wheels, and it has multi-link oil suspension which makes the drive and handling very smooth. Many safety features come as standard even for base trim levels. ABS, traction control, trailer sway control, tire pressure monitoring and electronic stability are few to mention. For less than $25,000 you can buy low-mileage used RAM 1500 that was sold for almost $49,000 ones it was new. It's a great deal indeed.
2015 Nissan Frontier Pro 4x4 Crew Cab - $21,000
Nissan advertises Frontier as a most affordable pickup truck in America. Moreover, it is affordable as used truck as well. Base MSRP for this compact truck was unbelievably low, $17,990. There are five trim levels available: PRO 4x4, SL, Desert Runner, SV, and S. We found PRO 4x4 model most interesting as a used pickup truck. 4x4 version has 4.0L V6 engine with 5-speed automatic transmission. This engine makes 261 HP and 281 pound-feet of torque. In this engine and crew cab configuration used Nissan Frontier has fuel economy of 15 MPG in the city and 21 MPG on the highway. Combined 17 MPG.
Nissan introduced Frontier PRO as an off-road pickup truck. It has 16 inches off-road tires on alloy wheels. Back in 2015, Nissan used Hankook Dynapro tires. As an off-road truck, it has some features that can't be seen in other used truck in the list, such as, Bilstein shock absorbers, electronic locking differential, hill start assist system, and factory applied spray in bed liner. Interior is made of hard, durable plastic. Plastic door panels are very easy to clean after off-road trips. Front leather seats are comfortable and wide enough. Seating position is perfect, and visibility is excellent. One of the disadvantages is the lack of leg room in back seats. Dual zone climate control, Nissan satellite navigation system, rear backup camera, premium audio system, and USB connection are standard for PRO 4x4 package.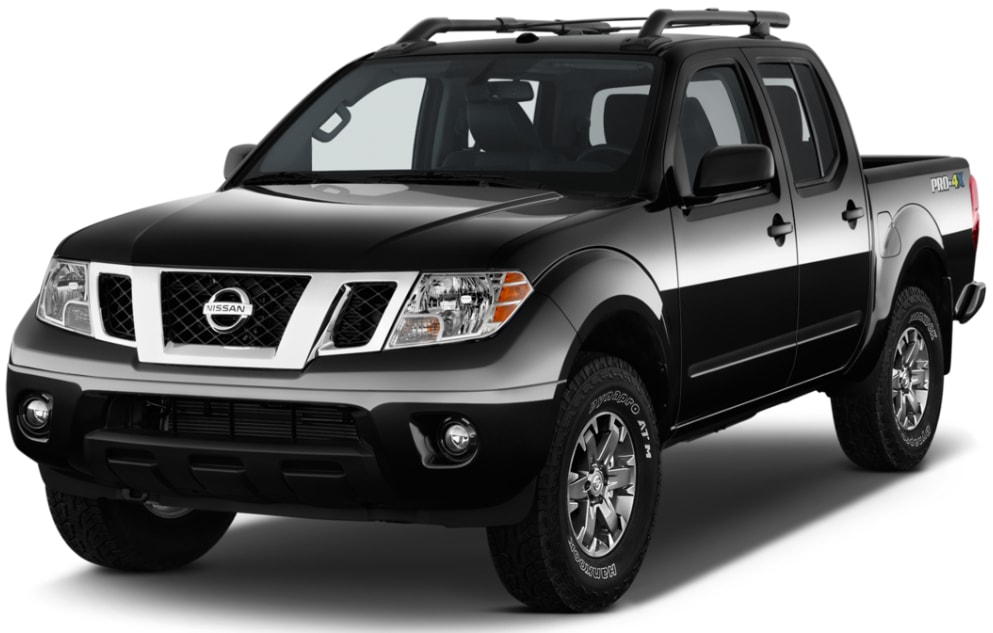 The engine in Frontier is sturdy enough for a mid-sized truck, but transmission could use one or two extra gears. The driving experience is quite good, but all-terrain tires are noisy on a flat surface. As you can see, there are few cons of 2015 Nissan Frontier but considering its price that is in the range from $18,000 to $21,000 it deserves his spot in our list of best used truck to buy.
2014 Honda Ridgeline RTS - $22,900
Another mid-sized pickup in the list. You already had a chance to read Honda's review in 5 Best Small Trucks article. A new model for 2019 has fantastic capabilities and same stands for the same 2014 model from the first generation.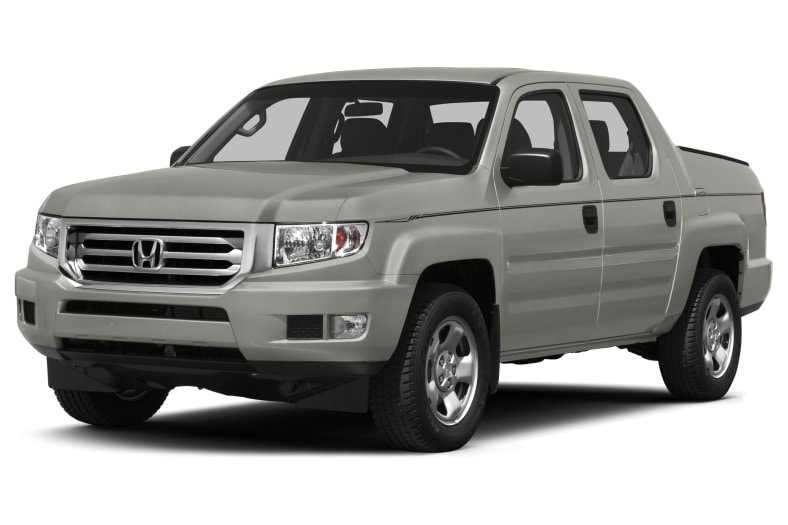 Since the debut in 2006 Honda Ridgeline sets the standards in the mid-duty truck segment. It immediately became one of the most desired pickups in Texas. Reasons for this colossal Honda popularity are many. First one is a unique and unusual design that makes Ridgeline more lifestyle pickup than a work truck. Other reasons are first in class dual-action tailgate, in-bed trunk, and flat cab floor. It is the only truck produced by Honda for the American market. New, second generation of Honda Ridgeline was introduced last year. Let's back to the first generation. We praised some unique solutions, handling, driving performance, and built quality that Honda introduced but the main downside is the use of only one powertrain. 2014 Ridgeline is powered by a 3.5L V6 gas engine that gives 250HP and 247 pound-feet of torque. 24 valve engine with programmed fuel injection is paired with the 5-speed automatic transmission. This engine and unibody technology allow driving performance impossible to see in many sedans. Power delivery is instant with very precise turning.
With this engine and transmission used Honda Ridgeline can give you a decent fuel economy of 16 MPG in the city and 21 MPG on a highway. Combined that is 17 MPG. All Honda Ridgeline trucks have a crew cab, with four doors. Truck bed has a length of 5 ft but with the tailgate down can be extended to 6.6 ft. With that configuration, Ridgeline has a payload of 1,735 pounds. Maximum towing capacity is 5,500 pounds. Average price for used Honda Ridgeline RTL produced in 2014 is between $21,000 and $27,000. If you found one under $22,000 with 50,000 miles consider it's a good deal.
2013 Ford F-150 XLT SuperCrew 4WD - $20,500
Ford F-150 is a most selling workhorse in the US. It is hard to find commercial fleet or small business in Texas without this popular pickup. It is solid, tough, reliable, easy to maintain and runs on low operational costs.
Besides all from above, this full-size truck is versatile like no other in the market. There are several trims level, cab and truck bed configurations and several engines in the lineup. The base model has Regular cab. Also, there are Super Cab and Super Crew Cab, the one we chose. This cab gives driver and passenger plenty of room. Some mechanic says that the 4WD models produced before 2010 can cause the trouble, but with this model, you are hassle-free. What do you get for the money? 5.0L V8 gas engine, 4 wheel drive with the 6-speed automatic transmission. It is capable of delivering 360HP at pretty high 5,500 rpm and 380 pounds of torque at 4,250 rpm. This engine-transmission configuration gives a fuel economy of 14 MPG in the city and 19 MPG on a highway. This is not so bad considering F-150 towing capacity. Consider buying a diesel engine if you need have high towing needs because of better fuel efficiency. Fuel tank capacity is 36 gallons.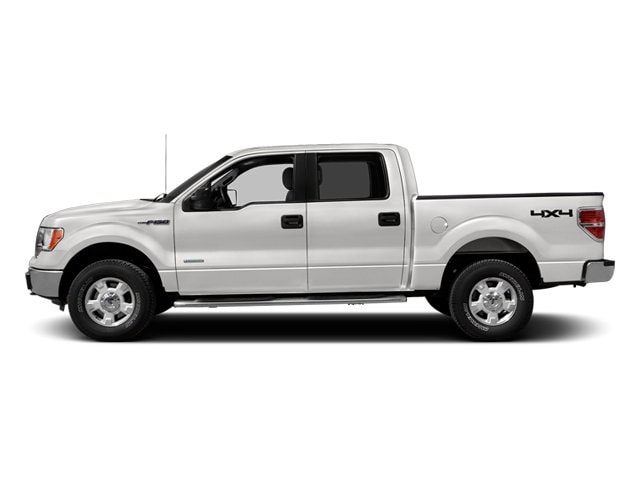 Inside the cab, Ford used hard plastic and materials that last for years. Dashboard design is more conventional, but there is everything that driver needs. Black and grey are dominant colors inside the cab. Storage compartments are everywhere, even under seats. Seats are wide enough, comfortable, and Super Crew Cab has space for 5 grown persons. 2013 Ford F-150 XTL trim level is equipped with towing package, rear backup camera, rear bumper sensors and keyless entry keypad. Truck bed has a spray-in bed liner to protect bed floor, sides and tailgate. The exterior is packed with chrome details. Tinted backside windows come as standard. No matter if you are buying a truck for family or for business used Ford F-150 is a perfect choice that will never let you down.