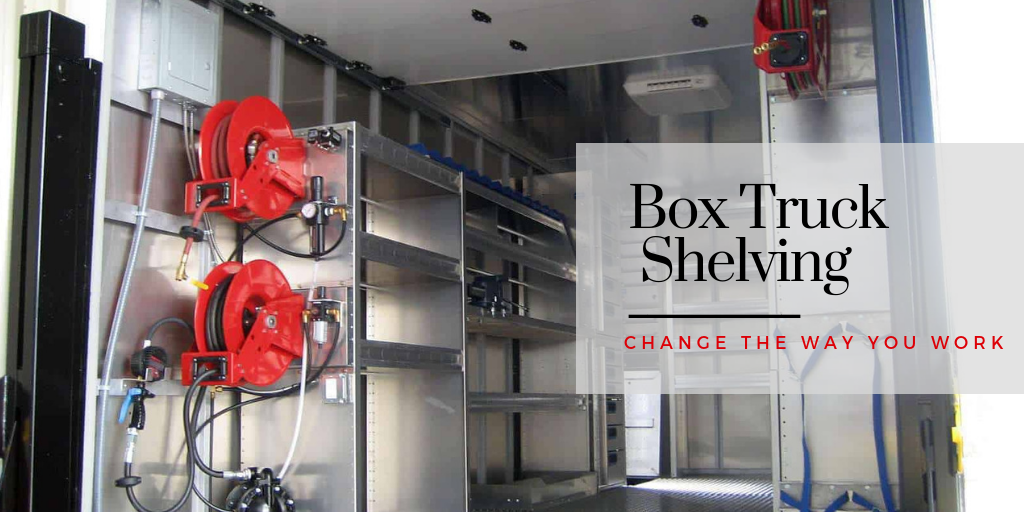 Box Truck Shelving - Epic Ideas Which can Change the Way You Work
Different jobs need different vehicles. Small box trucks or cube vans are usually first and logical choice as a work vehicle for a lot of tradesman and mobile teams across the US. These guys need to have all the tools at the fingerprint during every assistance or task on the field. However, they can't just throw tools on the truck's floor. They have to use box truck shelving and other truck accessories. Tools need to be organized to the highest space management standards. What does it mean? Every single piece of equipment in the truck cargo area has to have its dedicated place and label to allow easy organization, speed up workflow, and that way increase productivity. According to consumer reports, along with clean uniforms, tidy and organized trucks are the first thing they notice when hiring HVAC, plumbing, electrician or house remodeling service.
Box Truck Shelving Systems
Box truck shelving is not similar to pickup truck shelving units. Storage area in box trucks and cube vans is more like in work vans, and the same standards can be applied from cargo van shelving. The first thing to consider if you want to organize a box truck interior and maximize storage is to buy truck shelving system made for your vocation. There are many van and truck upfitters, Ranger Design is one of them, who sell storage systems made especially for particular trades and field of work. Depending on your vehicle and body length you can purchase complete workstations with fold-always shelves, drawers, bins, hooks, locking cabinets, bottle holders, and other box truck accessory that can dramatically increase productivity on the job site. Furthermore, shelving units can be extended with workbenches and that way transform vehicle in the mobile office with all necessary tools and equipment you need for on-site assistance.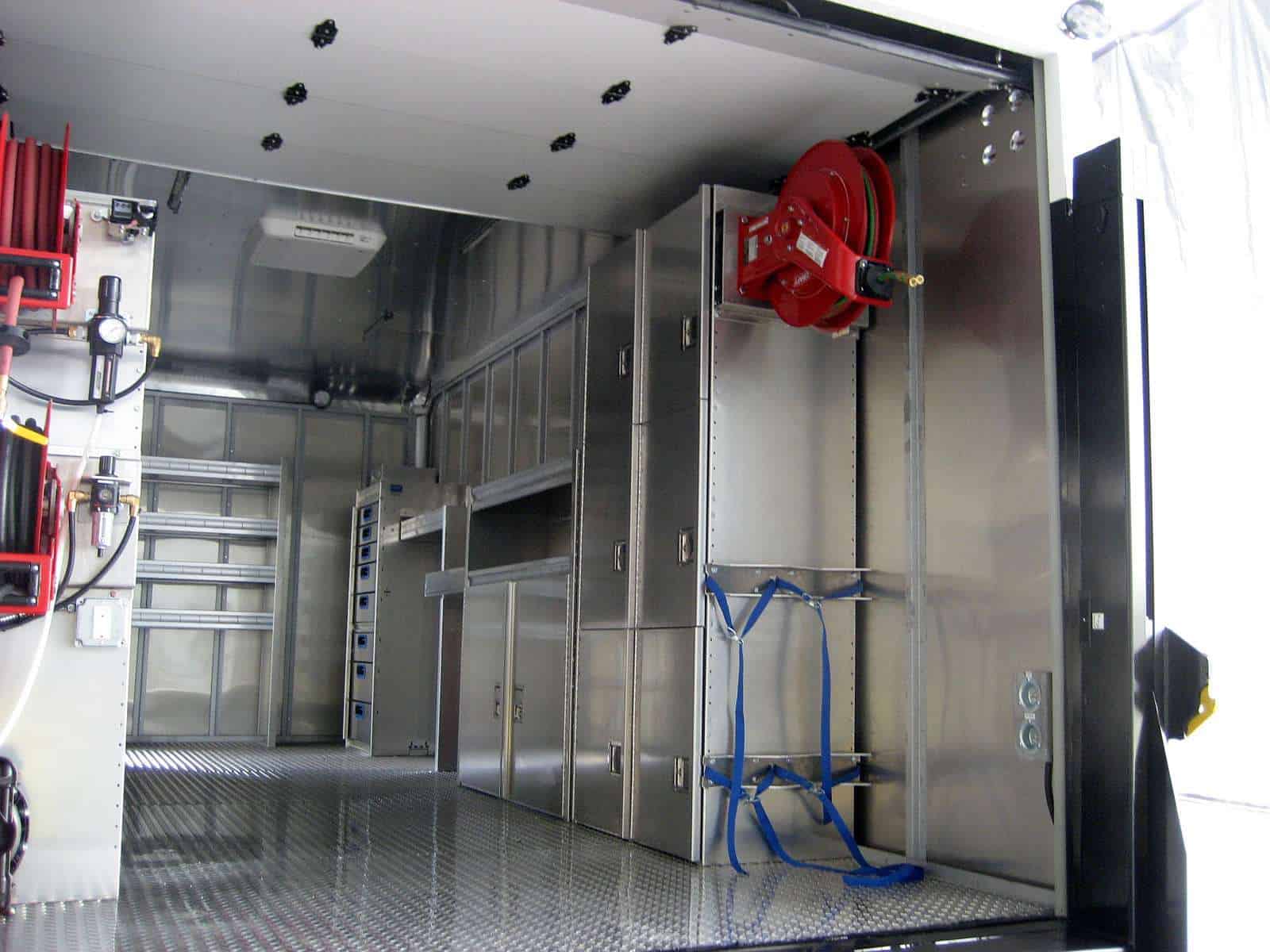 How to Choose Box Truck Shelves?
Measure Truck Body

A first and most important rule is to
know the dimensions of the truck body
. Length, height, and width, are crucial but take into consideration
wheelbase
as well and position of wheel wells if the truck bed is not flat. To perfectly fit body, without any wasted space, truck shelves will go over wheel wells. To be sure you are looking for shelves, drawers, and workstation that suit your truck body dimension and shape it's best to locate a local dealer or upfitting company and check if the desired product can be installed on your truck. Yes, some shelving systems are a universal fit and can be self-adjusted, but some require installation according to truck body specifications. Call upfitter and let them know
make, model, production year and body manufacturer
if the body is not listed as OEM. The best solution is to drive the truck at the dealership and let a mechanic do the measuring and installation.
Choose shelving material
If you are serious about the job aluminum is the right material. It's light, durable, easy to install and maintain, and it won't increase vehicle weight, decrease payload capacity or influence fuel consumption. Aluminum is in use for more than 3 decades and has been proven over the years by many as the best solution. Along the aluminum, there are
steel and plastic items, although some still like to use old fashion plywood
. Actually, most DIY
truck shelving setup
project involves wooden workstations with a lot of drawers and bins to hold smaller items. Every material has its pros and cons, but in essence, all need to be: • weather-resistant, • light-weight, • durable, • vibration free (resilient poly material or is good to minimize noise from rattling tools and inventory), • rigid, • hard to dent or scratch.
Installation and warranty
The vast majority of truck shelving units is possible to install in one hour without drilling and help from professionals. Smaller pieces of equipment like shelf trays and single shelving units require installation manual, a guy who can help you out and use of necessary tools. If the installation requires wall and floor drilling consider to take care of it in an official dealership. Always search for products that have at least 5-years guaranty. Some manufacturers offer limited lifetime guaranty but keep in mind that shelving customization can void warranty.
Locking and extra features Although box truck body is locked during transport, consider buying one or two shelves that have a lock in place. While on the job site, cargo doors are usually open, and the best way to protect expensive equipment is to lock it up in lockable drawers. Small LED lights along shelves are super useful in dark cargo space. Extra features like this are inexpensive but can dramatically help many times. Price and financing Price range depends on unite size and material. Large aluminum wall-mounted shelving workstation is the most expensive, while a single steel shelving unit is possible to buy for under $400. Heavy-duty vocation package for HVAC, plumbers, electricians, contractors and delivery can reach $5,000 or more. Packages include driver and passenger side shelving units and can hold more tools than many garages. They usually include more than 30 drawers, 5 drawers with dividers, workbench with shelves and bins (angled to prevent spillage of small items), and several adjustable dividers which allow customization.
Brands
If you don't have time to make wood and plywood shelving, consider only brands that have reputation and offer products made of high-quality materials. Best you can find in the market are
Ranger Design, Adrian Steel, Sortimo, American Van, Morgan, and Weather Guard.

Even with top-notch, perfectly fitted interior shelving your commercial vehicle is not complete without ladder racks. Rows below help explore most common types of box truck ladders racks –
roof (top) mount and side mount
.
Box Truck Ladder Racks
Top Mount Ladder Racks Regardless of the body dimension, box trucks, and enclosed trailers, usually store ladders on the roof. Most truck owners choose to install ladder racks outside the van, on the roof, because of two reasons. First one, this is the easiest method of rack installation, and the second, this way it's possible to save space inside the cargo box (under the roof) for long pipes and other construction material. Some, on the other hand, use ladders longer than the truck body, and this is the only way to carry ladders onsite. Top mount truck ladder racks are made from steel or aluminum. They are weather-resistant, rust-free, and lightweight, but stiff and rigid enough to hold ladders. Price starts from $120 to $800. They are possible to attach on fiberglass and aluminum bodies and usually have black or white coat finish. Installation is simple and can be done in a couple of hours. Don't forget that you will need rear straight ladders to access the roof of the vehicle. Depending on how tall they are and used material they can cost around $200. Some drivers don't fill comfortable to walk on the truck roof, or they don't want to invest in rear access ladders and choose side mount ladder racks.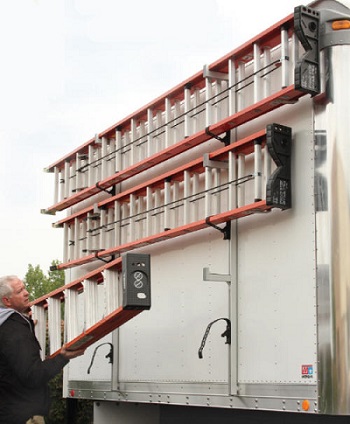 Side Mount Ladder Racks As the name suggests, ladders are mounted on the walls (side) of a truck body. Racks are very similar to top mounted. They use a similar mounting system, hooks and loops, ladders stoppers and tie-downs. Roof and side mounted ladder racks mounted outside of the truck body have one drawback. Ladders suffer all weather conditions, hot sun, rain, and show. This can produce rusted spots if ladders are dented or scratched. Thus, there are ladder protectors, but this also increases rack installation and utilization.
Foldable In-Body Truck Ladder Racks Some tradesmen and fleet managers decide to install ladder racks inside the truck body. They are usually mounted under body roof and have a foldable system to make thing more comfortable when you need to take them off the racks. The system is actually straightforward. The driver needs to pull the strap down, and ladders will land from the roof. Delivery companies usually avoid installing ladder racks inside the body since they take valuable space inside the cargo area. Florist, painters and remodeling companies very often choose to have ladders inside the van or truck.