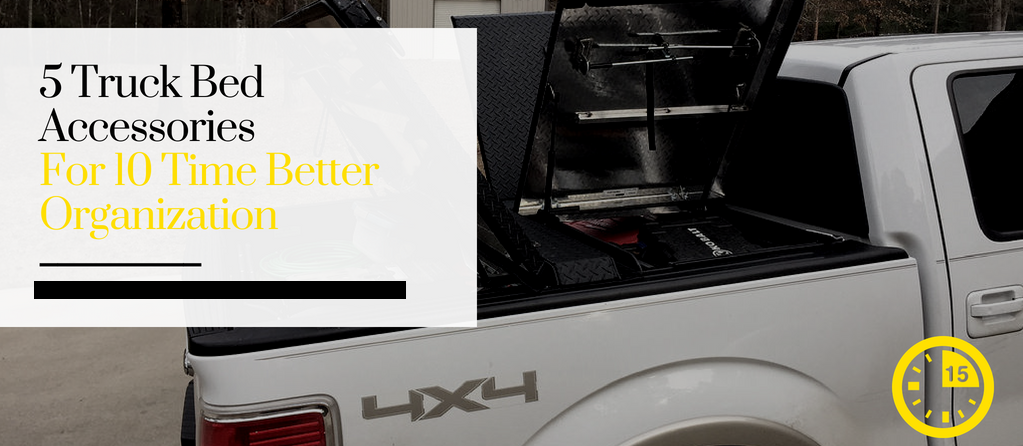 5 Truck Bed Accessories For 10 Time Better Organization
Due to increased popularity, high demand, and wide specter of use, trucks brought us one whole industry that is responsible for truck improvements and customization. Trucks have become more than just a commercial vehicle, they are modern business tools and they play important role in the everyday jobs for millions of companies in the US. Truck bed has to be clear and tidy same as your cabin. Your truck is like a mobile office, remember that. If you keep everything in place in the cabin, like iPad, invoices, papers, do the same with your cargo area. There is no difference at all. Search online, and you'll find incredible ideas for truck organizations. Try them and you'll see how simple organization hacks can make your job easier. Today you can customize and change literally every part of the truck, from interior to the engine. If you want to make your vehicle more usable here are the top 5 truck bed accessories that will help you organize and protect your tools and make truck perfect fit for the job.
Truck Bed Organizer
You need to have a bed organizer if you are serious about your job. How will you look in the eyes of a customer if you need 10 minutes to find a wrench set in truck's bed? Proper tool organization is the key to your productivity and overall professional look. What are common truck bed organizers? There are so many things: drawers, pockets, cargo bars, bed slides, dividers, cargo lockers, floor drawer systems, bed containers, cargo gates and many more. Mostly used are storage systems and bed slides.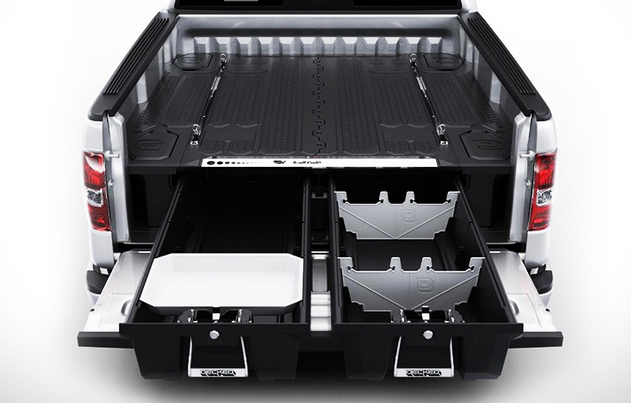 If you spent 10 to 12 hours a day in your truck these accessories can be true lifesavers. What are the main characteristics of quality truck bed organizers and storage systems?


Accessibility – they have to allow easy access to any tools you store in truck bed drawers and containers,
Security – all tools stored in the bed need to be secured with locks. If your bed organizer doesn't have a lock you are buying wrong,
Durability & Weather Resistance – used materials have to be rust-free since bed organizers are exposed to all weather conditions. They should not fade on high temperatures or crack under the ice or snow. Some bed organizers are even fire-proof. Also, they have to hold up to 2,000 lbs. on top of it.
Customization – not everyone has the same requirements. It's not just about the truck model. It is about vocation. HVAC or electricians don't have the same needs. They don't use the same tools and that is the reason why the option to customize is very important.
Easy to install (and remove) – Although once you experience all benefits of bed organizer you will not want to take it out.
Now it is obvious why hand-made wood bed DIY organizing systems don't have much chance when compared to modern solutions that are made from highly durable plastic, aluminum, and stainless steel. If you want truck bed storage that will last and resist weather condition and won't fall apart under 500 pounds of cargo be ready to spend from $1,000 to $2,000. There are so many companies who deal with truck bed storage systems. Decked become very popular in the US. Their products are made here in the US. Besides Decked there are CargoEase, CargoGlide, Loading Zone, and MobileStrong.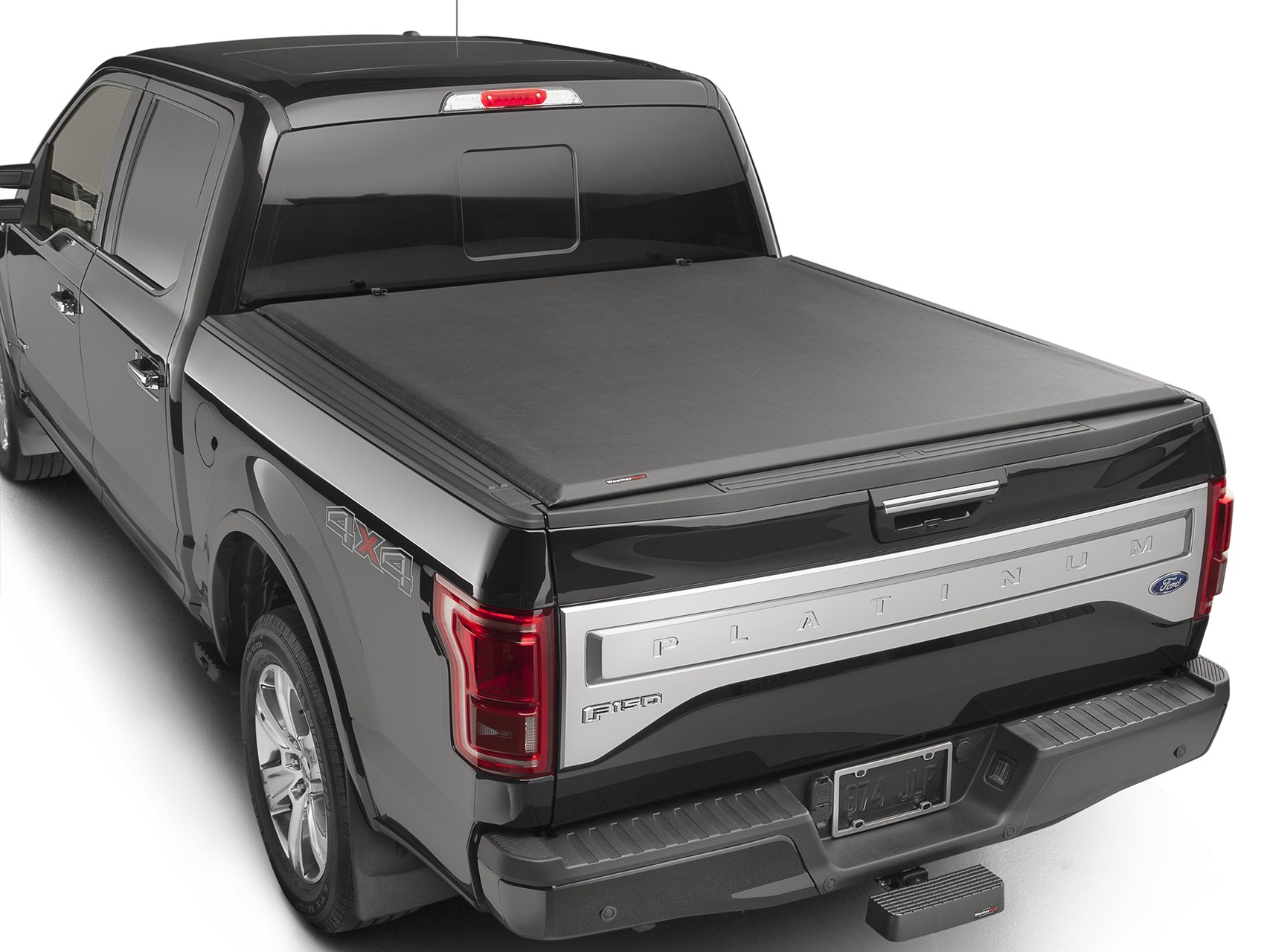 Truck Bed Covers
Truck tonneau bed covers are one of the most used truck accessories. Truck drivers use them to protect tools in the bed, but they give truck kind of sporty look. Many studies have proven that there is low chance that you will be mugged if thieves can't see what is inside the truck's bed. Same goes for the truck interior. Use tinted windows and that way protect valuable business assets.
Truck tonneau cover adds functionality, style, and value to your ride. You have a ton of options and which cover you'll choose depends mostly on your style and budget:


Soft covers; This is most affordable options. They are easy to install and don't require drilling holes.
Hard bed covers; They are made of a variety of hard materials, from recycled plastic to top-notch aluminum.
Roll up covers; Usually made as soft covers using high-quality vinyl along with Velcro and snap enclosures. To roll up cover you need to open tailgate and release mechanism and roll the cover manually. The downside is when you lock the tailgate you don't have access to the bed.
Folding covers; For full access to your bed, you don't need to remove the whole cover. They are perfect for trucks with extended beds. Folding covers are made as hard and soft, but latest models are made of heavy-duty thermoplastic. To open the cover you need to open the tailgate, release the clamps and fold the cover's panels on top of each other.
Retractable covers; Great for clean and sleek truck look. These covers are manually, or battery powered. So all you need to do to open or close cover is to press the button on key fob. They have integrated LED lights that help moving tools at night. You can open or close the tailgate independently of the cover. They can be easily locked in any position and slide into a canister.
Hinge style covers; These covers are simple and supply smooth operation. They don't roll or fold, just lift up and you are ready to load truck bed. Lock cover into the lifted position to allow safe and easy access to the truck. The downside is that you can't drive when the cover is opened. So close cover and lock it before you hit the road.
Depending on bed cover type starting price is around $300 for simple vinyl soft covers. For high-end battery-powered aluminum models with a lifetime guarantee, you'll need to pay more than $2,000. Truck bed caps cost around $3,000 but they are bit different compared to covers. Popular truck covers makers are Extand, Undercover, ATC, Century, BAK, Access Cover, and Retrax.
Truck Bed Mat
Truck bed surface that is scratched or dented looks really bad and it also leads to bed oxidation and corrosion. Truck bed mats are an easy and cheap way to protect your truck bed floor and your knees. It is a MUST if you use your truck for plumbing, contracting or HVAC. Gravel, rocks, blocks, lubricants, and dirt can't harm your truck cargo anymore if you choose this simple truck accessory. Mats are available for every truck model you can think of. There are two main types of bed mats, those made of rubber and marine grade carpet (polypropylene resin). Every type of mat has some pros and cons, and here are some of them.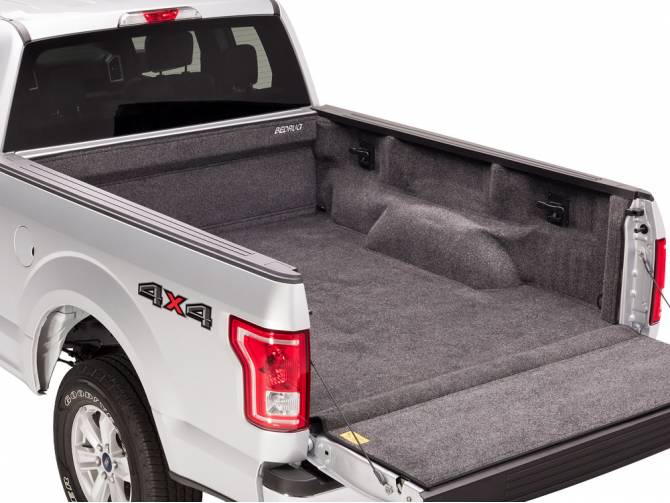 The mat that looks like the carpet has foam cushioning that won't absorb water and moisture. Cushioning follows the bed flor pattern and gives a flat surface for your cargo. Polypropylene is very durable and easy to maintain because it has no pores. Acid, lubricants or chlorine will not affect or harm it. They also give a truck premium look. Rubber mats are made of recycled tires, they are UV-protected so they won't fade or break. Carpet mats are water and stain resistant. The main difference is in price. Rubber mats are cheaper, but carpet mats look much better and cover side and floor. How to install plastic bed mat? Easy as 1-2-3.


Measure truck bed to ensure proper fitment,
Choose one that fits your truck bed size,
Clean truck bed from dirt,
Roll out new truck bed mat.

To install Polypropylene bed mat (BedRug) you will need Velcro and snaps. Before placing the mat in the bed, use alcohol to clean the bed remove any possible dirt. Since you'll need to use snaps, it would be good to install the mat when the temperature is around 65 degrees. There are also mats that can be placed on bed's side walls. They are made of marine grade carpet. Floor and side mats are zipped together with a zipper and then attached to the truck with hook and loop fasteners. How to clean the bed mat? It depends on the material, but it's usually very easy. Rubber bed mats can be washed with water pressure washer and left to dry. Carpet bed mats can be vacuum cleaned same as carpets in your house. Most truck bed mats cost around $100-$200 and are made in the US. Best-selling brands on the US market are Boomerang, DeeZee, BedRug, Gator, Westin, ProMaxx, LRV Protecta, and Black Armour. All have a 3-year warranty.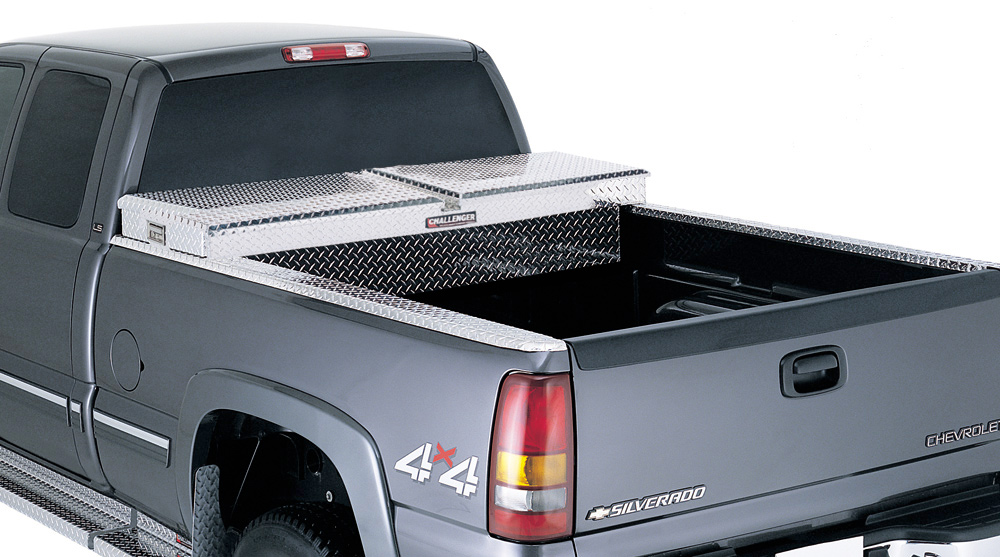 Truck Bed Tool Boxes
Along with the bed covers, truck bed tool boxes are the most-purchased pieces of equipment. Tool boxes have been in use even before the storage systems were invented. They are affordable, made of different materials, they can be mounted on different places in the bed, and most importantly, they will protect your tools from theft and weather conditions. And tools can be well organized - shelves in toolboxes are fantastic to separate small tools and equipment.
Let's see now which options you have and how to choose a truck bed tool box. Tool Box Mounting Solutions Box storage solution takes up cargo space and for some, this is not acceptable. It can be difficult to use the truck to haul ATV or motorcycle if you add truck storage systems from side to side, especially if you drive a short-bed truck. If so, choose one of the swing tool cases. This bed tool box is mounted on the side of truck's bed, usually over the wheel well. Wheel well tool boxes are a category of their own. They are usually smaller and, as the name suggests, are placed behind the rear wheel wells. They are easy to install as well. Side mounted tool boxes can be installed in the garage, but consider taking your truck to a professional repair shop to avoid worrying about proper mounting. Side tool boxes are placed in the truck bed rail and will give you a decent space to store your tools. Access to the toolbox is easiest from the side of the truck. Chest tool boxes are installed behind the cabin. They are easier to install than the side toolbox, since there is no drilling. Chest tool boxes are low profile, but you will still have an option to add a tonneau cover. Since they are placed on the truck floor, you will lose some of the cargo space. Top mounted tool box sits on the truck side rails. You won't lose any bed space, but it can be influence the aerodynamics of the truck and create blind spots for the driver. They offer a lot of space for the tools of every kind and can easily be accessed from the side of the truck. They can have one or more doors, usually utilizing one shelve. Crossover tool boxes are very similar to the chest tool boxes. The main difference is that the crossover toolbox rests on the bed's rails and spans across the entire truck width. Portable or not? Portable tool boxes can be easily removed from the bed, so you can have them on the job site. This can be convenient for some vocations. They are easy to take off, but don't forget to add an additional lock to secure the connection to the truck. Tool box materials Most truck tool boxes are made from aluminum. It's a lightweight material and toolbox will not increase truck weight and in that way jeopardize the cargo space and truck towing capacity. Aluminum is also rust resistant and can easily handle bad weather conditions – snow and high temperatures. Second in line are toolboxes made of highly durable ABS plastic (one that you see on dirt bikes) or polyethylene. Tool boxes made from polyethylene can last for years without noticeable marks of weather influence. Add powder coated finish and a toolbox can last as long as the truck. Stainless steel truck bed tool boxes are most expensive. They are sturdy and lightweight at the same time.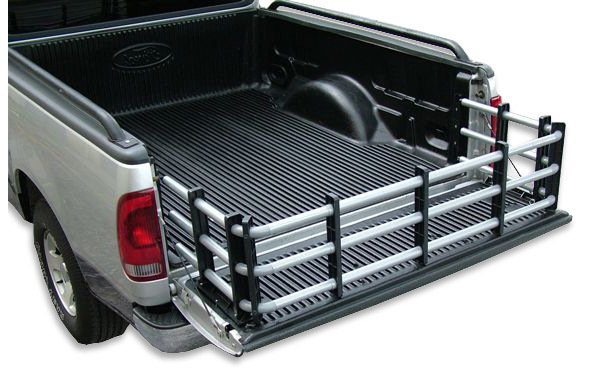 Truck Bed Extenders
Why truck bed extender? Because there is no contractor who doesn't need some extra space in the cargo area. If you want to improve truck cargo management, consider some of the bed extenders. They are easy-to-install, lightweight accessory that flips out when the tailgate is lowered. In just a few seconds you can extend the cargo area onto the tailgate and maximize cargo capacity up to 2ft.
Your cargo should remain in bed and not end up on the highway. It can also be used in a different way when flipped to the inside of the bed. This way you can easily have a separate cargo space for tools that need to be secured in transport. Tools slamming in the back of the truck every time you hit the brake is so annoying. This bed accessory will keep cargo in place no matter if you haul small objects (when bed extender is in bed) or long objects like wood. The bed extender is a rail system made of aluminum. Rails are usually coated with black plastic. Mounting screws and brackets are made of stainless steel, so you don't need to worry about rust every time you find yourself in heavy rain. Installation is really simple and all you need to do is to follow user's manual provided by the manufacturer. In essence, you have two corners and crossbars, since all bed extenders are designed in U-shape. For some trucks the installation will require removing the tail lights. However, many new models of trucks have preinstalled brackets for the bed extender. Even if you have to remove light and drill holes for brackets, it's a very straightforward DIY procedure that can be done in one hour. After you install the brackets, assemble the bed extender, tighten the screws and that is it. All truck bed extenders are removable. You can easily remove one when you don't need it and put it back again in just 5 seconds. If you wonder if this accessory will work with tonneau covers, the answer is yes. Price? Usually around the $300. Brands you can trust are AMP Research, TruXedo, and Topline. They come with a 3-year warranty and are made in the US.