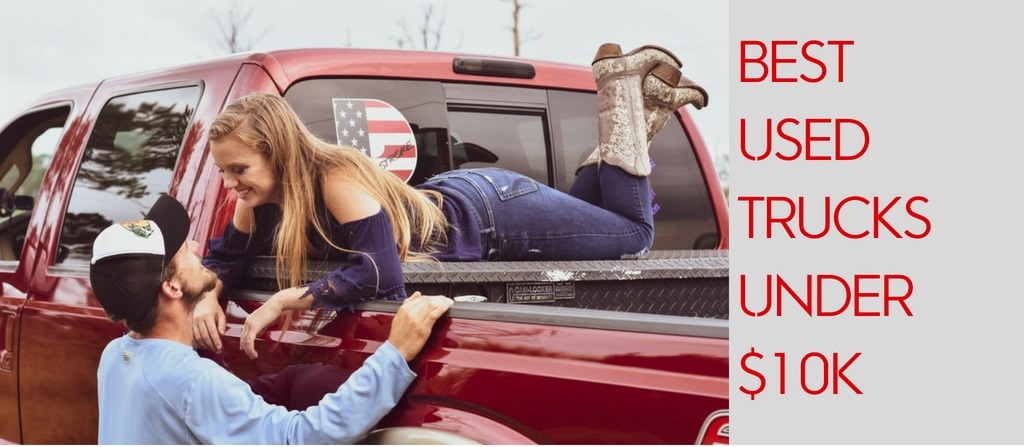 10 Best Used Trucks Under $10,000 Still in Excellent Shape
How many times did you go out on Saturday night and saw new trucks with shining wheels in front of a club? Instead of sports sedans, parking lots are packed with Rams 1500 and Ford F-150 in the highest trim level. It is not wrong to say that trucks become lifestyle vehicles in our country. And that's fine. They are not just workhorses anymore. They are comfortable, fuel efficient, off-road capable and perfect for family trips. New trucks are everything but NOT AFFORDABLE. Prices of new pickups are enormously high. Half-ton truck with additional equipment like heated leather seats, LTE connection, infotainment system and a bunch of security features can cost more than $70,000. That is a lot of money! In front of you is a list of best used trucks under $10,000. Why truck under $10K? Because of the affordable price and most important because of the condition. All used trucks from this list are eight or ten years old, meaning they are still in excellent shape. If you find one that is well-maintained with proper maintenance record don't worry about reliability or repair costs for some years.
2006–2012 Ford Ranger
Ford Ranger hit American streets in 1983 and instantly become favorite truck for many fellow citizens. Spot on the list of best used trucks under 10K is reserved for the third generation of Ford Ranger. Although the third generation came out from factory lines in 1998, Ford North America decided to give Ranger a final facelift in 2006. This favorite small truck is powered by two engines; smaller four-cylinder produces 143 HP and stronger 4.0L V6 capable of delivering 207 HP. Early versions were equipped with a 2.4L four-cylinder gas engine that produces 143HP. Ranger with this engine has a decent fuel economy of 23MPG combined. However, if you have an even minimal towing needs, you should look for a model with V6 engine. Maintenance costs are very low, there are millions of used Rangers across the US so don't worry about replacement parts. If you like off-road look for the FX4 trim level. The only disadvantage of Ford Ranger is weak safety score in crash tests.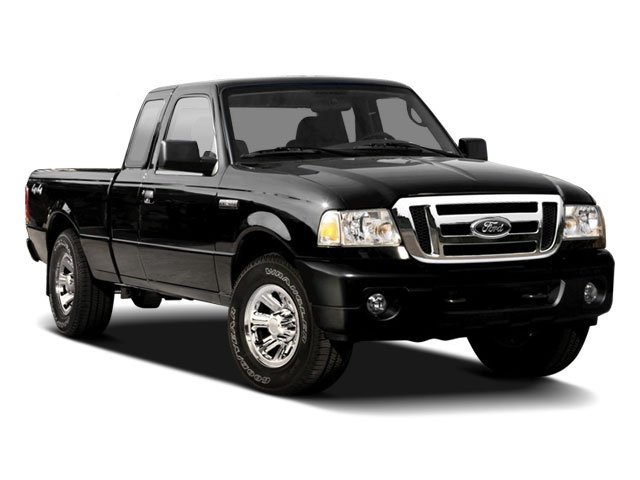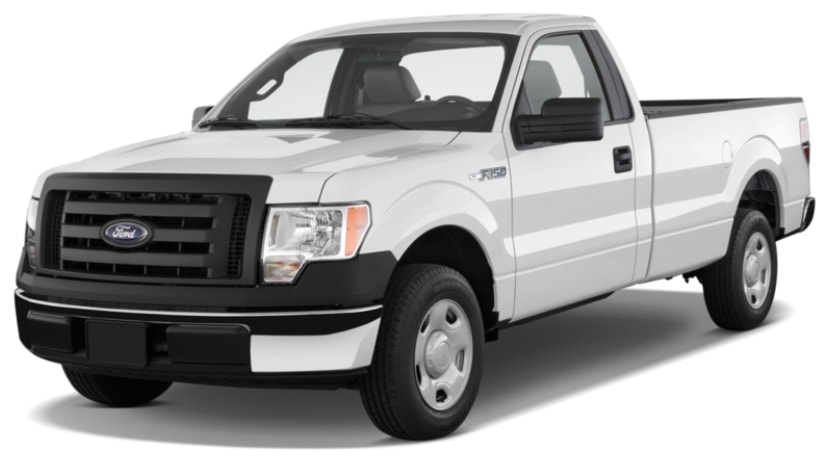 Is there anything to add to a vehicle that is on the road from 1948? Ford F-150 is officially the best-selling truck in our country. So far Ford produced thirteen generations of the F-150 model. Twelfth generation is built from 2009 to 2014. Examples from early 2010 can be found slightly under $10K. To fit into your financing construction also check the eleventh generation produced from 2004 to 2008. We recommend the 2009 model because of exterior changes and more muscular look. Super Duty grille style and headlamps give the F-150 premium appearance.
Ford updated engine lineup in 2011, but younger models cost more than $10000. However, don't regret too much. F-150 manufactured before 2011 have great powerplants. Best to choose regarding fuel consumption and versatility is 4.2 L V6, rear-wheel drive, with the 5-speed automatic transmission. Combined fuel economy of F-150 using this engine and Super Crew cab is 18 MPG. If you need to tow and haul heavy things around forget 4.2 L V6 and choose a torquey V8 engine. No matter of trim level FORD F-150 provides a decent level of additional equipment that costs a small fortune when the truck was new. Adjustable foot pedals, A/C condition, alloy wheels, automatic headlights, cargo area tie downs, cruise control, are just a few to mention. Overall F-150 is the excellent used truck for tradesman of a different kind.
2002-2008 Dodge RAM 1500
The third generation of Dodge RAM 1500 was produced for 6 years, from 2002 till 2008. It's possible to find models from 2008 that are still in perfect shape, mechanically and visually. The third generation suffered significant update; new frame, new suspension, a new powertrain. Interior features like air condition and automatic headlights made RAM 1500 most desired truck in the half-ton segment for that period. If you need to tow a heavy load, choose 5.7L Hemi V8. This engine produces 390 horsepower and 410 pounds of torque. Using power on rear wheels and 6-speed automatic transmission this is enough for maximum towing of 8,550 pounds. Payload capacity is 1,400 pounds. If the beefy engine puts smile on your face, fuel economy will not. Used 2002-2008 Dodge RAM 1500 can make 16 MPG in the city and 19 MPG on the highway. If you buy one that has been used for ten years and has more than 100,000 miles on the odometer fuel consumption can be even higher.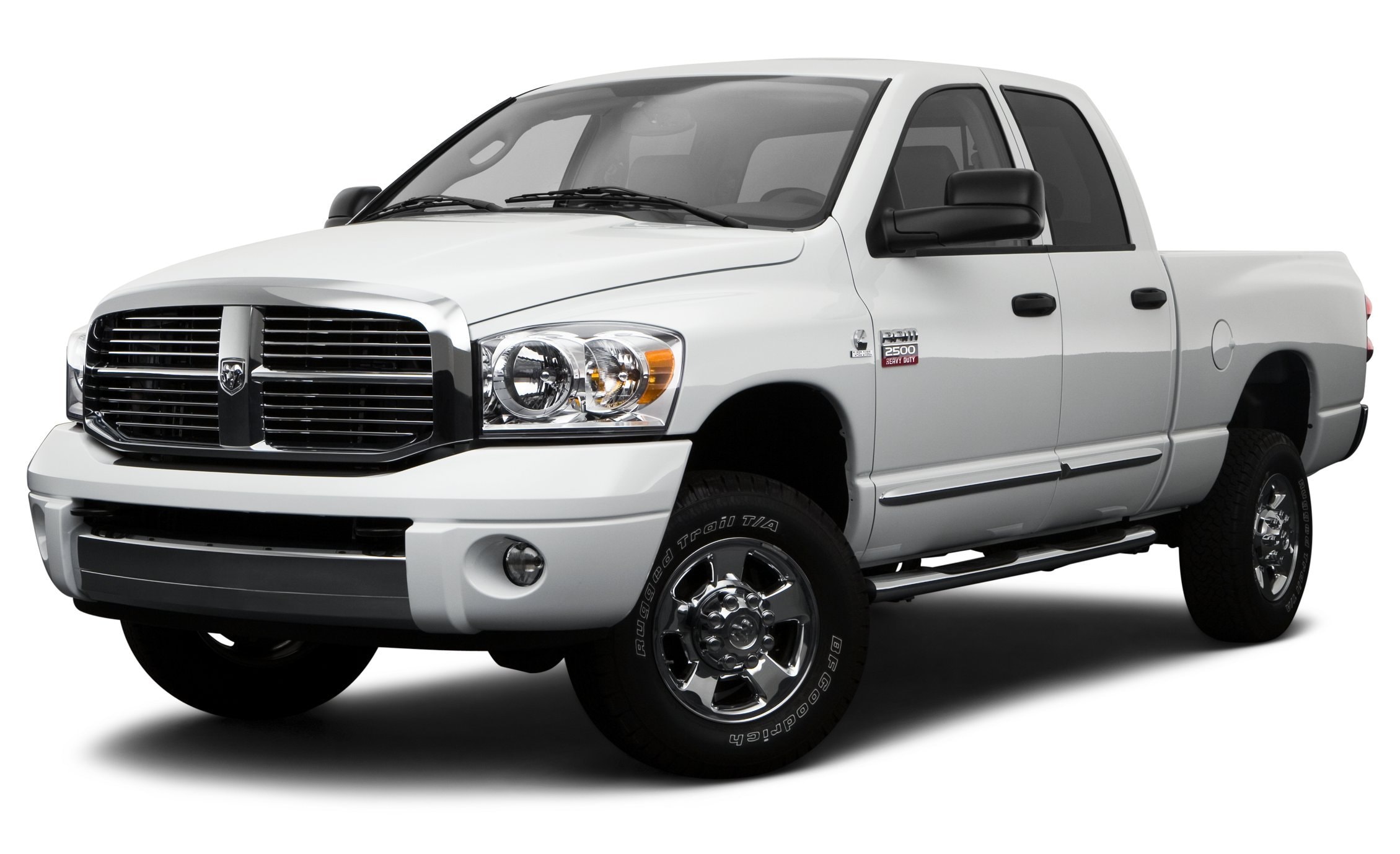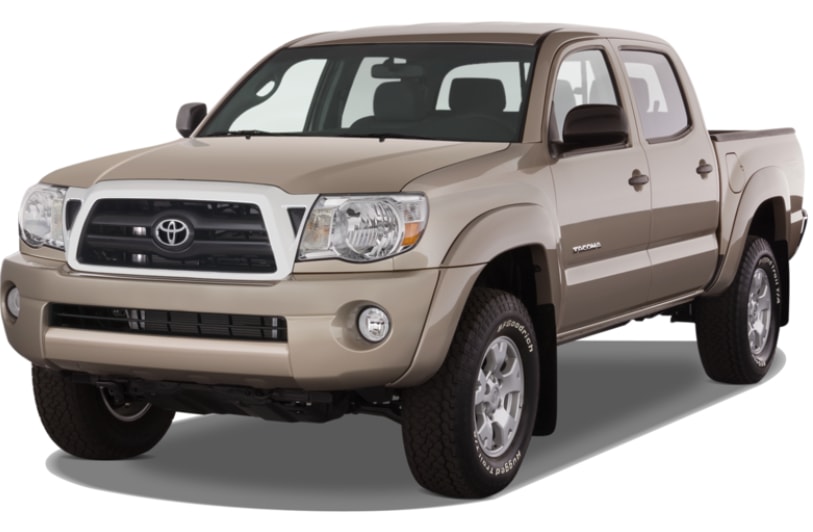 The second generation of Toyota Tacoma quickly become a leader in sales mostly on the wings of outstanding Toyota's reliability. This midsized pickup truck has a spartan interior, but late 2010 model (after facelift) is still the best looking mid-sized truck. Under the hood can be the fuel efficient 2.7L engine (159 horsepower) or towing ready 4.0L V6 that produces 236 horsepower. Toyota Tacoma is also a very versatile truck; there is a number of configurations to choose from. A good deal is Tundra with Double Cab. It is up to you to choose bed length. Both versions are offered as 2WD or 4WD. Depending on engine Tacoma uses 5-speed or 6-speed automatic transmission. Remember that trucks coming from Toyota have slow value depreciation. Under $10,000 you can buy only 10 or 12 years old Tacoma.
2007-2014 Chevrolet Silverado 1500
Chevy Silverado is another mid-size truck the list of best used pickups under $10,000. Average price for the second generation of this truck is slightly lower then Tundra's. Examples from 2008 that cost few bucks below $10K are in outstanding shape. The best recommendation to choose this pickup is the fact that Chevrolet sold like zillions of Silverado trucks. The reasons for enormous popularity are reliable engines and several engines and trim configurations to choose from. Chevy uses five engines; the weakest is 4.3.L V6 that delivers 195 HP. The most powerful is 6.2L V8 that produces enormous 403 HP. Transmission is entrusted to 4-speed automatic gearbox for small displacement engines and 6-speed gearboxes for stronger engines. Definitely, there is plenty of options depending on work needs or personal preferences.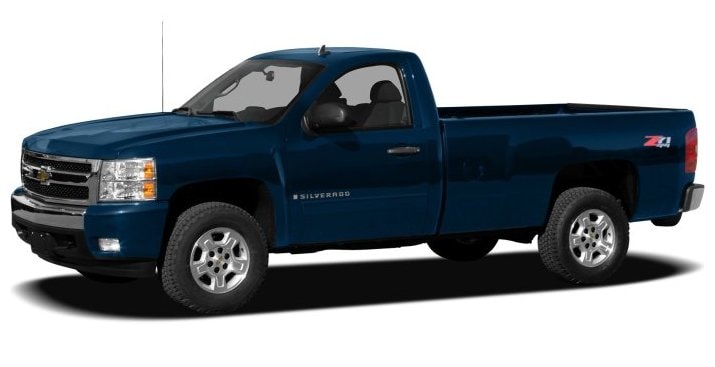 Chevy Silverado 1500 is the perfect truck for business fleets, small businesses, and families. If you are looking for a used truck with plenty of additional equipment Silverado should be on your priority list. Examples with Extended cab, rear wheel drive and LT trim level, perfect for tradesmen and small businesses, is possible to find even under $9,000. For truck powered by the V8 engine and equipped with towing package, premium wheels, remote start and a lot of extra features it is a real bargain.
2007-2014 GMC Sierra 1500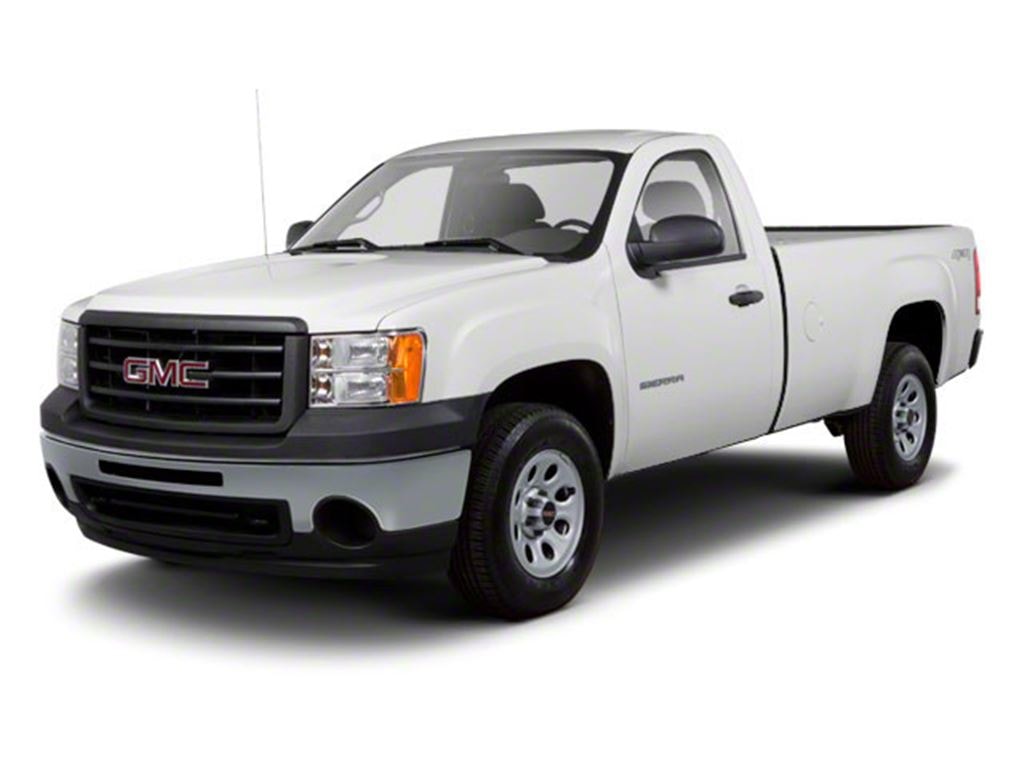 Except for the front grille, General Motors mid-sized truck shares all parts and components with Chevy Silverado. Choosing one or another is personal preference or current market trend. While Sierra is usually offered as a truck for families and personal use, Silverado is more fleet truck used for business. Like his twin from Chevrolet corporation, GMC Sierra imparts a significant number of configurations concerning powertrain, trim levels, cabs, bed lengths, and packages. Prestigious Denali trim level still costs more than $10K, but other trims are going to fit into the defined budget.
Tundra is a full-size truck from Toyota. Like its smaller counterpart, Tacoma quickly sets the standards and raised the bar when it comes to dependability. Toyota Tundra may not be the best-selling truck out there but is for sure one of the longest-lasting pickup truck. It is not strange to see Tundra from 2000 still in excellent condition. It is possible to buy second generation Tundra manufactured from 2007 for under ten grand. Nothing changed in Tundra's design until now. Moreover, that is the main drawback of this half-ton pickup. Under the bonnet, Toyota uses one of the five engines; starter is 4.0L, most potent is 5.7l V8 Dual VVT-I. This engine delivers 381 HP. Depending on body configuration Tundra with 5.7L V8 can tow from 9,000 to 10,400 pounds. Many construction workers choose to drive Tundra because of so many bed and cab configurations. Toyota Tundra is offered as Regular Cab, CrewMax Cab, and Double Cab. If you are more interested in off-road available is TRD package equipped with all-terrain tires, skid plate, locking differential, and sports suspension.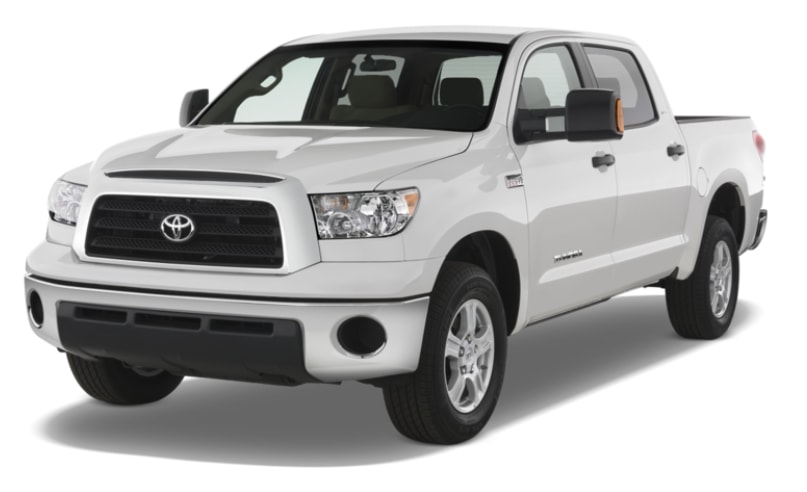 For $10K or less, you can buy Tundra in SR5 trim level, four-door Double Cab powered by a 5.7L V8 iForce engine with a lot of additional equipment like tow hitch, trailer sways control, limited slip differential, towing powered mirrors, traction control, truck stability control and other.
2006-2014 Honda Ridgeline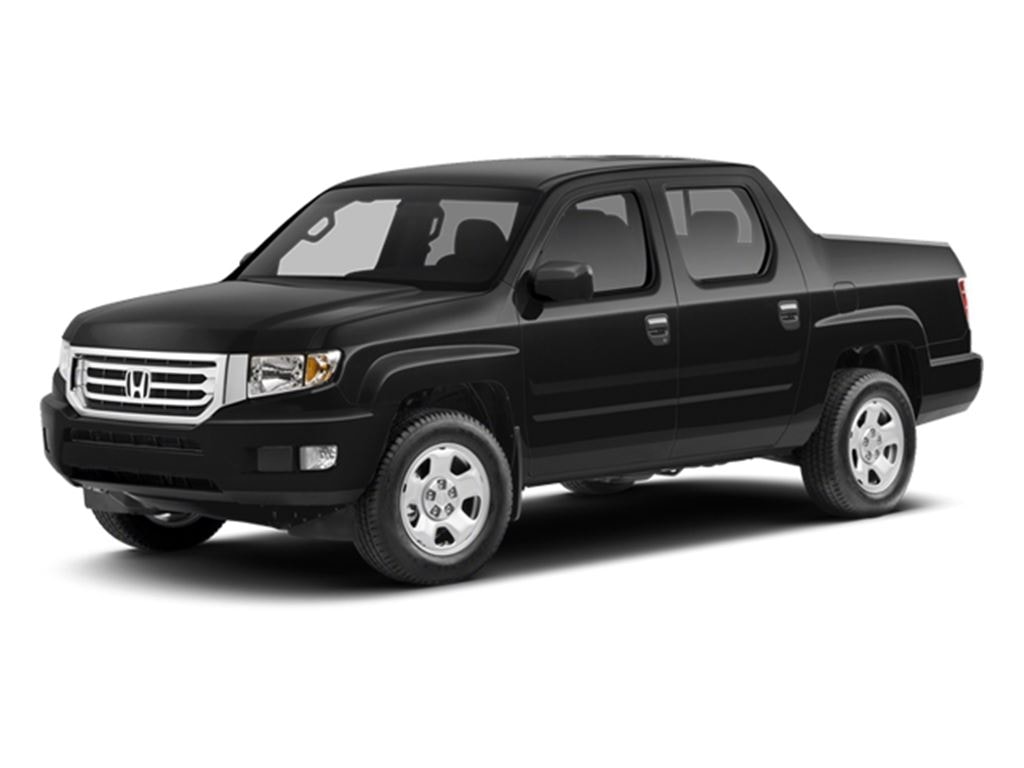 A small pickup truck from Honda is unique bland and mixture of Honda Pilot and Acura MDX. Since the debut, Honda Ridgeline became popular among young drivers and those who want to drive a truck that handles like a car. On the other hand, tradespeople praised Honda Ridgeline because of flat cabin floor, in-bed trunk, and dual action tailgate. In 2006 these were quite fresh and useful features. Under the bonnet of the first-generation Ridgeline lies down the 3.5L V6 engine that gives 250HP and 247 pound-feet of torque. The engine is put together with the 5-speed automatic transmission. Estimated fuel economy is around 17 MPG combined city/highway. Inside the four-door cab, is plenty of room for five persons. Used material like plastic for the dashboard is of the highest quality, and you have a feeling like driving a luxury sedan. Honda Ridgeline under $10,000 is usually manufactured in 2008 or 2009 and has RTL trim level. This package includes leather seats, 17-inches alloy wheels, sliding-glass sunroof, CD radio, a navigation system, and tow package.
2009 – Present Nissan Frontier
Affordable as new equals affordable as used. Nissan Frontier is a small pickup that is simple, plain, and gives the essence of work truck – ability to get the job done. Since its arrival in 2004 to 2009, Nissan didn't change much regarding exterior design and interior. If you are looking for decent and well maintained used Frontier under $10,000, aim 2009 model or younger. Although in some packages Nissan Frontier looks very cheap inside, the off-road PRO-4X package is the one we can recommend. Leather seats, leather steering wheel, alloy wheels and a centrally placed touchscreen make driving pleasant and smooth. 4.0L V6 engine paired with the 5-speed transmission can produce 261 horsepower and 281 pounds of torque.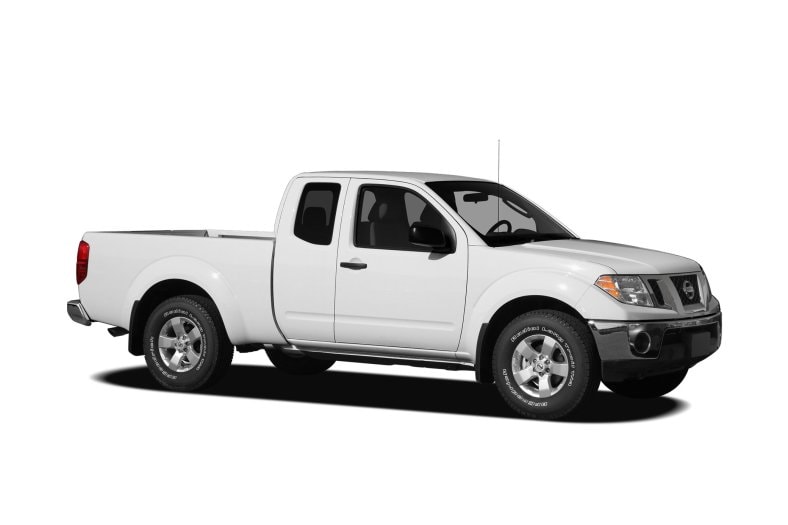 For business purpose interesting is Frontier S King Cab with 2 doors. There are examples produced in 2013 that can be bought for $10000 or less, in this version and trim level, there. Of course, they are equipped with a smaller 4 cylinder engine and 5-speed manual transmission. Transmission is maybe the only disadvantage of this truck.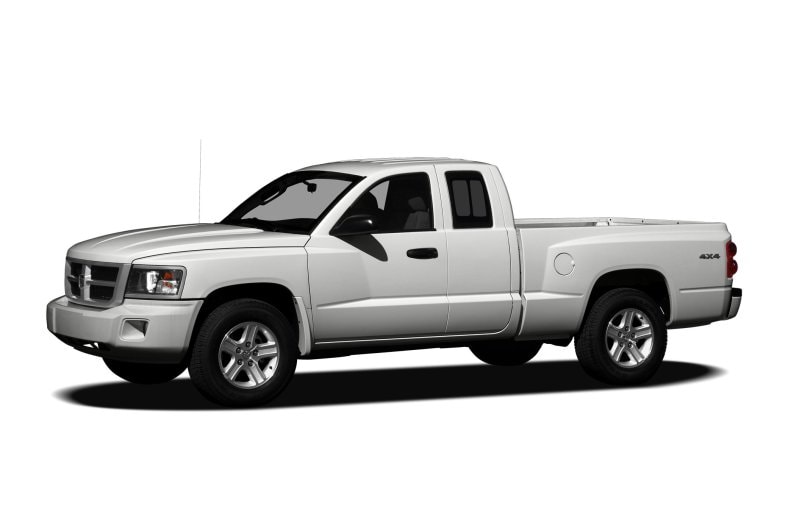 Dodge Dakota was produced in three generation. The last, third generation is produced from 2004 till 2011. This mid-sized truck is offered with two engines, both powered by gasoline. Standard is 3.7L V6. With this engine, Dakota is capable of producing 210HP and 235 lb-ft of torque. The stronger V-8 engine makes 290 horsepower. Average fuel economy for the smaller V-6 engine is 18 MPG. Engines may not be so economical and powerful, but Dodge Dakota was the very reliable truck for that time. Take our advice and look for Crew cab. Cabin, in that case, has room for 5 persons, 2 in front and 3 in rear seats. Along with Crew Cab, there is a smaller version, an Extended cab that has a rear bench behind the front seats.