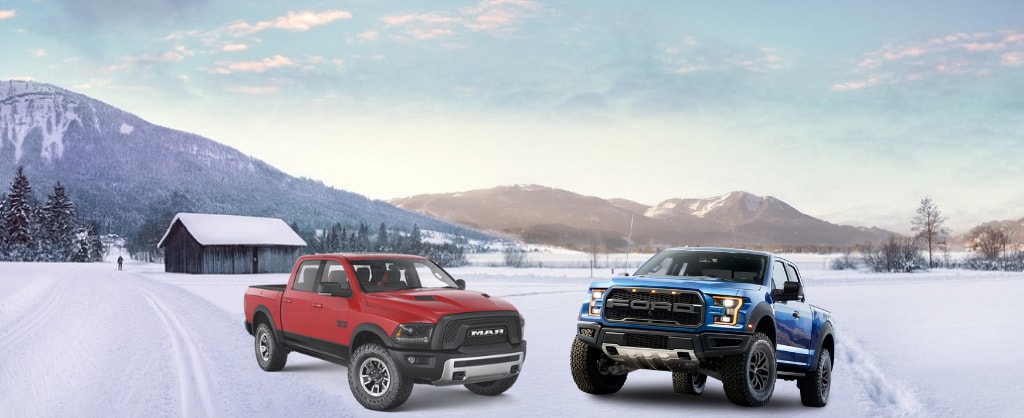 5 Best Trucks for Snow - Winter Ready Pickups
We are in the middle of October, but this is the perfect time of the year to start searching for pickup for snow and icy conditions. Bad weather, rain and eventually snow can hit America's cities in a month or so. This article is going to show you best trucks for show, what makes them so unique and what is necessary equipment to have in your vehicle during cold weather and winter season. So, no matter if you are a fleet manager looking to extend fleet with few trucks that can tackle show covered streets or off-road junkie looking for snow adventure, this is the right riding for you.
What Makes a Truck Good in Snow?
Before we jump to these true snowzilla warriors, let's see what they have in common and what is a must if you want to fight blizzard conditions. First, and most important is 4x4 or AWD. Put it this way, without all-wheel drive you are doomed. Even with 4WD, you can expect difficulties while driving on slippery terrains because there is no weight over rear wheels. It's always recommended to have some load in truck's bed, and that way help rear tires grab the surface. Thus, don't be surprised when you see sandbags in back of a truck's bed of contractor or plumber. Next are off-road tires. All-terrain truck tires are not good enough because of narrow gaps in tread design. Winter tires are made of unique rubber compounds which allow flexibility and better grip during cold and freezing temperatures. Along with rubber compound, crucial are the tread depth and patterns and finally biting edges. Put all this together, and you'll see why winter tires are so important. So, investment in good tires worth every cent. What about transmission? Most trucks in the US have an automatic transmission, and there is nothing to say negative, but in some situations, manual transmission can be very helpful. Why? Because starting in second gear (in even surface you can try third) can help move forward before they start spinning in the snow. Also, you can easily try the forward-and-back technique. Higher ground clearance is also a tremendous help. All 4x4 and off-road trucks are lifted and sit higher compared to their road counterparts. Those few inches in height can make a difference in deep powder. Higher ground clearance helps avoid ice and rocks that can damage or dent oil pan, though many pickup trucks have a front skid plate. Extra cold-weather options like heated exterior mirrors, heated seats, and steering wheel are cherry on top of the cake and will make the drive more pleasant. That is basically what is essential, although some will add torque and engine power. All best trucks for snow on our list have enough power under the bonnet and torque on wheels they can move a mountain, so you are good to go no matter if you choose gas or diesel.

Toyota Tacoma 4x4x in show, equipped with winter tires means just one – Fun! The ground clearance of Tacoma is 9.5 inches, and this is the best recommendation for driving in deep snow. If you, however, decide Toyota's midsize truck should be your weapon of choice during winter it is mandatory to replace stock all-terrain tires with off-road ones. Stock tires offer decent grip for mud and rocks, but in the snow, they definitely leak of grip. Tacoma TRD doesn't have locking differential, like the leading competitors, but it handles plowed and unplowed steers very well. A truck is always in 2WD and to switch over to 4WD you need to press a button on a dashboard. 4-wheel low drive is perfect to use while streets are still covered with heavy snow, but once you get to open road 2-wheel high will fit like a glove. Toyota offers Tacoma TRD with 6-speed manual transmission, Crawl Control, and Multi-terrain System. Video shows Toyota Tacoma TRD playing in the fresh powder.
Our focus is winter driving, but we should mention few Tundra's TRD features that come handy while driving during cold days; heated seats and steering wheel, heated exterior mirrors, TRD sporty shock absorbers, WIFI wireless spot, Bluetooth connection. With 3.5L V6 gas engine which offers 278 HP, Toyota Tacoma gas mileage is 18 mpg in thy city and 22mpg on the highway. During cold weather and temperatures close to freezing fuel economy is much below these values.

List of the best trucks for snow wouldn't be complete without RAM. Perfect RAM truck, if you are looking for traction in snow, is Rebel. Light-duty pickup offers ride comfort and at the same time does an ideal job while goes through snow, ice, and slush. RAM engineers decided to add lift kit of 1 inch and that way increase ground clearance to 10.3 inches. Rebel is equipped with 17-inch aluminum wheels, air suspension, Bilstein performance shocks, and 33-inch off-road Toyo tires. If you add a heated steering wheel and seats, it's clear why RAM 1500 Rebel is the fastest selling off-road truck in the US currently. 1500 Rebel is possible to buy as 4x2 and 4x4. If you live in an area with a lot of snow days during the year go with 4x4, no matter if you are looking for a new or used one. Both engines, 3.6L VVT or 5.7L V8 HEMI, are capable of getting you out of any trouble during snow storms. With the smaller engine and 8-speed automatic transmission RAM 1500 Rebel fuel economy is 16mpg in the city and 23mpg.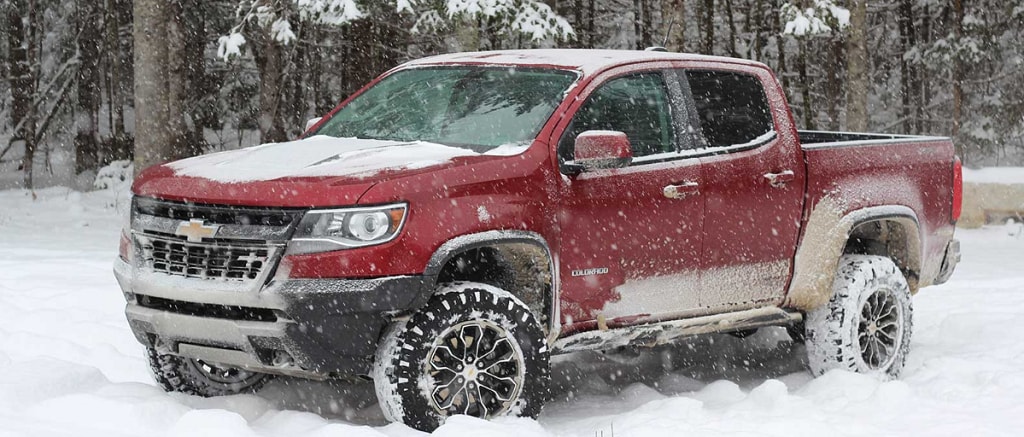 Colorado ZR2 is high-performance off-road pickup truck from Chevy. You have probably heard everything about it if you like Baja races. Guys who driven this small truck in desert sand say it handles almost like legendary Ford F-150 Raptor. The great thing is that ZR2 is more affordable then Ford. This is indeed a truck that has a lot to offer, as soon as you get out of the pavement. Sand, mud, rocks, snow, freezing rain - you name it, ZR2 equipped with 31-inch Goodyear Wrangler Duratrack tires literally can bite the surface. What makes this pickup so special? Front and rear locking differential and Multimatic shock absorbers, 128.5-inch wheelbase and clearance of 8.6-inches front and 10-inches rear. Colorado ZR2 has "part-time" four-wheel drive, like Toyota Tacoma. His sibling from GMC, Canyon, has a full-time four-wheel drive which is quite impressive considering they share frame and engine. Speaking of powertrain, Chevy doesn't offer Colorado ZR2 with manual transmission, and that is the only drawback we need to point. Equipped with Duramax turbocharged 2.8L diesel engine, Colorado ZR2 has a fuel economy of 22mpg.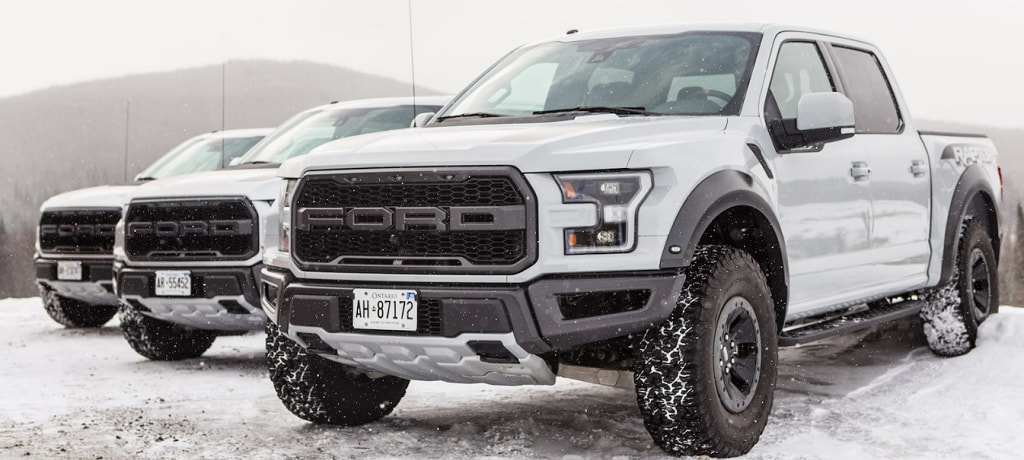 If it's good for Ken Block than why wasting words? Jokes aside, Raptor is proven king of the desert, but how it handles the snow? Quite well. Actually, if you get stuck in the snow, be sure it's your mistake. We could say that Raptor is the most capable off-road pickup truck on the market and there are plenty of reasons for that. The first thing to stress is precise control. Despite its weight (this is a full-size truck) with just a little driving skill, you can drift Raptor in like those Japanese pro drifters in small Mazdas. F-150 Raptor has an intelligent 4WD system. This means that truck can automatically switch from 2WD to 4WD as soon as detects slippery surface. Ground clearance is 11.5 inches, wheelbase 134.2 inches. The unique feature is a new 10-speed automatic transmission. Shifts are quick and smooth at the same time, with no hesitation. Set truck in Auto mode, there are 6 modes to choose (sport, normal, weather, mud, Baja, and rock crawl mode), and transmission will work that way to offer best fuel economy and also be ready to give power as soon as you press the pedal. The only imperfection is, like with other off-road trucks, tires. BFGoodrich T/A KO2 are all-terrain tires made for desert and rocks, and there is no doubt they provide fantastic grip at high temperatures. But if you want to use Raptor in his full potential get him good winter tires.

Last, but definitely not the worst on the list of best trucks for snow and ice is Nissan Titan XD with the proper 4x4 low drive. Now add limited-slip braking differential, lockable front, and rear differential and mighty 5.0L Cummins V8 turbocharged diesel engine, and you'll get ultimate snow truck. Talking about the engine, that's made specifically for Titan back in 2016. Motor offers astonishing 555 lb.-ft of torque and even more astonishing V8 sound, particularly in high revs. Titan is a real tank on the road. It is huge, wide and heavy so going uphill the road covered with ice can be challenging, especially if truck still uses stock Grabber tires. In some cases, you can air down tires to increase footprint, but it's recommended to have snow chains back in truck's bed. The suspension is fantastic on the other hand, Bilstein shocks are doing a great job in the fresh snow. That Nissan Titan XD 4x4 deserves a spot on this list says the fact that many plow upfiters and manufacturers designed plow prep packages especially for this full-size truck. Boss, Mayer, Wester, Fisher and other recognized how strong and durable is Nissan half-ton pickup. With quick front axel modification Titan easily become a fleet vehicle for many snow-plow businesses.