10 Best Dashboard Cleaners for Shiny and Neat Fascia
When it comes to buying the car dashboard cleaner, you need a product that is capable of maintaining the dashboard shine. Well, the fascia is likely to get dull with time thanks to the UV exposure combining with dirt and grime.
The great news is that using the best dashboard cleaner should make it possible for you to enjoy having the top look of the fascia always.
What is Dashboard Cleaner?



Dash cleaner is a specially formulated cleaning product for a car's interior, and it's known to make impressive results without leaving a greasy residue behind.
Top Features
When reading companies' descriptions of products, you can easily be overwhelmed and sometimes confused by all the information they bombard you.
We'll help you with reducing the research by introducing you to the most essential features to look into the product.
Effective cleaning – You need something that quickly gets rid of dirt and grease from the fascia. So, before you decide to purchase a product, you should check product reviews to see how effective it actually is;
Dust repellency – Some solutions contain anti-static ingredients. They reduce the number of electrostatic charges that attract dust and dirt. Therefore, the instrument panel will be clean for a longer period;
Safe ingredients – A lot of brands managed to come up with products that contain safe ingredients without sacrificing the level of effectiveness. So, you can find great cleaners that won't harm your skin or your vehicle;
Multipurpose – Even though you only need a dash cleaner, it won't hurt to have the ability to clean the seats, steering wheel, door panels, and other car surfaces with the same product. Besides, another benefit to having a multiuse cleaner is saving money on more cleaning products for different materials;
UV protection – Protection from UV rays isn't necessary for dash cleaning products since you can buy a separate product. Still, the several cleaning agents can protect the inside of the vehicle from sun damage, and extend the fascia's lifespan.
10 Best Car Dash Cleaner Products



The following list is all about helping you get the right solution for your vehicle. And we do this by reviewing 10 best car dashboard cleaner products and highlighting the vital things to watch out for when buying.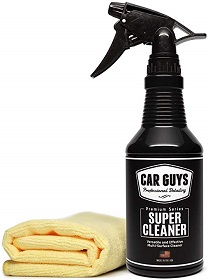 Whether you need to clean the car dashboard and other interior components or a few exterior plastics, the Super Cleaner by CarGuys will be very fruitful. It's formulated to clean almost all types of surfaces, from carpets and upholstery to vinyl, plastic, and canvas, which means it'll be a highly helpful cleaning agent to have in your vehicle.
This top-rated car dash cleaner doesn't leave any residue on the fascia, and it'll also not be glossy. Plus, it doesn't contain any harsh chemicals that may harm you or your car.
The scent is mild but still quite appealing, and it'll keep your vehicle smelling fine many hours after cleaning. Additionally, it comes in a ready-to-use bottle and with a free cleaning towel to make it ready for immediate use.
When dealing with tough stains, this option might not be the most efficient, but with a little patience and effort, you can steal deal with almost any stain.
PROS//
Effective multi-surface cleaning;
Ideal for interior and exterior cleaning;
Doesn't leave a greasy or cloudy film;
Appealing scent;
Free cleaning towel.
CONS//
Not very useful on tough stains;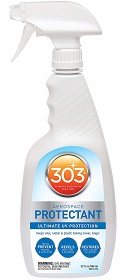 303 UV Protectant Spray is the best car interior protectant on the store's shelf – it'll work excellent to eliminate any dirt and then help the dashboard restore its look.
The best part is that it'll supply you with superior UV protection for any rubber, fiberglass, and many other materials in the vehicle.
This sort of product is also good when it comes to protecting the dashboard from discoloration and fading. Another thing is that it'll guard it against harmful UV rays that might crack the fascia.
It comes with a rinse-free formula. This type of formula doesn't leave any greasy surface. As a result, it's going to be one of the best solutions for you right now.
PROS//
Superior UV protection;
Non-toxic and water-based;
Made in the USA;
Leaves a beautiful matte finish;
Dust and dirt repellant.
CONS//
There're no directions on the label showing the preferred way to begin the roll coming up.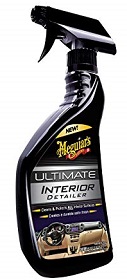 The Meguiar's Ultimate Interior Cleaner can be used everywhere, including navigation screens, which many products can't. Plus, it's safe for use on steering wheels and controls.
It's non-greasy and dries quickly to leave a satin finish – not quite matte, not entirely gloss. ​Depending on how you wipe it down, you can get a minor effect – a microfiber towel leaves it slightly duller than a cotton polishing cloth.
It's another all-in-one interior detailing a product that involves excellent UV protection and repels dirt and dust, which lasts for weeks.
If you want something that covers all of your bases, that you can keep in the trunk or the glove box, then the Meguiar's interior detailer is an excellent option.
PROS//
Dries fast to a non-greasy durable satin finish that lasts for weeks;
Contains superior UV protection that keeps the interior looking better and longer;
Profound cleaning ability and protection that's safe and effective on all interior surfaces;
All-in-one solution;
Cleans and protects all interior surfaces with one easy step.
CONS//
Smells like vomit if you don't wipe it right away.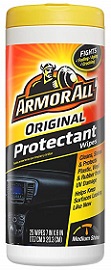 ​ It's listed as a twin-pack, but what you're getting is a package of each – Armor All Protectant Wipes & Cleaning Wipes.
It's ideal for making the plastics (both interior and exterior) all shiny and new looking, and that's what it still does – leaves a high gloss shine on all plastics. It works really well if the plastics are glossy, but if they're matte – skip this product.
These car cleaning ​wipes (25 in each package) protect the '"rich" look of your car, all while renewing and revitalizing the plastics and rubbers. Also, the cleaning wipes are a superb way to pull off the ingrained dirt and remove simple stains.
They come in resealable containers so won't dry out, and Armor All claim that they don't leave a greasy residue behind.
PROS//
Convenient, disposable wipes protect your car's rich look;
Original protectant wipes renew and revitalize vinyl, rubber, and plastic;
Cleaning wipes easily remove ground-in dirt, dust, and grime;
Glass wipes easily remove filmy residue, road grime, bugs, fingerprints and more;
Lint-free won't leave a greasy residue.
CONS//
It doesn't work well on matte plastics.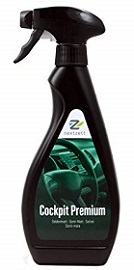 Nextzett Cockpit Premium is an excellent performance product that you can use right now. It's good in terms of quality and overall functionality. It's able to remove the dust and light dirt from all the different surfaces in the vehicle, including the dashboard. The best thing is that it gives it a clean look without leaving the fascia all greasy.
The solution also works well for the steering wheel, navigation screens, instrument cluster, and a lot more. Whenever you use it, the product will leave a fresh citrus smell. The scent is mild, so you won't have to worry about it, not working as good as you want.
Plus, it comes with the sun-blocking agents that work perfectly for long-term care and protection. As a result, you'll certainly have a good time working with it.
Strengths
PROS//
Leaves a long-lasting matte finish;
Ease of use;
Has a good aroma;
Silicone-free;
Contains sun-blocking agents for long-term care and protection;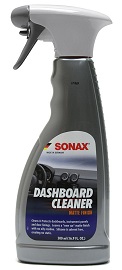 This's one of the best products on the market when it comes to cleaning the fascia. Sonax Dashboard Cleaner comes with a unique formula that works great.
The solution is silicone and solvent-free to make it one of the best on the market. It's quite useful when it comes to cleaning the various plastic parts that you might have.
It works effectively to repel the dust from the surface so that you have a beautiful clean surface that you want.
Another great feature is that it leaves a pleasant fresh scent behind. This will definitely make your vehicle smell better. So, you can always find many more folks going for it right now.
PROS//
Affordable;
Silicone-free;
Cleans and protects in one easy step;
Creates a natural-looking satin finish;
Anti-Static properties reduce dust accumulation.
CONS//
Doesn't remove glare from the fascia;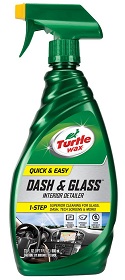 This sort of product is good overall when it comes to cleaning the different surfaces. This means – the dashboards, windows, tech screens, and so on. It's capable of catching the dirt with the first pass.
This's a one-step solution to cleaning the various areas. Turtle Wax Dash & Glass Foaming Cleaner can easily be sprayed on different hard surfaces. The solution will be able to work effectively on overall giving the top performance in terms of cleaning the surfaces.
It'll deliver you some superior results without necessarily leaving a greasy residue. Ultimately, you'll get a fascia that looks good without having some greasy look.
It also lets for precision foam application so that you can even clean better in the different components of the car interior. As a result, it's quite versatile.
PROS//
Streak-free cleaning;
Precision foam for easiest cleaning;
Smells nice;
Leaves no greasy residue;
Works well on the plastic and rubber components.
CONS//
You might have to apply it more often.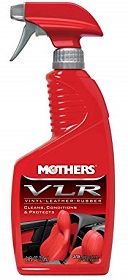 Mothers VLR is made to clean, condition easily, and protect rubber, vinyl, and leather surfaces. The professional strength formula is PH balanced to safely eliminate deep and baked on dirt, stains, and soils.
Also, this dashboard protectant uses lanolin and neatsfoot oil to protect vinyl, leather, and rubberized surfaces from drying, cracking, or fading.
It's safe to use on all interior parts, including vinyl or leather seats. However, it's not recommended to be applied on the steering wheel and instrument console or the gauge faces – it'll permanently smear the gauge faces and give it an unsightly appearance.
The product is an ideal choice that leaves a desirable matte finish. Still, its smell can be quite unpleasant – smells a lot like white glue, and the scent tends to linger for a while.
PROS//
Diversity;
Ease of use;
Great finish;
Doesn't alter the appearance;
Good light cleaning ability.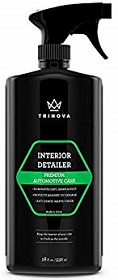 The fast cleaning action is what gives the TriNova Interior Detailer an advantage over many others. With this solution, cleaning is all about spraying and then wiping to destroy the dirt.
Moreover, it's formulated to provide protection from UV rays, which can cause fading and cracking. So by using this product, you will be extending the life of the dashboard significantly.
Since this solution also empowers the anti-static technology, it'll also repel dust and residue buildup to ensure that the fascia remains clean for longer.
You can use it to clean a variety of surfaces, including rubber, leather, plastic, and vinyl, plastic, which means that it'll be useful for almost any car.
Even though the scent doesn't last long enough, it's pretty pleasant, and it'll make you look forward to using the dashboard cleaner.
PROS//
A simple spray and wipe cleaning;
Provides UV protection;
Repels dust and dirt buildup;
Usable on various surfaces;
It does not leave streaks.
CONS//
The smell seems to dissipate a little too quickly;
Sprayer nozzle design needs some improvement.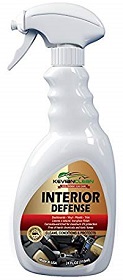 Quantity is one of the core elements to consider when choosing the best car dashboard cleaner. The fact that this one comes in a 24-ounce bottle means you'll have plenty of solutions for several uses.
Plus, the KevianClean KC-24-ID doesn't contain any harsh chemicals, and it's also non-toxic to make it safe for both the car and your hands.
The maximum UV protection that it'll provide makes it as the best cleaner for car interior plastic out there since it'll prevent cracking and fading for a long time.
Whether you want to clean upholstery made from vinyl, plastic, or leather, this will be an ideal pick. When you use this cleaner, you'll get a natural and low gloss finish, and you have nothing to lose when purchasing it since it comes with a 60-day money-back guarantee.
The smell that the product leaves isn't the most pleasant, but this should not a huge concern as it still does an excellent job when it comes to cleaning.
PROS//
Non-toxic ingredients;
Great for multipurpose cleaning;
Maximum UV protection;
Natural-looking low gloss finish.
CONS//
Not the most appealing scent.