10 Best Car Dashboard Cleaners for 2022 (Reviews & Buying Guide)
When it comes to buying the car dashboard cleaner, you need a product capable of maintaining the dashboard due to the UV exposure and dirt and grime build-up.
The great news is that the best dashboard cleaner can make it possible for you to always enjoy having the top look of car cockpit. For drivers, it is quintessential to find top-quality cleaning products for our cars since inadequate chemicals could significantly damage their surface.
Good dashboard care is not only important for keeping your dashboard clean and aesthetically appealing. Its role is also to ensure a healthy, germ-free environment for you and your passengers.
Are you looking for the best dashboard cleaner for cars? Let's go through the top 10 products that ensure a 100% clean and healthy ride for you and your loved ones.
What is Dashboard Cleaner?
Dash cleaner is a specially formulated cleaning product for a car's interior, and it's known to make impressive results without leaving a greasy residue behind. However, not all dash cleaners are created equal, although manufacturers tend to describe them as if they are magic.
In order to choose the best dashboard cleaner for your car, it is essential to consider the following features:
Cleaning Efficiency
The product's cleaning efficiency is a number one priority to keep in mind when shopping for dashboard cleaners. The best item ensures easy, quick, and efficient dirt and grease removal from your dashboard without leaving an oily finish or a strange smell.
A key to finding the best dashboard cleaner with the utmost cleaning efficiency is to check the reviews and hear about other customers' experiences.
Dust Repellency
If you are looking for exceptional dust repellency, you should go for cleaners with anti-static ingredients. They lower the number of electrostatic charges that attract dust and dirt, leaving your dashboard cleaner for extended periods of time.
Safe Ingredients
You can find excellent dash cleaning products that contain safe ingredients that won't damage your skin or the car's inner surfaces. And don't worry about the product being less efficient – manufacturers who produce safe cleaners do it without sacrificing their overall quality.
Multipurpose
A multiuse dash cleaner is a versatile choice that allows you to clean anything from your instrument panel to the steering wheel, seats, door panels, and other surfaces in your car. Besides, a multiuse cleaner allows you to save money.
UV Protection
UV protection is not of vital importance when choosing the best dash cleaner since you can always purchase a separate product for this purpose. Still, some manufacturers offer solutions that keep the inside of your car safe from sun damage, extending the lifespan of your fascia.
Price
Price is an essential factor to consider because some overly expensive products might not deliver the quality as expected. On the other hand, you can purchase some great cleaners for a reasonable price and enjoy the utmost efficiency and versatility.
Different Types of a Car Dashboard Cleaner
There are many different types of dashboard cleaners available on the market. While they come in various forms, each one of them has its unique benefits.
Dashboard Cleaner Wipes
Dashboard cleaner wipes come in handy whenever you need to clean up the messes inside your car, including seats, doors, or a dashboard. You can use car wipes for your vehicle's regular maintenance and detailing, as they help you clean, condition, and protect your car's inner surfaces. Besides, wipes are pretty convenient when you need to clean your dash quickly and effectively.
Spray Bottle
A car dash cleaner in a spray bottle is packed with numerous qualities. It has non-porous and air-tight characteristics that prevent chemical spillages all over the car. Additionally, it is quite easy to apply and allows you to get the job done pretty quickly. It is recommended to stick with reputable manufactures to enjoy great quality.
Citrus-Based
A citrus-based cleaner is the safest solution that prevents potential damages to the car's dashboard. Besides, it leaves a fresh smell inside your vehicle, unlike strong chemicals whose smell could be quite unpleasant. We recommend you stick with citrus-based products instead of chemicals like bleach when cleaning your car's trim. All citrus-based cleaners work great on the dash.
10 Best Car Dash Cleaner Products (2022 Update)
The following list is all about helping you get the right solution for your vehicle. And we do this by reviewing the 10 best car dashboard cleaner products and highlighting the vital things to watch out for when buying.
1. 303 UV Protectant Spray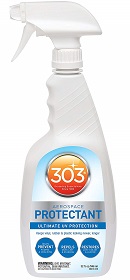 The 303 UV Protectant Spray is the best car interior protectant on the store's shelf – it'll work excellently to eliminate any dirt and help the dashboard restore its look.
The best part is that this cleaner provides you with superior UV protection for any rubber, fiberglass, and many other materials in the vehicle. That way, your surfaces won't be at risk of staining or damage due to excess sun exposure.
This product is also good when it comes to protecting the dashboard from discoloration and fading. Another thing is that it'll guard it against harmful UV rays that might crack the fascia.
It comes with a rinse-free formula. This type of formula doesn't leave any greasy surface. As a result, it's going to be one of the best solutions for you right now.
PROS// Superior UV protection; Non-toxic and water-based; Dust and dirt repellant; Suitable for different materials; Restores color and shine.
CONS// Unclear instructions.
2. Meguiar's Ultimate Interior Cleaner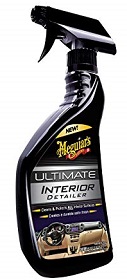 The Meguiar's Ultimate Interior Cleaner can be used everywhere, including navigation screens, which is not something all products can do. Plus, it's safe for use on steering wheels and controls.
It's non-greasy and dries quickly to leave a satin finish – not quite matte, not entirely gloss. ​Depending on how you wipe it down, you can get a minor effect – a microfiber towel leaves it slightly duller than a cotton polishing cloth.
It's another all-in-one interior detailing product that involves excellent UV protection and repels dirt and dust, which lasts for weeks. That way, you won't need to buy separate products with different features, and you'll save more money.
If you want something that covers all of your bases and you can keep it in the trunk or the glove box, then this Meguiar's dashboard cleaner is an excellent option.
PROS// Dries fast; UV protection; Profound cleaning ability; All-in-one solution; Cleaning & protection; Superior UV protection.
CONS// Unpleasant smell.
3. Sonax Dashboard Cleaner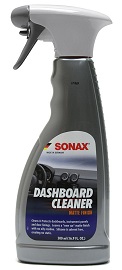 This is one of the best products on the market when it comes to cleaning the fascia. The Sonax Dashboard Cleaner comes with a unique formula, and you'll be impressed by how great it works.
The solution is silicone and solvent-free, making it one of the best on the market. It's quite useful when it comes to cleaning various plastic parts that you might have. Besides, it is considered is best anti-glare dashboard spray on the market.
It works effectively to repel the dust from the surface so that you have a beautiful clean surface you seek. Additionally, you can enjoy the ultimate protection and shine that lasts for weeks.
Another great feature is that it leaves a pleasant fresh scent behind. This will definitely make your vehicle smell better. So, you can always find many more folks going for it right now.
PROS// Cost-effective; Silicone-free; Anti-static properties; Natural-looking satin finish; Safe for wheels.
CONS// No glare-removal properties.
4. Turtle Wax Dash & Glass Foaming Cleaner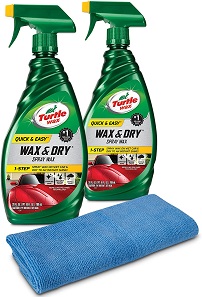 This sort of product is good overall when it comes to cleaning the different surfaces. This means – the dashboards, windows, tech screens, and so on. It's capable of catching the dirt with the first pass.
This's a one-step solution to cleaning the various areas. Turtle Wax Dash & Glass Foaming Cleaner can easily be sprayed on different hard surfaces. The solution will be able to work effectively, delivering the top performance in terms of cleaning different surfaces inside the car.
It will deliver you superior results without necessarily leaving a greasy residue. Ultimately, you'll get a fascia that looks good, without any signs of imperfections or a messy touch.
It also lets for precision foam application so that you can even clean better in the different components of the car interior. As a result, it's a quite versatile product that can serve various purposes.
PROS// Ultimate streak-free cleaning formula; Precision foam for easier cleaning; Pleasant smell; No grease build-up; Suitable for plastic and rubber.
CONS// Requires more frequent application.
5. Mothers 05324 Protectant

The Mothers 05324 Protectant is made to clean, condition, and protect rubber, vinyl, plastic, and fiberglass. The professional strength formula is PH balanced to eliminate deep dirt, stains, and soils safely.
Also, this dashboard protectant uses a unique formula to protect vinyl, leather, and rubberized surfaces from drying, cracking, or fading. Additionally, it resists ozone and smog on any uncoated plastic or rubber.
It's safe to use on all interior parts, including vinyl or leather seats. However, it's not recommended to be applied on the steering wheel and instrument console or the gauge faces – it'll permanently smear the gauge faces and give it an unsightly appearance.
The product is an ideal choice that leaves a desirable matte finish. Still, its smell can be quite unpleasant – it smells a lot like white glue, and the scent tends to linger for a while.
PROS// Enhanced versatility; Easy to use; Nice finish; Doesn't alter the appearance; Excellent UV protection.
CONS// Unpleasant smell.
6. TriNova Quick Detailer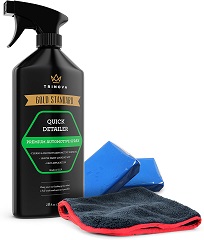 The fast cleaning action is what gives the TriNova Quick Detailer an advantage over many others. With this solution, cleaning is all about spraying and then wiping to destroy the dirt.
Moreover, it's formulated to provide protection from UV rays, which can cause fading and cracking. So by using this product, you will be extending the life of the dashboard significantly.
Since this solution also empowers the anti-static technology, it'll also repel dust and residue build-up to ensure that the fascia remains clean for longer.
You can use it to clean various surfaces, including rubber, leather, plastic, and vinyl plastic, which means that it'll be useful for almost any car. It is convenient for cleaning both the car's interior and exterior.
Even though the scent doesn't last long enough, it's pretty pleasant, and it'll make you look forward to using the dashboard cleaner.
PROS// Easy spray & wipe cleaning; Excellent UV protection; Repels dust and prevents dirt build-up; Suitable for various surfaces; It does not leave streaks.
CONS// The smell does not last enough.
7. Adam's Microban Interior Detailer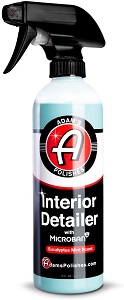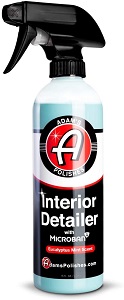 Adam's Microban Interior Detailer is an excellent all-in-one product that will take your car's interior appearance to the next level. It is based on a powerful combination of cleaning and polishing, top-class UV protection, and patented antimicrobial technology.
The advanced formula prevents bacteria growth long after the product application. Additionally, this car dash cleaner helps neutralize odors, prevent static dust build-up and freshen the air inside the car.
This cleaner is safe to use on a wide variety of surfaces – leather, vinyl, plastic, canvas, cloth, rubber, including certain types of fabric and upholstery. Therefore, you can use Adam's dashboard cleaner on the steering wheel, door panels and handles, touch screen and electronics, cup holders, and more.
In addition, this dash cleaner can tackle dust, dirt, grime, and body oils, ensuring a shiny and back-to-factory fascia appearance.
PROS// Efficient antimicrobial action; Excellent features; Leather protectant & conditioner; Back-to-factory finish; Slower surface aging process.
CONS// It might leave streaks.
8. Armor All-14881B Car Cleaner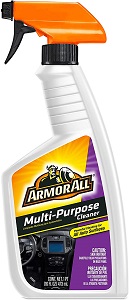 Armor All-14881B Car Cleaner is an excellent dashboard cleaner that allows you to clean your fascia thoroughly, with only one wipe.
As its name suggests, this dash cleaner serves various purposes. Aside from the dashboard, this product can be used on plastic, leather, vinyl, carpet, and different fabric surfaces. Besides, you can use it with peace of mind – its unique formula is safe for any material, without the risk of damaging it.
In addition, this cleaner has a great cleaning efficiency, meaning that it can successfully remove dust, dirt, and grease from the vehicle, leaving a clean and nice surface behind.
Another thing consumers love about this product is its smell. It removes odors without leaving a strong, unpleasant smell but takes your driving experience to new heights.
PROS// Multiple purposes; Pleasant smell; Gentle on your car's areas; 100% clean and safe environment; Easy to use.
CONS// Must be diluted with water before use.
9. Shine Armor Car Interior Cleaner

Shine Armor Car Interior Cleaner features the latest nanotechnology and premium quality neat drivers seek.
It is safe to use on different car components, from the instrument panel to navigational screens. It leaves a streak-free finish and pleasant smell, ensuring you get the best experience in the long run. Namely, this product offers long-lasting protection from dust, debris, and sun exposure.
Your fascia won't change its color, get damaged, or attract dust due to its advanced UV protection and anti-static properties.
This is a great product that won't disappoint you. It is a top choice for those who are detailing as a hobby and don't want to spend substantial amounts of money on professional, high-end detailing products.
PROS// Advanced nanotechnology; Quick and easy to use; Excellent UV protection; Dust resistance; Premium-quality.
CONS// Pricey.
10. Armor All Car Interior Cleaner Wipes for Dirt & Dust

If you'd like to try dashboard cleaner wipes, we recommend Armor All Car Interior Cleaner Wipes for Dirt & Dust. This product has provided excellent results in dealing with dust and residue, providing quick and easy cleaning.
These wipes are lint-free, and they won't leave any sign of greasy residue on your hands. They can easily remove ground-in dirt, grime, and dust. They are also pretty versatile, meaning that you can safely use them on the instrument panel, carpet, consoles, vinyl, fabric, leather, and more.
The wipes won't dry out, fade, or damage the surfaces inside your car. Since they are made by a reputable manufacturer, high quality is guaranteed, and you'll have the opportunity to enjoy an unmatched cleaning experience.
PROS// Easy to use; Exceptional protection; Removes and repels dirt; Residue-free; Versatile.
CONS// The wipes leave steaks on automotive surfaces.
How to Use a Car Dashboard Cleaner?
No matter which product you choose, it is crucial to apply it correctly. Otherwise, it won't be of much help. If you are a first-timer or unsure how to use a car dashboard cleaner, follow the steps below to learn how to apply it properly:
Step 1: Remove the Front Seats
This step is optional, but it can help you clean your vehicle more thoroughly as it provides more room for you to move around.
Step 2: Vacuum the Dashboard
It is advisable to vacuum your dashboard before applying the cleaning product. It will help you eliminate any debris and large dust particles, leaving you with a smooth surface, which is easier to clean.
Step 3: Wipe
The next step is to wipe the area with the product of choice and a microfiber cloth. Ensure to address the steering wheel, shift knob, and handbrake since these are often the dirtiest parts of the car.
However, keep in mind that you should never apply the product directly onto the dashboard. That way, you are at risk of damaging electronics as the product might reach their insides. On the other hand, leaving the product to dry for too long may cause stains in the area. The best way to avoid these inconveniences is to apply a small amount of cleaner to your cloth and get your job done slowly and gradually.
Step 4: Clean the Tiny Crevices
After cleaning the large areas, you can move on to the smaller ones, including radio, USB ports, and air vents. This can be a pretty tricky job to do due to tiny crevices that can be hard to reach. You can use a paintbrush, a toothbrush, or compressed air to access these areas more easily.
Step 5: Polish
If you want to add some extra shine to your dashboard, apply a small amount of polisher on a clean cloth and rub it over the instrument panel and center console. Then, Go over the polished areas using a dry cloth to remove any excess product.
However, it is vital not to apply shine or polish to the top of the dashboard. Namely, a shiny dashboard will reflect the sun while driving, affecting the driver's visibility and posing other severe safety risks.
Extra tip: Always clean the car's interior in a shaded area. The sun exposure will make the surface too hot, which promotes faster drying. As a result, the stains will appear.
Should I Dilute the Cleaner in Water First?
You don't need to dilute the product unless the manufacturer specifically says so.
Can I Use a Dash Cleaner to Tackle Scratch Marks?
The truth is that dash cleaners are mostly used for protection rather than issues like scratch marks. If you are looking for a solution for scratch marks, it's better to go for polishing products for interior components.
Can I Use Dashboard Cleaner to Clean Glass?
It depends on the product. While some products are safe to use on glass, others should not be applied on these surfaces because of potential damages.
How Often Should I Use a Dash Cleaner?
It is recommended to clean your car's interior components once a month. However, you can clean them anytime you spill coffee, get mud on the instrument panel, or make any mess that requires instant cleaning. Overall, it all depends on how much mess you can tolerate.