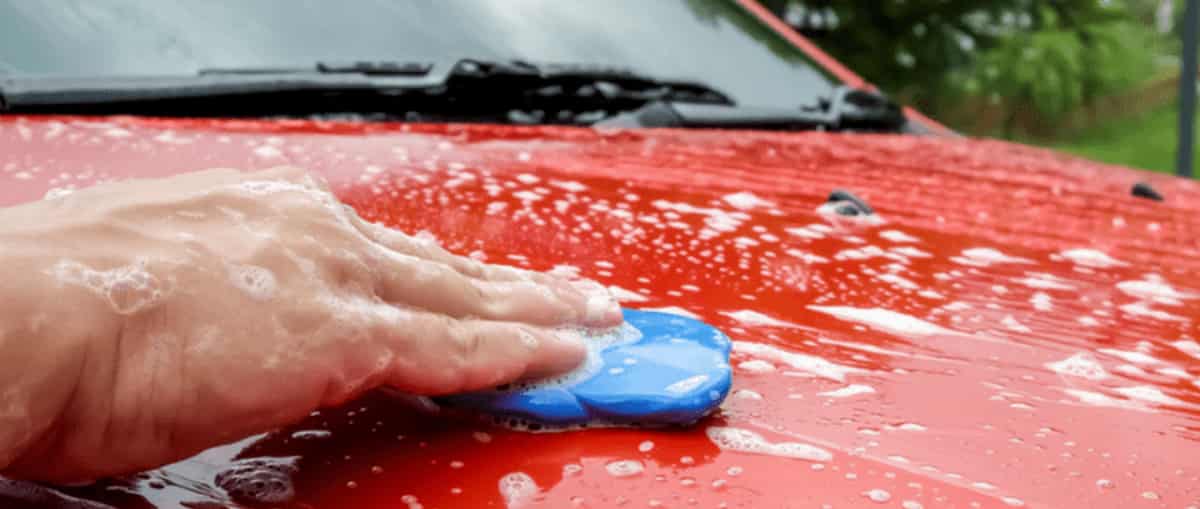 Top 10 Clay Bar Products for Black and White Cars (2022 Edition)
Although you have already tried an array of chemicals and natural sprays, you may not be satisfied with the final result. Stubborn dirty spots may remain on your car's surface, affecting the paintwork and making it look less appealing. But the solution does exist. And it lies in a clay bar.
The best clay bar is made from flexible material similar to Play-Doh. These rectangular slices of joy slide across your car's paint, eliminating persistent contaminants, such as industrial fallout and bird droppings.
If you are new to this topic, you're in the right place to learn more about the types, uses, and the 10 best clay bar products for your black or white vehicle.
What is a Clay Bar for Cars?
A clay bar is a natural or synthetic engineered resin mixture car detailers use to remove contamination from your vehicle's surface. It successfully eliminates industrial fallout, rail dust, sap, and tar, providing a clean, smooth surface you can later apply protection to.
Bear in mind that clay bar is a complementary treatment that requires a final touch in terms of paint polishing.
The Most Common Clay Bar Types
The three main clay bar types are fine, medium, and heavy-duty.
Fine clay bars are excellent for older paints because they can remove contaminants more softly than other types. It is suitable for the lightly contaminated finish but not the best for sap and overspray.
Medium clay bars are more aggressive than the fine ones, but they are generally a great all-purpose choice. It is firmer and denser, meaning that it removes more stubborn contaminants and debris a fine bar cannot address. Don't forget to polish after using medium-grade clay.
Heavy-duty clay bars should not be used unless you're dealing with stubborn overspray or hard-to-remove contaminants. It can be overly aggressive for lightly contaminated surfaces but are a number-one choice for metal wheels and glass.
Other commonly used types of clay bars are the following:
Glass-cleaning clay bars are created explicitly for cleaning windows and automotive glass. By addressing your car's exterior windows with a clay bar, you can remove hard water spots or other contaminants that affect visibility. A glass-cleaning clay bar requires a lubricant.
Clay mitts are an incredibly helpful alternative that slips onto your hand like a regular wash mitt. Made of microfibers and clay bar materials, they will make your scrubbing action more efficient, allowing you to cover a broader area in less time.
Rubber polymer/synthetic may remind you of a sponge, primarily since they feature two distinct layers. The top half is often used for gripping, and it is made of a foam-like material, while the bottom half is where the clay barring happens.
Essential Benefits of Clay Bar Treatment
A clay bar for car is loaded with long-term benefits that shouldn't be overlooked. For example:
Protects your car's paint: Automotive clay bars ensure your vehicle's paint looks new. Once combined with waxing, clay barring maintains your car's paint much longer, removing all the persistent stains and marks that affect the car's appearance.
Maintain the Paint: Clay barring lasts for a few hours, during which it delivers incredible results that cannot go unnoticed. It helps you maintain the paint in the long run without spending too much money.
Get a new skill: Clay barring a car is a valuable skill to have and teach your kids to do. It will help you deal with minor imperfections and remove light contaminants from your car's surface, while more severe scratches and stubborn marks may require a professional car detailer's assistance.
Most Reputable Clay Bar Brands
Here is the list of the most prominent clay bar brands worth considering:
Meguiar's has been in the industry for over 110 years, taking care of different vehicles nationwide. Meguiar's clay bar kits include everything you'll need to achieve the best results and retrieve your vehicle's original paint and shine.
Mother's is another big name in the industry, and its products are widely used among car owners. They are an excellent alternative to traditional clay bars.
Chemical Guys has been an essential part of the automotive industry for years, and its team has been doing a great job since its early beginnings. Their fully equipped clay bars are an excellent choice for owners who want to enhance their car's paintwork.
Average Clay Bar Price
The average cost of clay bars depends on their quality and grade. For example:
$5-$10 ($): Clay bars in this price range are entry-level and safe for old paint surfaces. These may not provide the results you are expecting but are suitable for light contaminants.
$12-$20 ($$): These clay bars are often sold in jars, which is convenient for storage after use. Some kits at this price point include clay lubricant and microfiber towels, but some may come without it or other accessories.
$22-$30 ($$$): Synthetic clays and clay mitts are often available at this price range. They are pricier because you can wash and reuse them even if you drop them on the ground. Additionally, brand-name clay kits are also available at $30.
Key Features to Consider When Shopping for the Best Clay Bar
Choosing the right clay bar is quintessential to achieve the desired results. Here is the list of critical features to consider when shopping for one:
Strength is essential because it directly impacts the time you'll spend clay barring. While fine and medium-duty clay bars are suitable for older paint surfaces, newer paint jobs, and highly contaminated surfaces will be able to withstand heavy-duty clay bars.
Size is another important factor that depends on your vehicle's size and the paint's contamination level. Typical 100-gram clay bars are enough for a family sedan or a compact SUV, while larger vehicles may require purchasing multiple clay bars.
Lubricant is critical because clay bars shouldn't be used without one. It is essential to pick a lubricant that provides a slick surface for the clay bar and protects the paint from damage.
Material quality plays a vital role in choosing a clay bar kit because poor-quality products may damage the paint. Investing in a premier clay bar is a better solution that will help you complete the job more efficiently.
Comfort level refers to how easily you can get the job done. Not all clay bars are created equal, and some may be more difficult to use than others. In addition, consider your experience level since it also plays a role in the clay barring process.
Alternative solutions, including lacquer thinner or citrus-based formulas, are worth considering before buying a clay bar. These can remove most of the paint contaminants, meaning that the clay bar should be your last resort.
10 Best Clay Bar Kits to Buy in 2022
We have tested dozens of clay bars and chosen the 10 best solutions worth considering in 2022. Let's begin.
1.      Best Clay Bar Kit: Chemical Guys Medium Clay Bar and Lubber Kit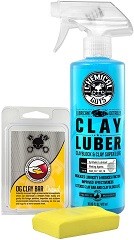 Chemical Guys Medium Clay Bar and Lubber Kit features a Flex-Clay technology that efficiently removes contamination, paint overspray, and pollution. It is a medium-grade clay bar kit that works on most paintworks, glass, plastic, and metal surfaces, preparing them for cleaner polishing results. It delivers a long-term and smooth-as-glass feel to the vehicle's exterior parts.

Excellent for removing paint overspray
Works on most surfaces
Lubricant included
Suitable for experienced detailers
Flex-Clay technology confirms every curve and contour.

The bar's consistency changes and sticks to fingers quickly.
2.      Best Clay Bar for Detailing: Meguiar's Professional Detailing Clay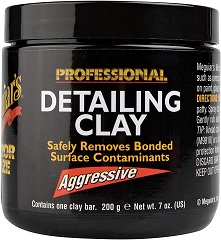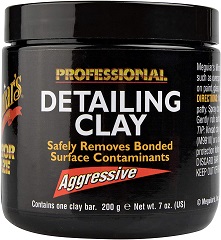 If you are looking for a professional-grade clay bar, look no further than Meguiar's Professional Detailing Clay. This product is designed for car owners who have some detailing experience and know how to get the job done. It removes every contaminant, including overspray, brake dust, embedded metal, or oxidized paint. It comes in its own container, making it easier to store for future uses.

Incredibly efficient for removing contaminants
It comes in a plastic container
You can use it on 7-8 cars
Versatile and ideal for paint, glass, metal, and plastic surfaces
Delivers mirror-like finish.

Requires professional assistance.
3.      Best Clay Bar Kit for Black Cars: Griot's Garage 11153 Paint Cleaning Clay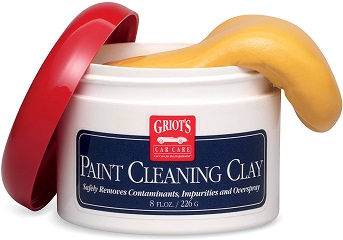 The Griot's Garage 11153 Paint Cleaning Clay is an excellent choice for removing contaminants from the black car's surface. Still, it works great with other colors, delivering consistency and long-lasting results. You can use it to clean multiple cars and quickly restore the smooth and glass-like finish.

Incredibly durable clay
Excellent for all painting colors
Suitable for light and intensive cleaning
Ideal for preparing paint for polishing and waxing
Prevents oxidation.

More expensive than similar options.
4.      Best Clay Bar Kit for White Cars: Mother's California Gold Clay Kit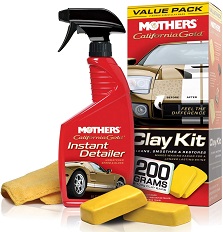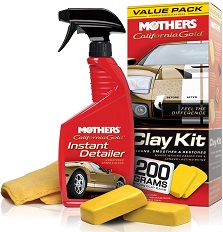 The Mother's California Gold Clay Kit comes with two clay bars, an instant detailer, and a microfiber cloth. That way, you can start the detailing process instantly without buying additional items. This product is excellent for cleaning oxidized paint and overspray, especially on white and light-colored cars. It is easy-to-use and suitable for those without detailing experience.

All-in-one product
Excellent for removing overspray and oxidized paint
Easy-to-use
Removes contamination from white cars
Works on windows and automotive glass.

You cannot purchase the clay bar separately.
5.      Most Ergonomic Clay Bar for Car: Mother's Speed Clay 2.0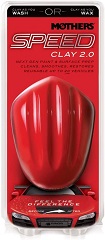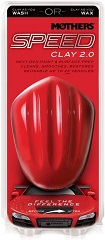 The next-level Mother's Speed Clay 2.0 features a patented, rubber-polymer technology that shears off and removes paint contaminants from the car's surface. It eliminates stubborn dirt, paint overspray, fresh tree sap, dust, oxidation, and other particles that could cause the paint's molecular breakdown.

Restores brilliance to paint, glass, chrome, and smooth plastics
Reusable up to 20 cars
Ergonomic, easy-to-use design
Works well on wet cars (no lubricant needed)
Suitable for addressing larger surfaces.

Not ideal to use on tighter spaces because you cannot fold or cut it into smaller pieces.
6.      Best Clay Bar Lubricant: TriNova Clay Bar Kit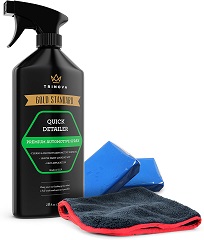 TriNova Clay Bar Kit comes with two clay bars, a microfiber cloth, and the best clay bar lube that restores your vehicle's original shine. The combination of lubricant and a clay bar removes road grime, bugs, tar, and other contaminants, enhancing your paint with a shiny, wet look.

All-in-one product
Keeps the surface properly lubricated
Remold the clay bar when necessary
The lube doesn't leave any residue on the paint
Great for white cars.

You will need substantial amounts of lubricant, and you'll empty the bottle faster than expected.
7.      Best Budget Clay Bar: IPELY 4-Pack Car Clay Bar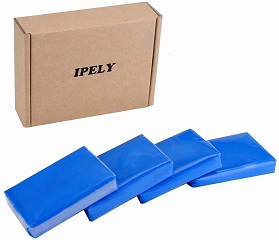 A budget-friendly IPELY 4-Pack Car Clay Bar is easy to use and incredibly efficient, considering the price. You can use it on paintwork, glass, plastics, polished metal, wheels, and other surfaces that need paint decontamination. You can cut it down to the size you need and get pretty decent results.

Cost-effective
Suitable for removing light contaminants
You can cut it down to the size you need
Works on paintwork, glass, headlights, stainless steel, exhaust tips, etc.
Quickly and efficiently removes road grime.

It is stickier than other products and requires plenty of lubricant.
8.      Best Clay Bar Alternative: Migliore Ultimo Clay Towel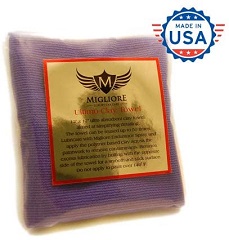 Clay bar has a lot of alternatives, and the Migliore Ultimo Clay Towel is one of them. It features an advanced polymerized rubber technology that replaces the traditional clay bar, and you can use it approximately 50 times. It is a durable and high-quality product that removes paint contaminants with a high level of efficiency.

Excellent clay bar alternative
Reusable
Quickly and easily eliminates dirt and grime
Does not stick
Smooth, shiny finish.

9.      Best Heavy-Duty Clay Bar: Auto Detailing Clay Wonder Bar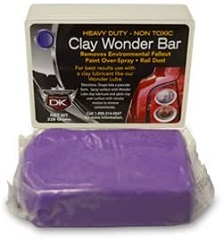 Auto Detailing Clay Wonder Bar is excellent for those dealing with stubborn dirt and heavily contaminated car paint. It is an ideal tool for removing paint overspray and environmental pollutants, preparing the car for buffing and waxing. It can help you tackle the roughest detailing jobs effortlessly.

Heavy-duty product ideal for stubborn dirt
Easy to use
Refold and flatten the clay piece once it gets dirty
Excellent to use before waxing and polishing
Protects your paint from getting damaged.

It is not as durable considering the price.
10.      Best Enthusiast-Grade Clay Kit: Pinnacle Clay Kit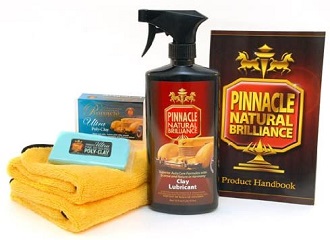 The Pinnacle Clay Kit is a fine-grade clay bar car enthusiasts will find incredibly helpful. It is designed for frequent use to keep your vehicle's surface smooth and clean. It is non-abrasive and won't remove wax, but it will remove any contaminant and restore the paint surface's shine and smooth finish.

Professional-grade performance
A reputable name in the industry
Pliable and easy to use
Lubricant and two microfiber towels included
Does excellent prep work.

It takes some elbow grease to get the job done.
What is Clay Bar Detailing?
Clay bar detailing is the process that involves using a clay bar to eliminate contaminants from the car's surface. A regular car wash cannot remove particles such as brake dust and industrial pollution, so clay barring is a way to go in that case.
What Does Clay Bar Do for Your Car?
A clay bar removes stubborn contaminants from your car's paint and surfaces such as metal, plastic, or glass.
When Is the Right Time to Clay Bar My Car?
Even if you regularly wax your car and its finish seems smooth and shiny, there might still be imperfections on its surface. These are often the contaminants that tend to damage your car's paint and call for an immediate clay bar treatment.